When it is the first time sitting down for dinner in a dining room in more than a year, you make it special.
You put on a long-forgotten outfit and break out a vintage bag. You make a reservation, invite some family members — some of whom you haven't seen in more than a year! — and look forward to catching up.
You also choose somewhere exciting. In our case, it was one of Omaha's newest hot spots: The Committee Chophouse, inside the newly renovated Cottonwood Hotel, formerly known as the Blackstone.
It felt wonderful to be out, once I got past the first few moments of weirdness, including that especially strange feeling of sitting inside and removing my mask to dine for the first time. But once things got rolling?
Dining out felt like an old friend I had deeply missed.
The Chophouse is the newest on the roster of Omaha "new school" steakhouses, with the prices, craft cocktails and a-la carte side dishes we've come to expect from its contemporaries.
But the restaurant has some whimsical old-school touches that felt particularly right considering the history of its location and of the city, including vintage cuts of beef, retro side dishes and tried-and-true classic cocktails.
The blend of modern and classic might be what I appreciated most about it. That and the steak, of course.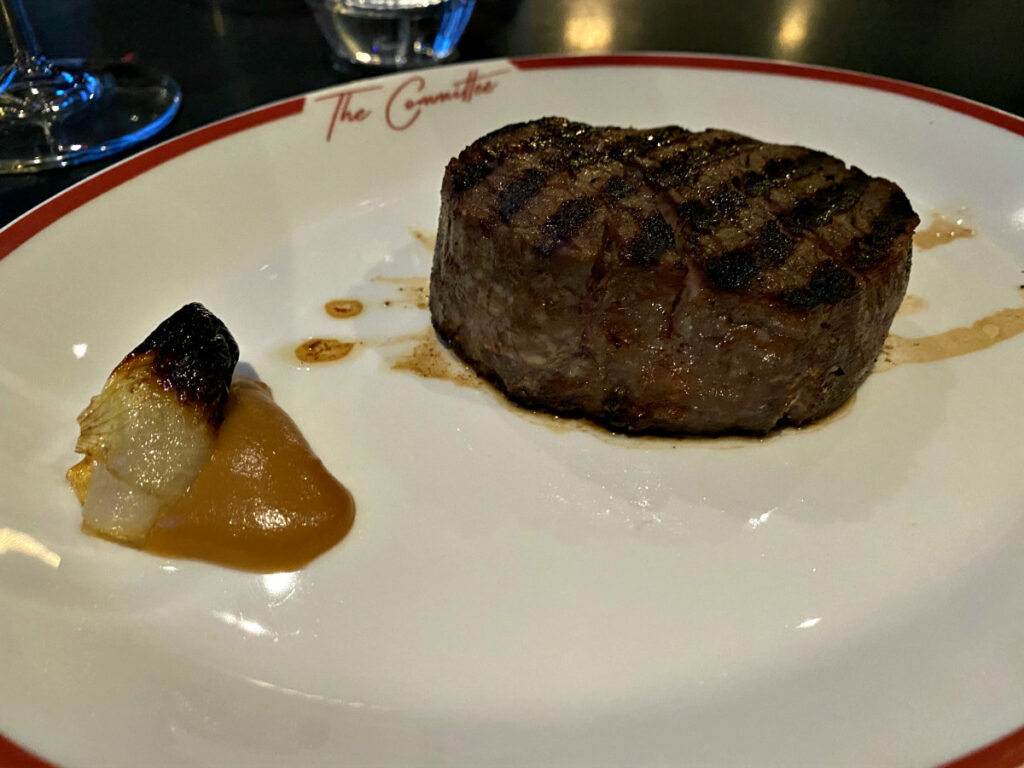 Might as well start right there, since that's what I think you probably most want to know about.
The Committee, named after the group of guys who played a long-ago card game in the hotel and invented the Reuben in the process, has a mix of new and old on its beef menu.
There's classics like Filet Mignon, New York strip, Chateaubriand and two others I had to Google: Delmonico, which is a thick-cut steak popularized in the mid-19th century by the New York restaurant of the same name; and Baseball Cut Steak Diane, a center cut of beef from the top sirloin that's lean and considered super flavorful for a lower price point.
There's also newer cuts, including two bone-in ribeyes, a Cowboy Cut (popularized locally by The Drover) and a 36 oz. Tomahawk Ribeye that will set you back a cool $105.
The menu's priciest is a 48 oz. Porterhouse, ridiculously large, that's $125 and can certainly feed several.
I opted for my go-to Filet Mignon, a sizable 8 oz. portion that arrived beautifully medium rare, salted within an inch of its life — as it should be — and seared to absolute perfection.
The other steaks at the table served similar success: Matthew's 14 oz. New York Strip, which he ordered medium, arrived spot-on and perfectly seasoned. I heard several other friends commenting on just how good the kitchen executed their plates, too.
Steak is the star of the show here, and the Chophouse makes sure it lives up to the hype.
Let's power through some of those a-la carte side dishes, shall we? I loved the fact that the Chophouse serves creamed corn — my seatmate told me a story about how she'd loved creamed corn the first time she had it soon after she got married, so much that she requested the recipe from her mother-in-law. It was from a can.
This creamed corn was far from what my friend remembered. Instead, it's more of a corn souffle, with a fluffy, almost cloud-like texture and corn that tasted like it'd been freshly picked during high summer. Pretty impressive.
We tried others: Brussels sprouts with a sweet glaze and plenty of crunchy cashew nuts and gratin potatoes with a creamy center, bacon folded through and a layer of raclette cheese over top charred to a crisp and sprinkled with chopped chives.
We also tried two of the evening's specials, a buttery ravioli served with just-chewy mushrooms, and a verdant green risotto featuring seasonally foraged ramps. In short, they both represented springtime on a plate.
Appetizers are well-prepared and modern. I particularly liked the cornbread canales, a sort of rustic take on the classic French doughnut, but savory, served with just-sweet smears of honey butter and shards of flaky sea salt.
Twice cooked pork belly served with its flavorful juices had a wonderful texture, tender, instead of dry like the cut can sometimes get. It's served with spiced carrots and gently fermented red cabbage.
The tea smoked duck was a hit across our table. The smokiness of the meat paired wonderfully with vanilla pickled pears, tinged with sweet, strong blue cheese and salted walnuts.
The restaurant, on the lower level of the hotel, has all the dark wood paneled, high-end decor one would expect. Black-and-white photographs showing Omaha's history, and the history of the former Blackstone Hotel itself, are fun to peruse on your walk from the bar to the dining room.
Service is impeccable, polite yet efficient. Our party of eight sat in a special room separated from the main dining room with a wall of glass, which made a great atmosphere for us all to catch up but still feel like we were a part of the action in the main seating area.
Our visit ended with maybe the most retro note of all: tableside baked Alaska, a dessert I've known for years but never actually had anywhere in Omaha. It's fun to see the dessert, with an inside of vanilla cake and ice cream and a meringue exterior, browned live with a butane torch. Particularly after the past year, it felt like the flashy, over-the-top kind of experience that we all need right now.
I left the Chophouse with few to no complaints, and I've already been back, though this time, in their more casual bar spaces. (More on that next week.)
The Committee Chophouse feels like the perfect way to have ended a rough year without restaurants, welcoming diners back with a joyful, delicious, wonderfully retro experience studded with satisfyingly modern moments.