On a beautiful late April evening, I tugged on my mask, descended some stairs and entered an Omaha bar for the first time in 13 months.
I was fully vaxxed, not quite relaxed and a little in awe of the scene before me. I heard the familiar clinking sounds, the low, comforting hum of a dozen relaxed conversations punctuated by the all-too-unfamiliar sound of strange and lovely laughter.
Before me lay a circular bar bathed in warm light and encircling what appeared to be…is that a…golden tree? A bartender shook a cocktail and several smartly-dressed couples perused menus and at that moment, my God, I would have believed I was in New York City or London or Paris or Heaven.
I was in none of those locales. I stood, instead, in the Cottonwood Room, the new basement craft cocktail bar in the newly remodeled midtown Omaha hotel by the same name.
What a way to return to the bar scene following 13 months of caution and two sweet, sweet shots of Moderna.
As a longtime Omahan, it annoys me greatly when people pay something a compliment by saying things like, "I can't believe this is in Omaha!" and "I don't feel like I'm in Omaha!"
The exact words rattling around in my brain when I walked into the Cottonwood Room: "I don't feel like I'm in Omaha right now."
So yes, I am a gigantic hypocrite. But it's true. That is how I felt. Honestly, after a year spent shaking my own drinks in my kitchen, picking up takeout cocktails in sealed plastic cups, and making happy hour conversation with my cats, it is fair to assume that my usual standards may be a bit confused.
But I'm not confused about this: The Cottonwood Room itself is impressive. And, during two visits, the cocktail experience, while not perfect, was easily good enough to guarantee I will be back many times in 2021.
During three separate visits to the bar and restaurant, Sarah and I tried a few old-school steakhouse cocktail standards: a Negroni, a Boulevardier and a Manhattan.
They were all made with care and consumed giddily and without complaint. A steakhouse or chop house or whatever you want to call it has to do the old school cocktail right. Many Omaha steakhouses simply do not. The Cottonwood does.
The bar's "new school" cocktail list appears to be exactly as advertised: Newer cocktails invented by mixologists in the last decade or two.
A Paper Plane is a fantastic cocktail – in fact maybe my favorite cocktail – and it should be on more restaurant menus. I'm glad it's on Cottonwood's.
We also tried the Stark, which I had never had before. It's a nice bourbon-yellow chartreuse-lemon-and honey number filled in a rocks glass filled with crushed ice. I will definitely have this when I go back.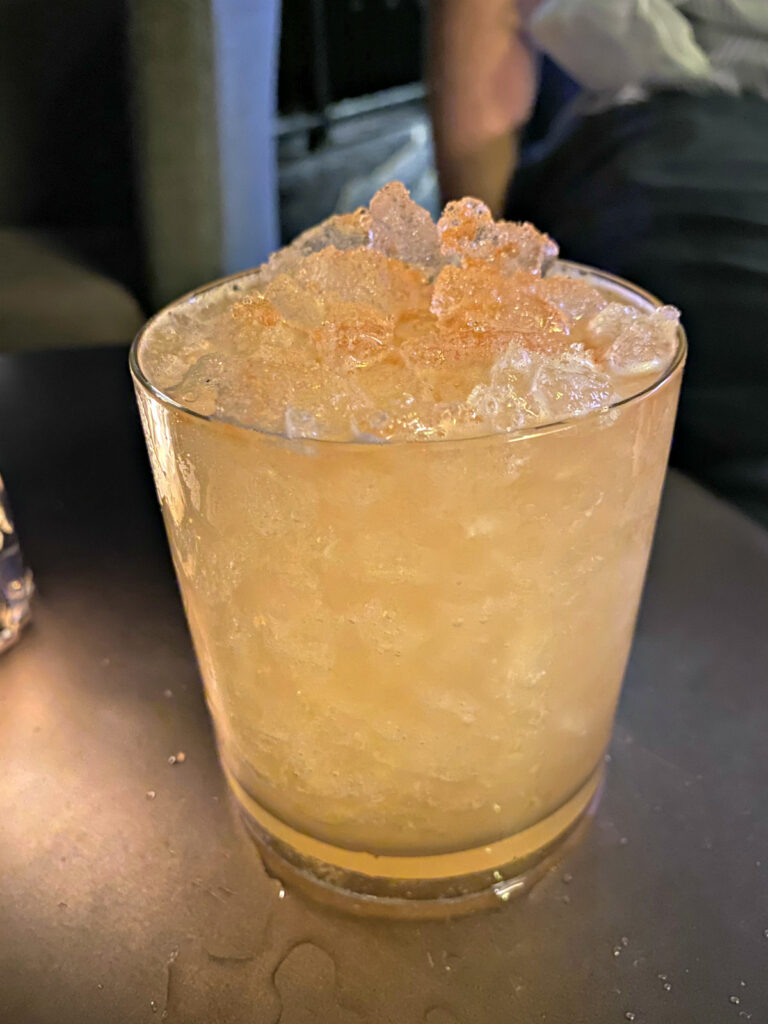 Overall, the menu felt a little whiskey heavy and maybe a little safe. That safety makes perfect sense as the bar and the restaurant navigate their opening months. I hope that, over time, they will take more chances with the New School list and add a little more creativity.
One other small quibble: The Friday night wait for a round of drinks at the Orleans Room, the Cottonwood's sister bar on the first floor of the hotel, stretched to a half-hour. Again: This makes some sense, especially with a packed house, a new staff, and likely an understaffed hotel owing to the current service industry labor crunch.
But downstairs, the service was as swift as you should expect in a craft cocktail bar. And any nicks in the armor should not obscure the following fact: This is some blingy f**king armor.
There really aren't many sexier cocktail locales in Omaha than the Cottonwood. There are cool old photos on the walls here and comfortable chairs and fantastic local art sprinkled around the bar and restaurant. There is a video triptych of Platte River (at least I think that's the Platte River) on the bar's back wall and there's a freaking golden tree and also the sort of upscale-yet-relaxed vibe I didn't realize I was looking for until I entered the basement of the hotel.
So loosen your imaginary neckties, ladies and gents. Put on some real pants that button and everything.
The Cottonwood Room is posh. It's lively without being packed. It's fun.
It's exactly where I needed it to be after 13 months of pandemic-era happy hour conversation with two teetotaler cats who only want to drink tap water.