If you, like me, spend a lot of time on Instagram, you've probably seen the irresistible 'grams of the inside of Dripped + Draped, the newest coffee shop in Benson.
The shop has no shortage of personality: a faux grass, floral and neon wall piece; pink paint; a rainbow of pastel coffee drinks made with creative, good-for-you ingredients; and racks of fun of clothing and accessories curated by its owners, Vanelle Littrell and Vandra Caldwell. (Caldwell also founded Mixins, the rolled ice cream shop just west of the Old Market.)
Dripped + Draped explodes with style. I love its individuality. Were we not living in Covid Times, I am sure I'd already have spent an afternoon working in the welcoming space or, at the very least, met a friend there for coffee (maybe even with an added shot of CBD oil.) I saw several pairs of women doing just that during my two stops in the shop for to-go iced drinks.
Bring your mask if you plan to go inside the shop. When I visited, all the employees and anyone waiting in line had a mask on. I appreciate that kind of responsibility in such unknown times. (Now all I need is a D+D branded face mask.)
We tried three of the shop's drinks — there's no food menu for now, but the second time I visited, the shop had a case of doughnuts from locally-owned Holly's Healthy Holes.)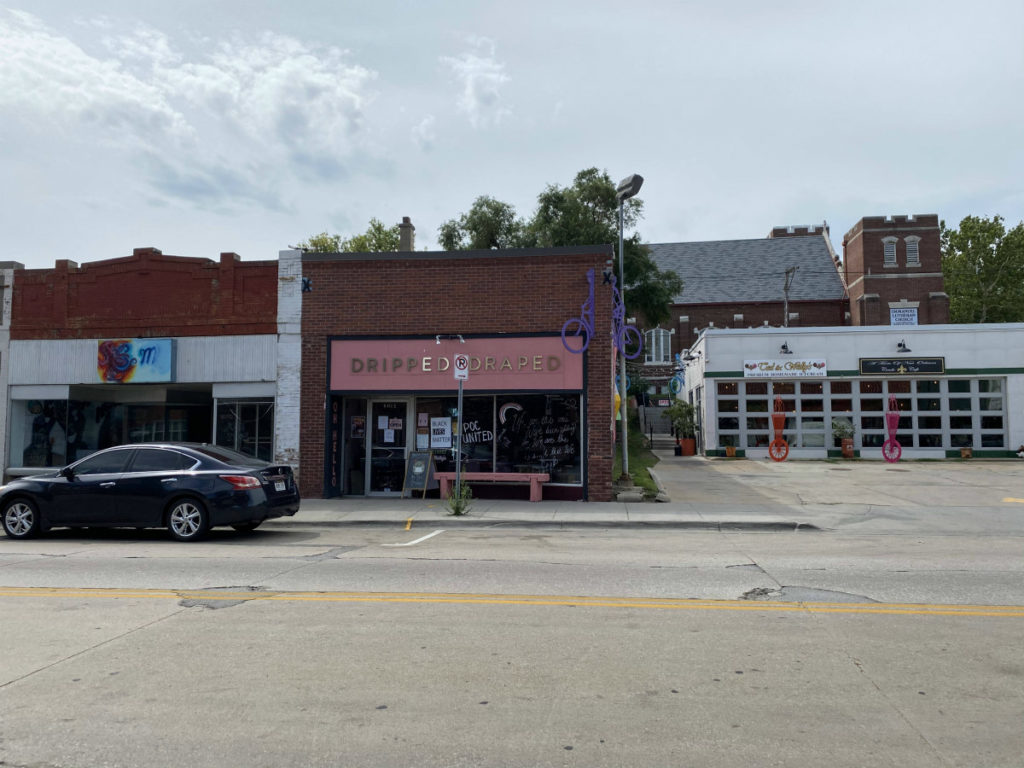 I have two favorites: a delicious, creamy iced matcha green tea latte had a wonderful texture — the shop offers plenty of plant-based milks, and I had my matcha made with oat. Another day, I succumbed to a sign on the shop's counter and tried a "Chagaccino," made with a strange sounding but delicious tasting combination of chaga mushrooms, cacao, cinnamon, vanilla, monk fruit sweetener and almond milk. When I got home, Matthew polished off the rest of it; it is that good. (And, somehow, under 40 calories.) It tastes like the old-school iced mochas I used to get in high school — but this one is clearly better for me.
The most beautiful of the three drinks, a charcoal almond milk latte coated in flakes of real 14-karat-gold, was also the least flavorful of the ones we tried. It might be that the trendy drink, made with activated charcoal, is just not for me. It tasted more milkshake than coffee. Next time, I'll try the blue lavender, turmeric or sweet potato lattes instead.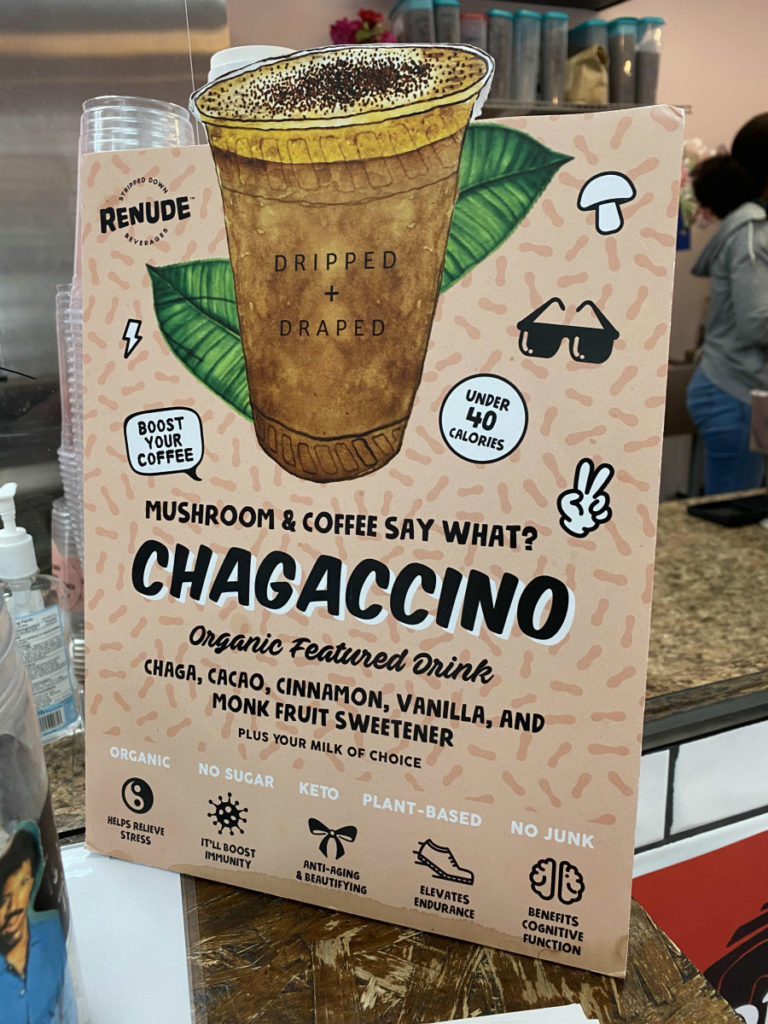 Dripped + Draped drinks aren't inexpensive: the Chagaccino and charcoal latte set me back $17 and change, before tip.
But here's the thing: I am not getting a mushroom coffee or a gold-dusted latte — or the shop's excellent atmosphere — anywhere else. It's worth paying a premium for. It's worth supporting. And for that, plus the chance to try the rest of the lineup of colorful lattes, I'll be back.
Dripped + Draped is in Benson, at 6015 Maple St. For more information, visit https://drippedndraped.com/ or https://www.instagram.com/ddomaha/.