There's been no shortage of moments in 2020 where I have looked around my life and wondered where "normal" went.
Last Friday was a moment as close to "normal" as we've seen in many months.
Last Friday we found ourselves among the lucky handful of diners who scored a seat on the patio — newly opened for dinner — at The Boiler Room restaurant.
It's not fair to call this a review, really, because when it comes down to it, this is an appreciation. An appreciation of dining. Of restaurants. Of top-notch service, creative cocktails and some of the best food our city has to offer. Of one of the best around.
It's a letter to the experiences I once took for granted, and to which I no longer will.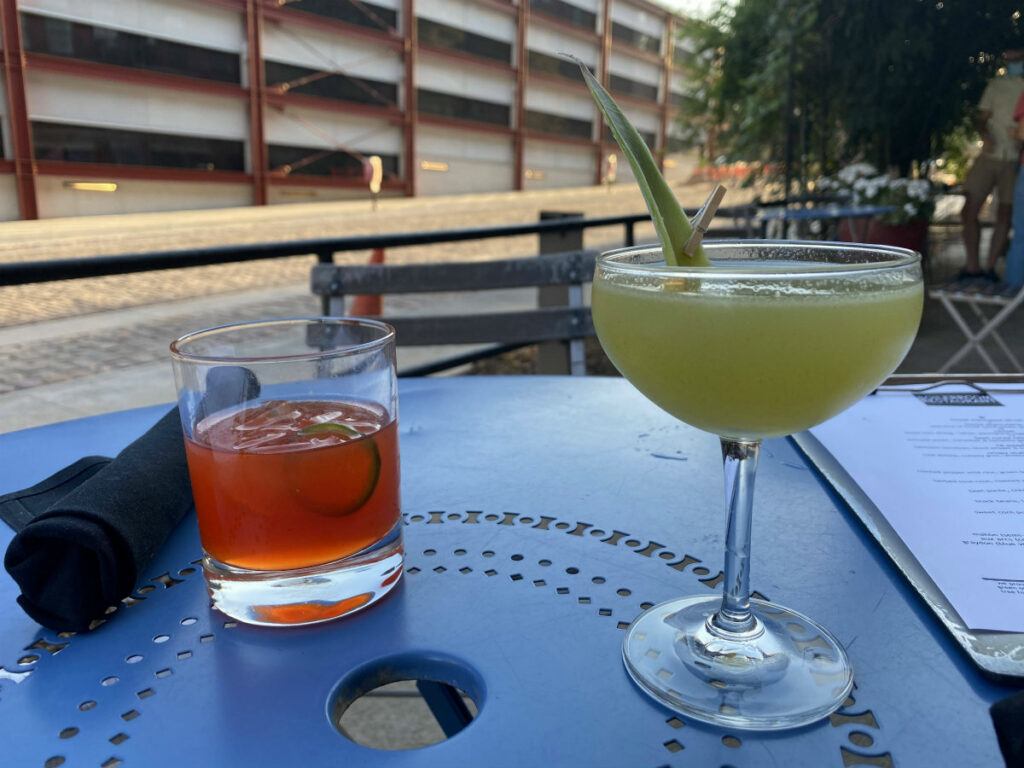 I'd been wondering when Boiler Room might open its patio for diners — the space, which I'd sat on once or twice as part of a long-ago punch bowl moment — hadn't been open for dinner, presumably because of the construction that turned Jones street into a dusty mess of bricks.
But that construction is complete, and Jones has never looked better (not in my lifetime, at least.) It's the perfect time for Boiler Room to employ those six or so petite tables for dinner. And they have.
The restaurant's dining room has always been one of the most singular in the city. The outdoor seating has a different charm, but no less of it. We took in many passers-by, a few skateboarders and people walking their dogs at dusk. (We saw a Dachshund named Patrick, for example, on his leisurely way both to and from home.)
The pandemic hasn't depleted the restaurants menu: two fish selections, a variety of local proteins, handmade pastas, long-cured meats. They're all still there. We ate them all.
16-month culatello prosciutto with heirloom tomatoes, herb focaccia, pickled onion and herbed ricotta

Sweet corn ravioli with nduja, parmigiano reggiano, lemon zest and arugula

rosted TD Niche pork crepinette with black beans, local peppers, mushrooms, a stuffed apple, cabbage salad and salsa verde

Florida swordfish with roasted pepper wild rice, green beans, grilled eggplant, capers, rock shrimp and spiced tomato broth
We didn't have a thing to complain about.
The cocktails are still well-executed and creative. The most recent list is simply named by the color of the finished drink, and I can recommend "green" without hesitation. The wine list is intimidatingly thick, so do what I do: ask for help. We offered our more-than-competent, friendly server a style of wine, a couple of details and a price range, and he delivered an unusual, earthy selection to our table. Don't be shy.
A small plate of melt-in-your-mouth aged ham arrived served with the ripest heirloom tomatoes and oily but light focaccia, with soft cheese as the pleasant glue that held everything together. I'd seen the sweet corn ravioli on social media earlier in the day; it looked just as it had online and tasted even better, with soft pillows of high summer corn juxtaposed against spicy Italian 'nduja sausage and a blast of citrus at the finish.
A pork crepinette (no shame, I Googled it) is essentially pork sausage wrapped in a lacework of caul fat. It's the kind of classic, high French we expect from The Boiler Room, and it did not disappoint: The fat melts into the sausage, making for a decadent, juicy experience. I'll think about the tender stuffed apple on the side of this dish when Thanksgiving rolls around, because it would be the perfect foil to roasted turkey on the big food holiday.
A slab of swordfish arrived atop a flavorful gratin of sorts that included chewy wild rice and sliced green beans, all topped with a ladle of salty-sweet tomato broth. Sweet, seasonal rock shrimp had the right amount of chew to compliment the savory fish. I'd have eaten it all, had I not done so much earlier damage with ham.
If you get the chance during these last warm days of fall, go to The Boiler Room patio. It will remind you of what we've missed, and why we missed it to begin with.