If Facebook is any indication, I might be the last pizza-lovin' Omahan to try Copp's Pizza.
After I did finally try it, last week, I can see why it has taken social media by storm. It's familiar. It's comfortable. It's the kind of pizza we have all devoured hundreds of times in our lives, but…a bit better.
I may be the last to realize it, but now I do: Copp's serves 'za with surprisingly creative touches, particularly when it comes to their barbecue options.
"It's been going well," owner Kristopher Copp said when I talked to him recently and asked him how things had been going. "It's kind of hard when people ask that question. Going well for Covid and going well for non-Covid are two different things."
Pandemic or no, Copp has big plans in the works – more on that just as soon as I get the green light. The restaurant's in-house delivery business has boomed during Covid times, so much so that he's able to employ more than 20 delivery drivers who work only for him.
My accidental delay in experiencing Copp's worked out. It does seem fitting that, a day after Omahans voted more than 30,000 times in the Omaha Pizza Bracket, I also launch a review of one of the city's upstart pizza makers, a worthy addition to varied but formidable Omaha pizza landscape.
Burnt end pizza: good for a reason
I have to say the burnt end pizza – one I knew Matthew would want to try and that has been on my list for months – is excellent.
Barbecue in Omaha is hit and miss, to put it mildly, and what's on top of this pizza smelled and tasted legit. Plenty of smoke, tender texture and surprisingly good pork paired with a drizzle of sweet, house-made barbecue sauce, a slather of their homemade cream cheese sauce (the specialty – more on that in a second), thin slices of grilled red onion and crisp bacon.
Copp's heavily advertises its signature cream cheese sauce, and I'll admit, I was hesitant about the idea of a "cream cheese pizza." Give me a thin slather on a bagel, and I'm happy, but on pizza? It didn't seem like my thing.
But it's subtle here, spread right on top of the medium-thick crust, so it sinks into the dough, lending just a hint of creaminess as a backbone, and none of the thick texture I had imagined. Texturally, paired with the rest of the ingredients on the burnt end pie, it's a great match.
It turns out those burnt ends are legit for a reason: Copp's brings them in from none other than Kansas City.
Copp said he works with a KC supplier who can provide him the good stuff in the quantities necessary to create the pizzas, which are one of the restaurant's most popular: The restaurant can go through 140 pounds of burnt ends in a single week.
"It was a game changer," Copp said.
Copp said the quality and consistency of the burnt ends make the pizza, so much so that they've added the meat to the menu as an entrée.
"Kansas City has a great reputation for a reason," he said. "We are really fortunate to find someone to work with."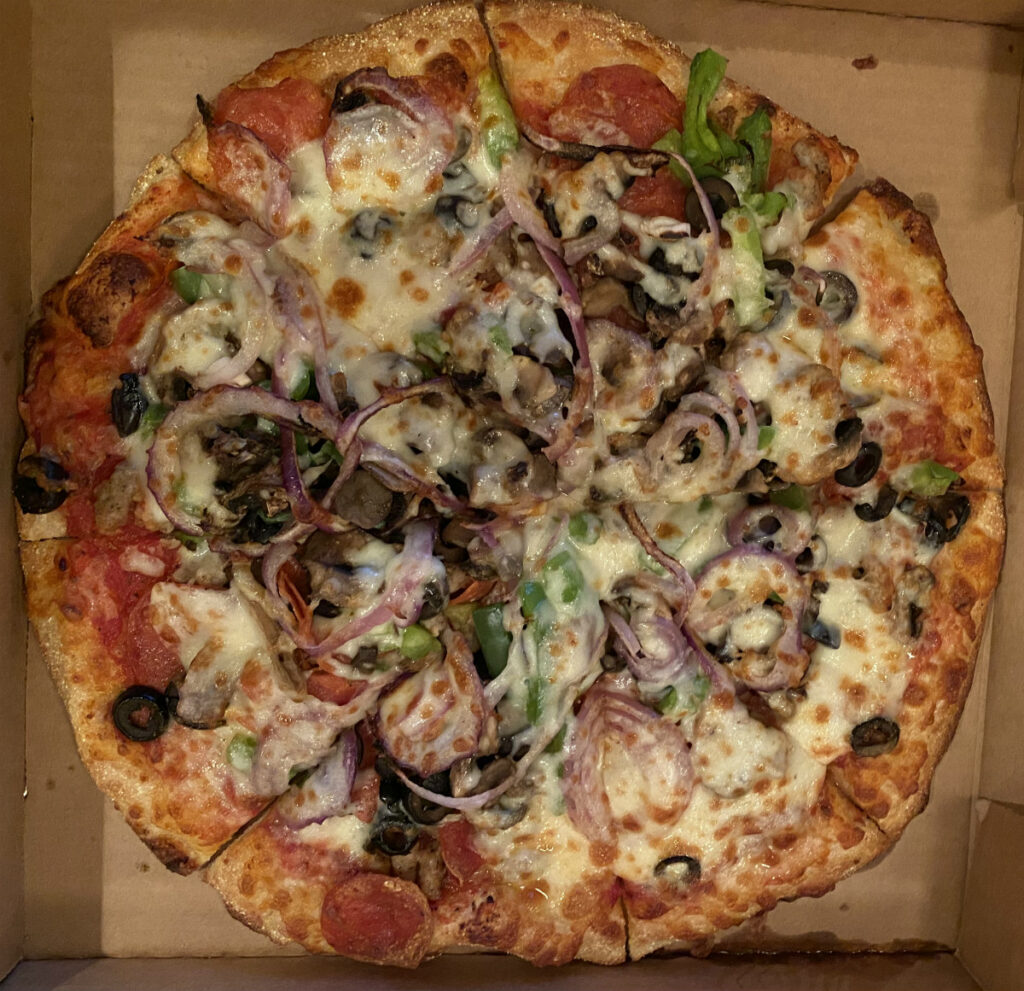 Copp's boasts several other barbecue-focused pies, including barbecue chicken and backyard barbecue, which comes topped with baked beans and slaw, among other ingredients. The barbecue chicken doesn't come from KC, but is doctored in-house with several spices before it's served.
One disappointment: breadsticks
We paired our pizzas with a side of breadsticks and a Caesar salad, the latter performing much better than the former. The salad — a step above a box of iceberg lettuce — came with a large container of fresh, dark leafy greens, croutons and a sprinkle of cheese. On the side you get a pretty thick but still tasty Caesar dressing.
I took one bite of one of the breadsticks we ordered as a side and quickly decided they weren't worth the carbohydrates.
Each one had the texture of a sponge that had soaked up a whole bunch of garlic butter. A side of marinara sauce for dipping quickly separated into a pool of thick tomato surrounded by excess watery tomato juice.
Copp's website says the breadsticks are made from the same dough as the pizza crust, which is strange, considering they tasted nothing alike.
Let's talk about that crust for a moment. Copp's sits solidly somewhere between a thin New York or Neapolitan and a thick Chicago or Detroit style.
Copp's crust did impress me with its ability to hold up to the heavy toppings on their version of supreme: red sauce, cheese, pepperoni, sausage, sliced mushrooms, green peppers, black olives and onions.
The bottom crust maintained its integrity — no floppy sogginess here — and the edge had bits of caramelized cheese and, in spots, extra crisp pepperoni.
Gluten-free, keto and kid friendly choices
Copp's also serves a cauliflower pizza crust, good for those on a gluten-free or keto diet. I had a friend who observes a gluten-free diet check it out with Copp's version of a Margherita: basil, tomato, cheese and a slather of cream cheese sauce.
She appreciated its crispy edge and center that held up to the sauce and toppings. She also noted it had no discernible cauliflower taste: a plus.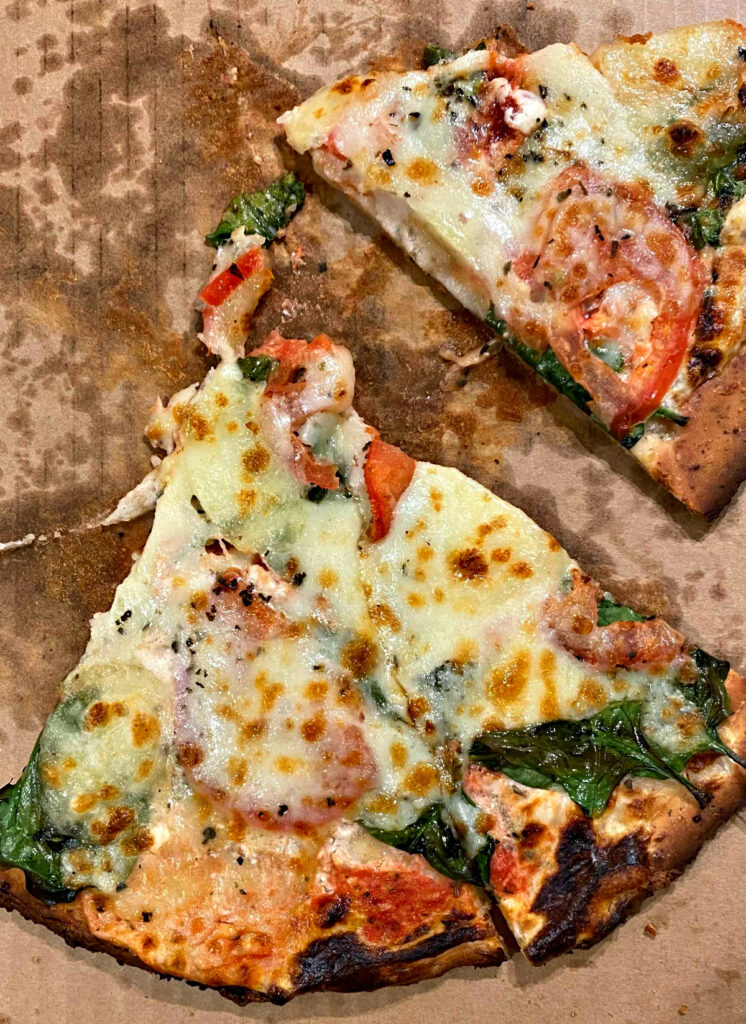 We also had a similar experience with the cream cheese sauce: Her expectation was like mine, and her reaction was, too.
"I was pleasantly surprised it didn't dominate the flavor of the pizza," she said.
Copp said the inspiration for the gluten-free menu came straight out of his own family: he has two nieces with Celiac disease. And enough customers asked for a keto menu that he decided to focus on both.
Copp serves gluten free wings, shrimp and pasta, and is working on a keto pasta and gluten-free French fries. His nieces experienced such limited "kid friendly" options when their family went out to eat; Copp is working hard to change that.
The restaurant uses single use containers to prevent cross contamination of gluten-free items, and has separate knives and cutting boards for those options.
Because we're not yet dining in restaurants, we took our pizza to go. Copp's has a small bay adjacent to its 72nd Street location designed for takeout orders only. Over the phone, an employee advised me my order would take around 15 minutes. In reality, I'd say it took closer to 25.
The pizza fared well during the 10-minute drive back downtown, and none of it needed to be reheated to eat immediately. (Part of that is because Copp said the restaurant invests in thicker pizza boxes, in part so the pizzas stay warmer while being delivered or taken home.)
It also fared well as leftovers: We reheated our slices the next day on the pizza setting in our countertop oven, and the crust still wasn't soggy or limp, a common second-day pizza malady.
Copp's offers several singular dishes – cauliflower crust that passes a sniff test, good, Kansas City-made barbecue pizza and a tasty take on what most of us recognize as a hearty, homey medium-thick crust.
All that together is enough to make it likely that we'll take out pizza again from Copp's. Is it the best in the city? No. In my book, Dante, Noli, Frank's and Lighthouse still have my heart.
But I can make a little more room in there for Copp's, when the mood strikes.