There is a certain kind of pizza crust that I just love. It's chewy but crispy, stretchy in the best way, sometimes with a distinctly fermented flavor. The edges are flecked with burnt spots and air bubbles, and the thin center is often topped lightly, because it's delicate. Airy.
Timber Wood Fire Grill's pizza crust fits snugly into this specific category. And though it's not my favorite in Omaha, it's worth experiencing if you haven't tried it.
I hadn't tried it, which is why we ventured out to Countryside Village to check it out, as one of the contenders in the first ever Omaha Pizza Bracket. Timber didn't advance in the bracket — we're down to the Elite 8 and voting continues through Sunday — but that doesn't mean you shouldn't check it out anyway.
I hadn't been to Timber in some time — I first reviewed it for the newspaper way back in 2017, before they'd debuted a full menu of pizza. I talked to chef and owner Jared Clarke about the decision to add pizza to the menu, and how they settled on this specific style.
He said he perfected his pizza recipe during the pandemic-related shutdown, and added it to the menu because, simply, his customers asked for it.
HIs original product was inconsistent, and didn't come out with the crispy, partially blackened crust he wanted. So he experimented, finally landing on a two-day fermented dough that gets just the right finish in the restaurant's 640-degree oven.
"I like the fermented crust because it almost tastes a little nutty," Clarke said. "Like popcorn."
I liked that crust, too, particularly on one of the two pizzas we tried: the Timber Peppe, topped with organic tomato, house 'nduja sausage, house pulled mozzarella, pepperoni and Calabrian chili pesto. Its toppings complimented the flavor of the crust, allowing it to really shine through.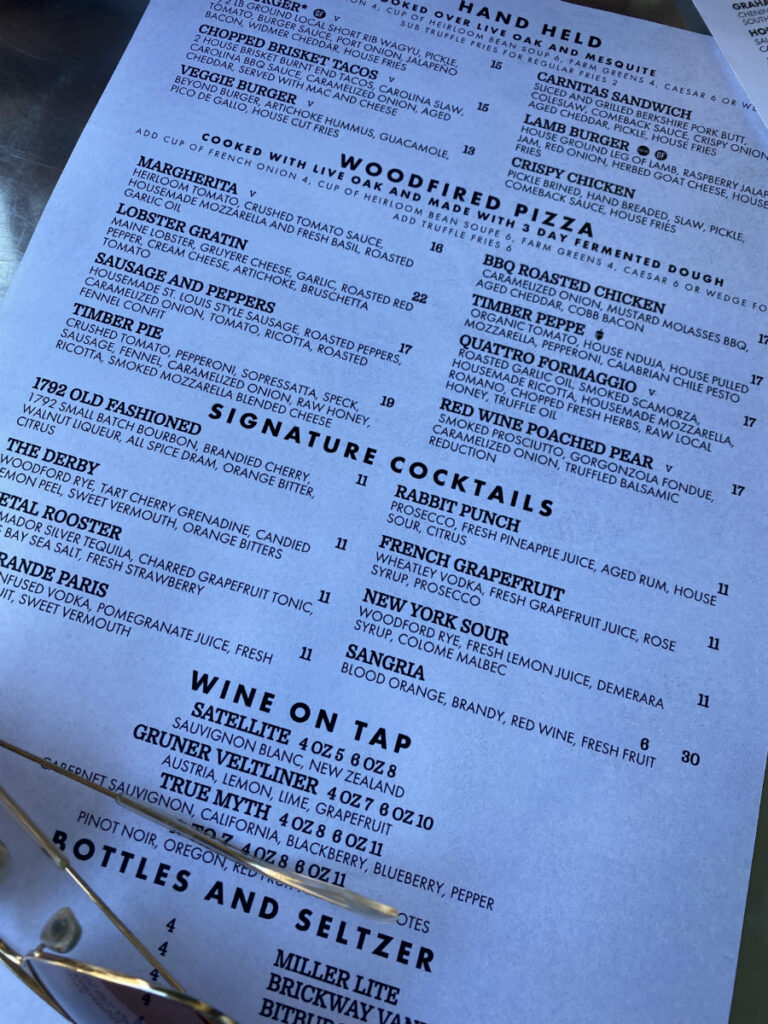 If you haven't tried 'nduja, a delicious, spreadable, spicy Italian sausage, seek it out. I first had it while traveling, and since then, always order it when I spot it on a menu. Here it meshes deliciously with a zingy green pesto made with Calabrian chili, blobs of melty cheese and crisp-edged pepperoni.
We also tried the fanciest 'za on the menu, a Lobster Gratin topped with Maine lobster, gruyere cheese, garlic, roasted red peppers, cream cheese, artichoke and bruschetta tomato.
The lobster pie is the most expensive pizza on the menu, at $22, probably not that surprising considering its toppings. The rest of the pizzas are between $16 and $19, depending on ingredients. The Timber Peppe is $17.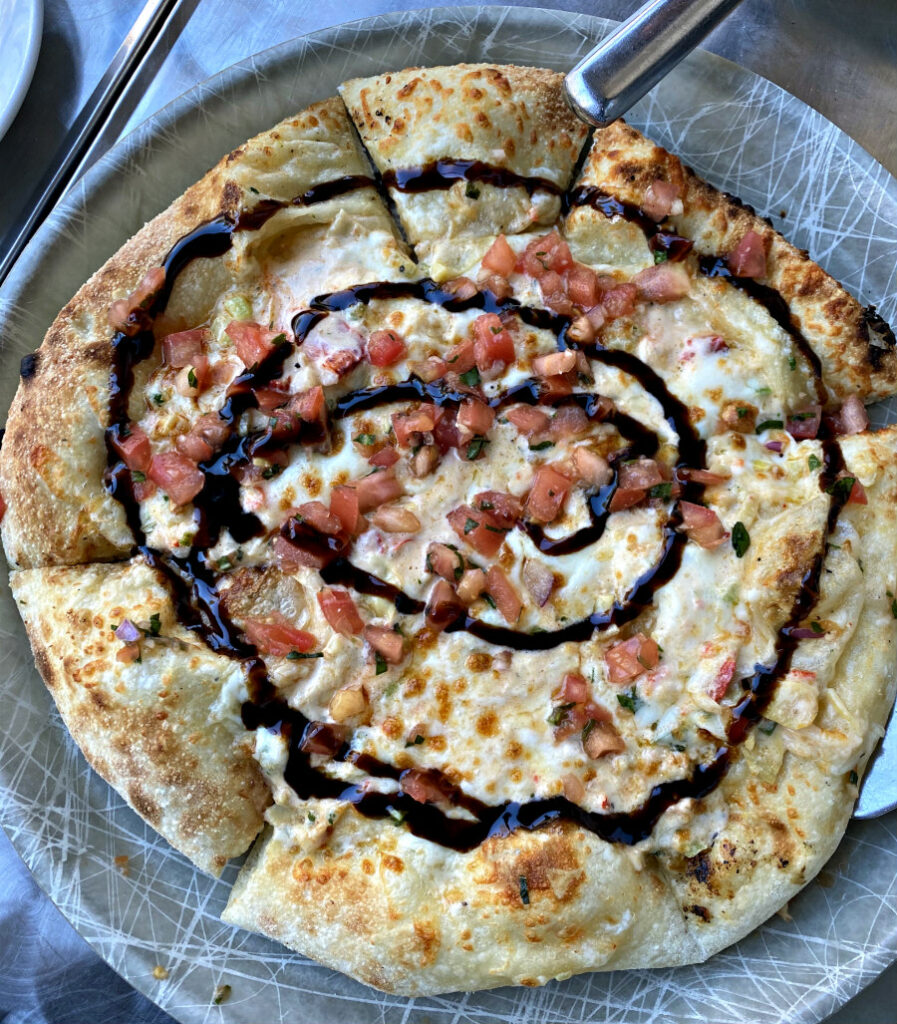 The lobster gratin pizza is aptly named: it's almost like a creamy baked dip transformed into a pizza. This dish is rich — one slice is enough — and I liked that the hits of garlic and pepper didn't overwhelm the gentle flavor of the lobster.
However. The thick swirl of balsamic sauce across the top was too heavy handed and, to me, felt dated and overwhelming. Plus the tomatoes were decidedly bland, surely a symptom of the season. I'm not sure I'd spend $22 on it again
That being said, I'd go back to try any of the more traditional pizzas on the list, including the Timber pie, which sounds like a supreme but with delicious additions like raw honey, ricotta, soppresata and speck; or the creative sounding red wine poached pear pizza, made with smoked prosciutto, truffled balsamic and gorgonzola fondue. I have a feeling both would be great on Clarke's fermented crust.
We had a few other items during our visit, including a nice duo of crab and shrimp cakes, off the appetizer menu, that had plenty of seafood and a nice flavor. Diners can pair their pizza with a side salad for around $6, and the farm greens and wedge we tried were sizable and nicely dressed, especially for the price.
We also tried two cocktails: The 1792 Old Fashioned, made with walnut liqueur and allspice dram; and the Derby, a Woodford Reserve-based drink with tart cherry grenadine and candied lemon peel served in a classic metal Julep cup.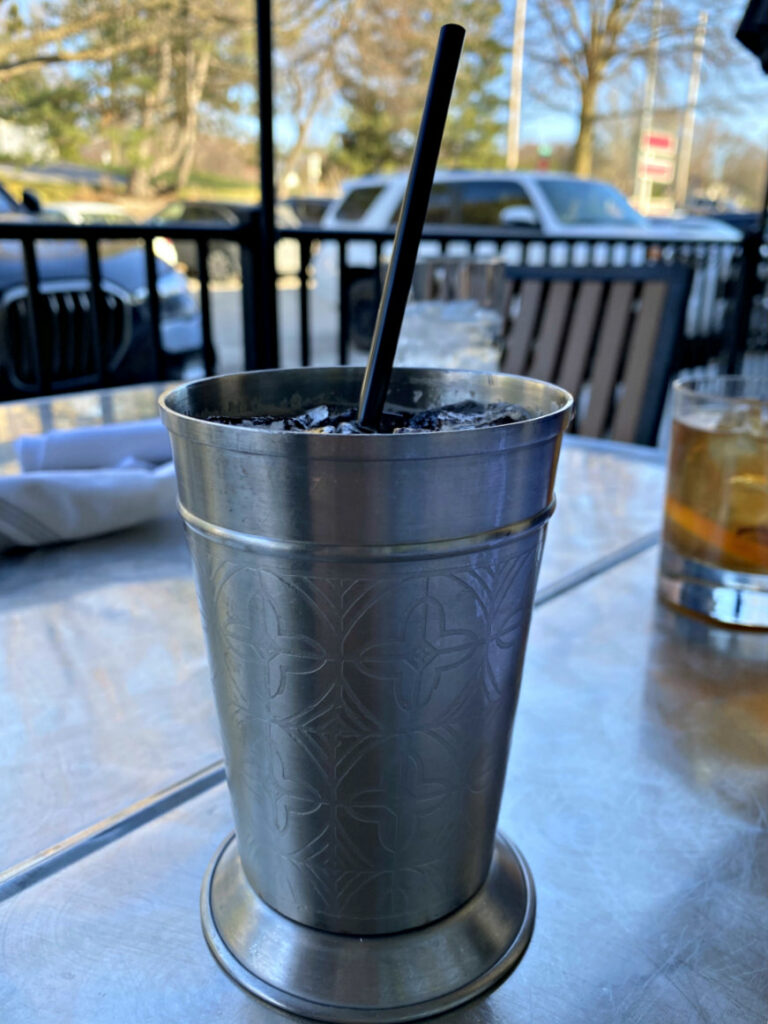 Timber has a patio on the restaurant's east side, and though it's not heated, it's pleasant, especially when the temperatures hover above 50 degrees, like they did the evening we visited. They also take reservations for patio seating, if it's possible.
I liked the pizza at Timber enough to leave intrigued, and plann a return visit. If Clarke used the pandemic to get as creative with the rest of his menu as he did with his pizza list, surely more tasty dishes await.