I thought about a lot of restaurants during the past year.
One, I can say, was especially inaccessible during 2020: the Speakeasy, a restaurant I first wrote about in 2017 that's nestled in a town formerly known as Sacramento, about three hours from Omaha, right in the heart of south central Nebraska.
I thought about Chef Ryan Puls' family-owned restaurant that he'd moved back to Nebraska to run, and I wondered if I'd ever be back in a post-Covid world. I thought about the care he puts into everything he serves.
I thought about his pork belly appetizer and his delicious barrel aged Manhattans. I thought most of all about his steak, on par with the best you'd find in Omaha.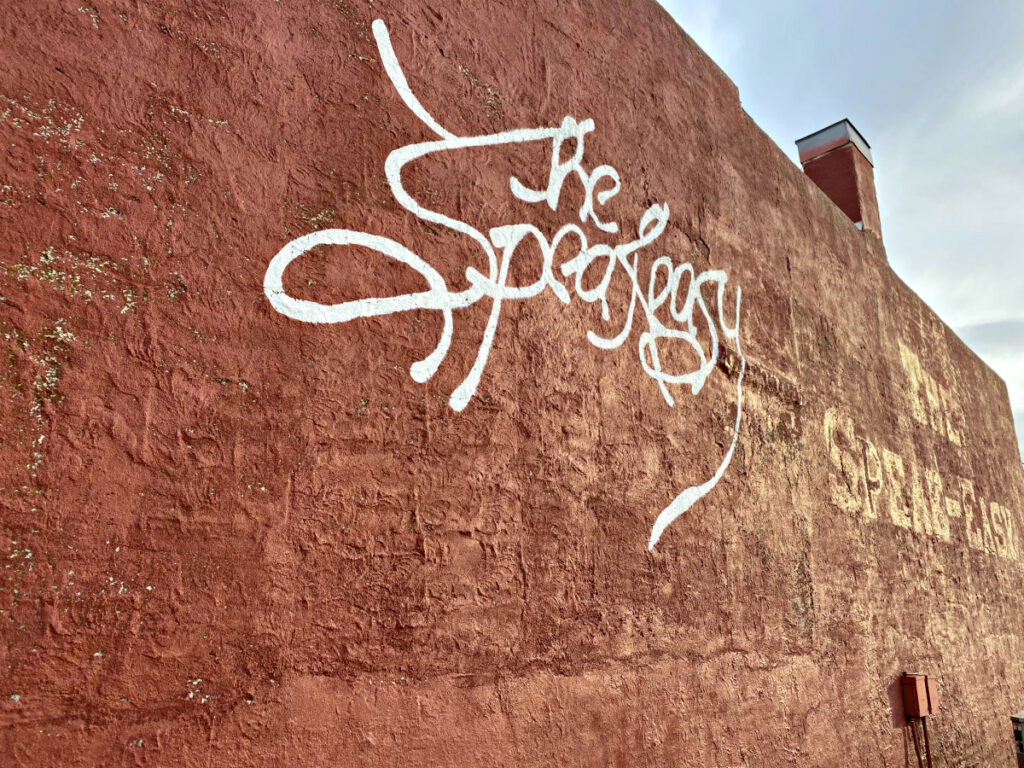 I'm deeply thrilled to report that not only did the Speakeasy survive the pandemic — pivoting to takeout, retaining many of the same staff members its had for years and finding an audience in spite of the difficulty — I returned last week and found it just as I'd left it several years before.
If you're feeling like a little food-focused Nebraska road trip, add this spot to your list.
The Speakeasy has the kind of old-school charm reserved for restaurants that have stood the test of time. The dining room is large and dim, with white tablecloths and polite, efficient service. The menu is heavy with classics, as one might expect, but a lot of it is done in a modern way featuring Puls' updated favorites, like the pork belly, a pimento cheese burger, a Nashville hot chicken sandwich (he's definitely in touch with the latest food trends) and a bowl of classic French mussels, among other dishes.
The pork belly is one of my favorite dishes on the menu, and it's got a great story, too: When Puls added that dish to the menu, a lot of his regulars didn't know what it was. So he taught his staff a simple phrase, and sent them around the dining room with samples. "Try our bacon," they urged.
Since then, central Nebraskans turned that pork belly into one of the restaurant's best sellers.
It makes sense: it's the best version of pork belly, served simply with a bit of sweet-savory flavor and a tender interior matched to its crispy fat-rendered exterior. It's particularly delightful paired with a swirl of house-pickled onion and a dab of dijon mustard.
The night we visited, the server described the prime rib, a weekend special, as "fire." Uh, yeah. "Fire" indeed. My slab came marbled with flavorful fat and cooked to an absolutely delicious medium-rare, its exterior gently crisped. It pairs wonderfully with the signature Brussels, charred to a deep crisp. They're one of my favorite sides.
I always want to try one of the burgers at Speakeasy, but it's too difficult to tear myself away from whatever the "fire" beef dish of the day might be. Matthew stepped up to the plate to try the restaurant's pimento cheese burger, which is a wonderful application of the southern cheese dip.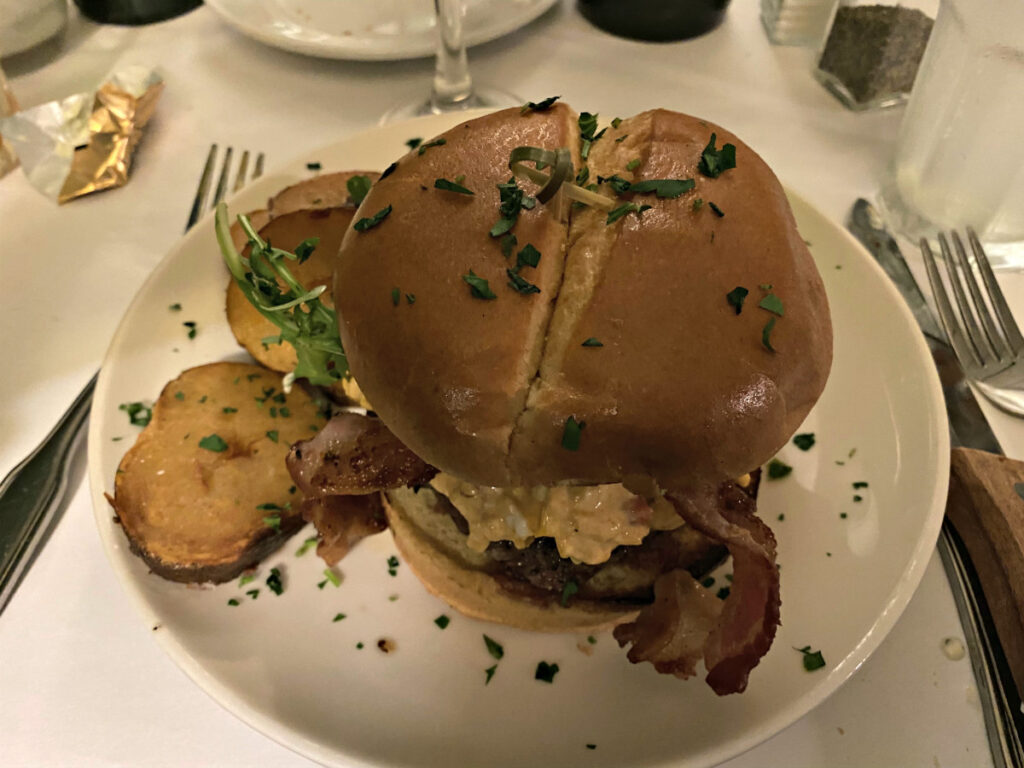 I appreciate that the pimento cheese gets applied to the hot beef patty cold, retaining its signature chunky texture and adding a nice amount of flavor between the nicely cooked patty and a soft brioche bun.
We visited Speakeasy with two more diners — Matthew's uncles, New Yorkers who have been living in Red Cloud since last March — and so got to try several more dishes, including a super crisp-tender version of fried chicken, a lovely sirloin topped with a dollop of umami-heavy miso scallion butter and the delicious, airy house-battered onion rings.
The Speakeasy is a jaunt from Omaha, I realize. But it's special. If you appreciate an adventure, good food and a chef using his talent in one of the most unexpected spots, you should make the journey. It's singular enough that this food writer thought about it for a whole year, and I remain excited about it still.
Tell Chef Puls hello for me when you get there.