It is a rare experience these days to be truly surprised by a dish, at least for this writer. But Kinaara's fish Pollichathu? I was, as the kids say, shook.
I found several hits and only a few complaints during a recent visit to the tiny but extremely busy Kinaara, which opened just before the pandemic kicked in hard and survived by building a brisk takeout business that's still going strong, if the line snaking out the door during our visit was any indication.
Now, West Omahans (and a few East Omahans like me) are filling its dining room, too, which is fully reopen for business. If you like Indian cuisine as much as I do, you should seek it out.
Let's get back to that fish, shall we? The dish, a specialty of Kerala, India, is in this case is a hunk of fresh salmon marinated in chili powder, black pepper and turmeric, then slathered in traditional spicy masala sauce. Co-owner and chef Ashish Sathyan, whose family is from Kerala, wraps the fish in a banana leaf and grills it until tender, and the dish arrives at the table wrapped in that neat square of green. (Side note: Ashish's father requests this dish in particular, which is his favorite.)
The salmon, cooked until flaky with a fully done center, had nice flavor, presumably from that spice-based marinade. And the red masala sauce comes with a fair amount of tang and more spice, but all that flavor doesn't overpower the fish itself. The steam-inside-a-banana leaf method keeps the flesh tender.
Be aware, this particular dish is only available for dinner on Friday and Saturday. But there's more worth trying.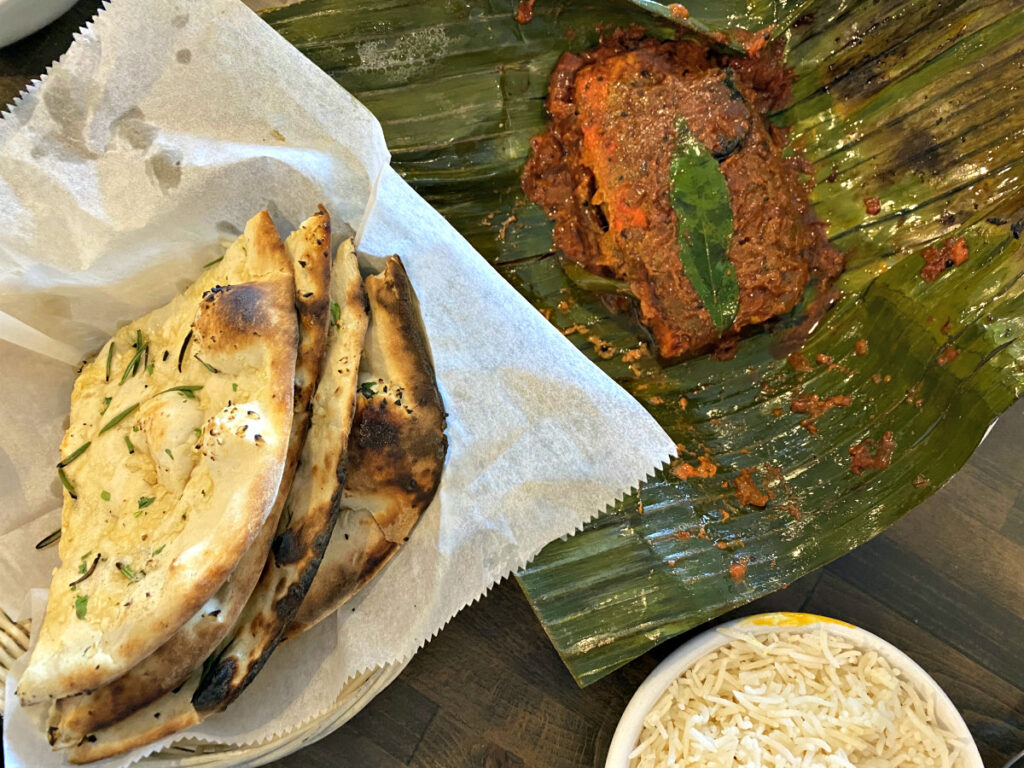 I really liked the layered samosa chaat, a dish popular in North India. Tender samosas stuffed with seasoned potatoes and peas arrive stacked on top of a bowl of chaat: chickpeas, onions, mint, tamarind chutney and yogurt. Lately I've really been into dishes with varied temperatures, and the cool-meets-hot of this dish sits right in that wheelhouse.
The chickpeas have the right amount of chew. The samosa filling is mild, and when you eat the hot samosas against the cool, bright mint and tamarind, the flavors come to life.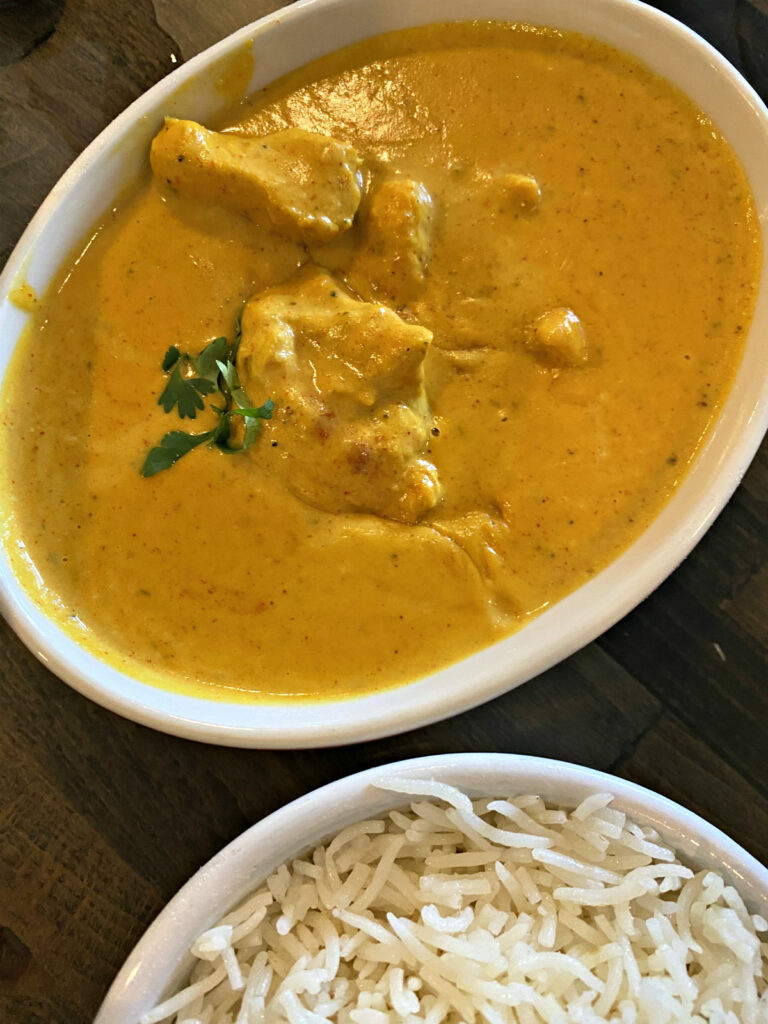 I can't think of a time I've had naan studded with hunks of garlic and charred rosemary, but I quite enjoyed the savory combination with our heavily spiced dinner. Next time I'll try the chili garlic naan, which sounds equally as good.
Chicken Korma at Kinaara comes heavily fragranced with the scent and flavor of baking spices in the thick, creamy sauce. We wished for a bit more spice to balance that out, and also a bit more chicken in the curry, too. Next time, we'd order the dish spicier.
In fact, the spice scale at Kinaara runs toward the mild, so if you like your food spicy, ask for it; the kitchen offer levels starting at mild and topping out at extra hot. We ordered our dishes medium, but could go for hot next time.
Though I'm not one to complain about portion sizes, I'm about to: Portions at Kinaara are not large enough for leftovers, which I've become accustomed to when dining at most local Indian spots. I wished for more protein in the dishes, if I'm honest, so we could have enjoyed the food again the next day.
Kinaara's dining room is short on atmosphere, and the acoustics, particularly when it's as busy as it was when we visited, aren't great. We found ourselves leaning forward just to hear each other speak over the din of the takeout business in particular. For some diners, that will be a problem. It would push me toward takeout for my next visit.
I've checked in with several friends who also tried Kinaara, and one told me that the staff can be rigid on substitutions when it comes to takeout orders, so keep that in mind. That said, the menu does note that several dishes (including the chaat samosa) can be served vegan.
I left feeling like Kinaara is one of the more unusual Indian spots in Omaha. I appreciate the diversity Sathyan and his wife, co-owner Kimberly Harris, created on their menu, which is large, but interesting.
In particular I'd like to try one of the variations of moilee, a spicy south Indian curry; the masala fries, which sound like an Indian version of Canadian poutine made with sweet potato fries topped with tikka masala, the choice of chicken, tofu or paneer, chutney, pickled onion and cheese; and the "Taste of Kerala," a rotating weekend special from the region that's available on Fridays.
During 2020, Indian takeout from several local spots became a regular indulgence, and I explored well beyond my old favorite, matar paneer. Kinaara opens new doors for diners looking to do the same, and because of that, I'll return.
Kinaara is at 13816 P St. For more information, or to see the menu and hours, visit kinaaraomaha.com.