One of the toughest things a restaurant owner can take on is the reinvention of a classic. The Dundee Dell, which is nearing a century of history in midtown Omaha, is certainly that kind of an icon.
So I was excited to see a successful revamp of this neighborhood spot, at 5007 Underwood Ave., when I visited twice recently. The reinvention includes the look, the aesthetic and a total rethink of the menu, transforming the familiar into a fresh, modern version of a classic British pub. 
Of course, the Dell still serves Guinness and fish and chips, longtime hallmarks of the 88-year-old midtown spot that Omahans have long recognized and embraced.
But there are also modern tenants of a British pub: chicken tikka masala, bangers and mash, a great burger, a Reuben (of course, this is Omaha) and a newly renovated bar, The Pine Room, devoted entirely to Scotch and whisky.
Together, it means this: The Dell is refreshed and ready for another generation.
Co-owners Ryan Miller and Drew Wilson purchased the pub right after it closed in summer 2020. Miller also owns Barchen, in Benson; Wilson has worked at several of the city's high end craft cocktail spots, including the Benson basement bar Kaitei.
The pair impressively updated  the restaurant, adding new floors, warm blue paint, modern light fixtures and inviting orange booths made by local furniture makers Roger and Chris, who also have a store in Dundee. 
They also talked to longtime regulars to see what they might like in an updated Dell, Miller said.
"We wanted to try and figure out what the Dell means," he said. "We knew it was going to be different, but we also wanted to make sure it was still a neighborhood spot."
The feedback led them to make the most noticeable menu changes. And these changes begin with the item the Dell is most known for: Those fish and chips.
The dish has been reinvented. Miller said the restaurant buys the highest quality cod it can find, and that's clear after the first bite. The white fish is firm and flaky, and the breading is medium-thick, crispy, airy and hot as heck when it's served. Fried fish can get greasy, and sometimes the breading pulls away from the meat, but that doesn't happen here. The flavor is clean and light in spite of the dip in hot oil.
Miller said the fish is dipped in curry-spiked beer batter every 30 minutes, to make sure each diner gets the freshest plate the kitchen can make. Fun fact: The restaurant tried about 50 fish recipes before landing on this one. That due diligence worked out just fine.
The potato coins have been replaced with crisp-tender French fries, and the paper bag for serving has been replaced with a long rectangular plate and a British flag spiked into one filet. 
The menu also now boasts several well-executed old school classics, like the creamy, cool Pimento cheese served simply with a round of Club crackers (a buttery treat), or the Shotgun Shrimp, a nod to the shellfish prevalent in British pubs. The large shrimp come lightly breaded and served with a tangy, spicy cream sauce for dipping.
Let's talk about that chicken tikka masala, a dish that might surprise some diners.
"If you have been to a pub, you know Indian food is a big part of the culture," Miller said.
I love this addition to the Dell. Their chicken tikka masala is marked as hot on the menu, and it's true: For the sake of comparison, it's at least a level 5 on the Salween Thai scale.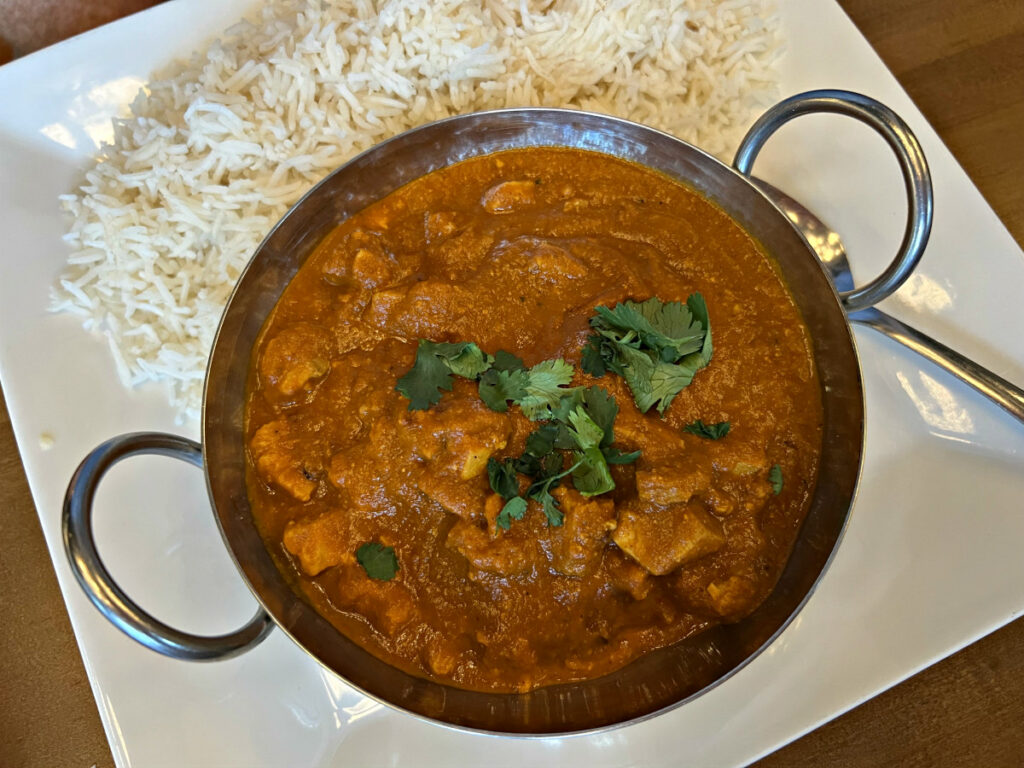 Miller said they import all the spices from India for the dish, and while it's not as complex as what you'd find at a purely Indian restaurant, it is a great facsimile of what you find in a London pub: thick, spicy sauce, tender chunks of chicken, plenty of heat and a pile of white rice at the side.
Miller plans to add more pub standards to the menu in the coming weeks, including a cheese toastie, French onion fries, chicken and chips, tomato on toast, sausage rolls, a lighter baked cod dish and a smoked salmon dip.
I liked all the cocktails we tried, as well as the sampling of fun Scotch that Wilson put together for us on the fly in the Pine Room.
The Beeswax old fashioned is a great twist on the classic, made with single malt Scotch, beeswax, black pepper and bitters. For those into a lighter drink, the Midnight Brambler has your back, with tequila, blackberry, mint, orange and citric acid along with an absolutely adorable gumball for garnish. 
If you're already into scotch, or simply into the idea of scotch, you must pay a visit to the Pine Room. Wilson is incredibly knowledgeable about the spirits industry. If you tell him what you like, or what you would like to try, he'll serve you that along with something that you've never had before and will probably end up loving even more.
While the focus is mostly British, there's a few American gems on the menu, too.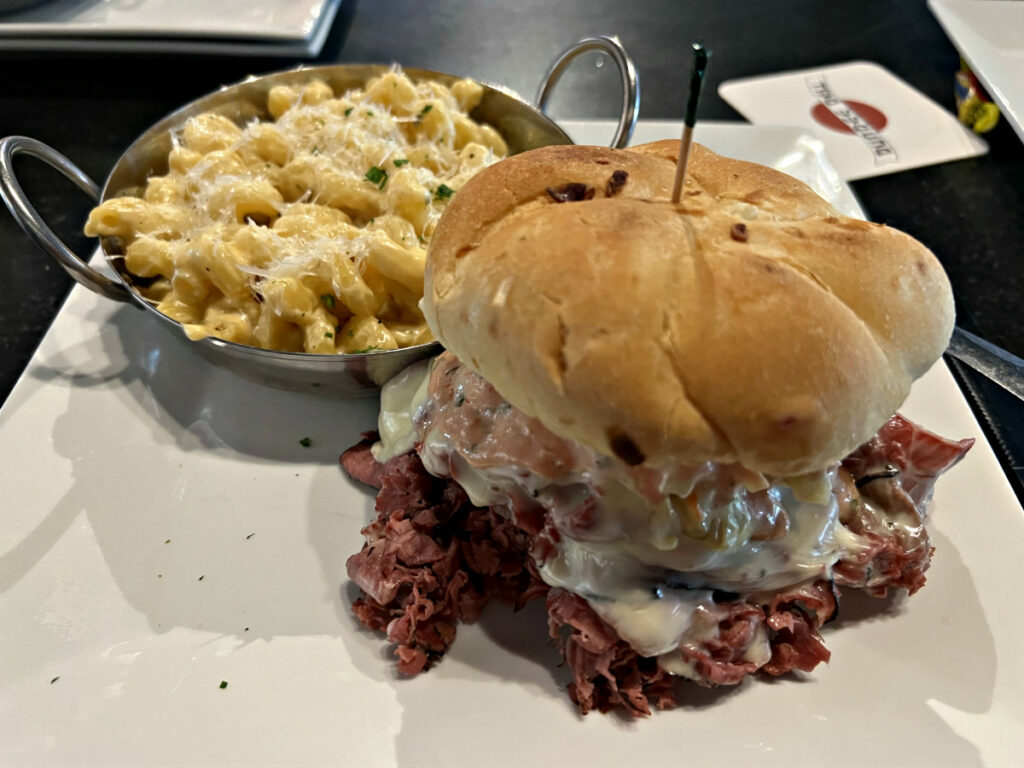 The Big Easy arrives absolutely loaded with pastrami. I mean an absolutely enormous pile of it. That's on an onion bun topped with Dell sauce, Swiss cheese and a cool, crunchy coleslaw. Pastrami lovers will love this sandwich, and though I wished for a more interesting bun, I liked it, too.
I upgraded my side from Fries to a bowl of the smoked gouda mac and cheese, which is incredibly cheesy and rich. In this side dish, gouda is in charge. I wished for a touch more complexity, and my bowl definitely needed a hit of both salt and pepper.
Now, to the real hit: the Dell burger.
A double smash Wagyu patty is served with melted American cheese, onions and pickles, all on a super soft bun. A delicious, thick and spicy sauce comes alongside, and proved perfect for spreading on the burger or for dipping fries.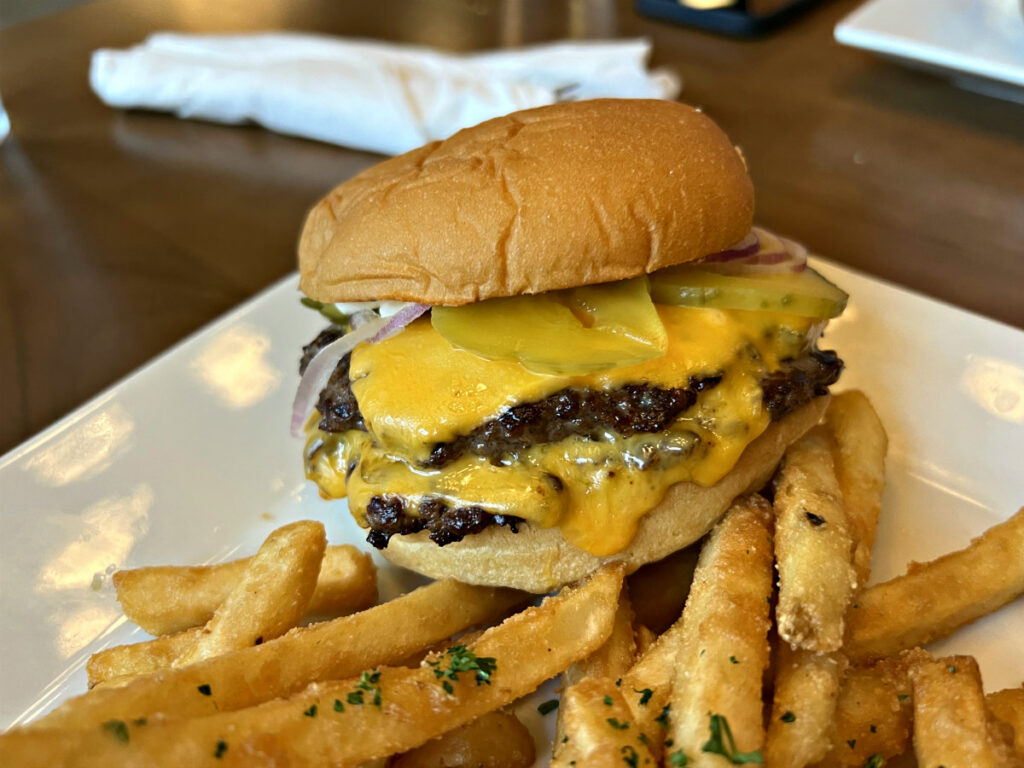 Miller said it all comes down to ingredients: beef from Jon's Naturals, a high-quality potato bun and a house-made sauce.
In my years writing about food, I've seen plenty of attempts to revamp well known Omaha spots. I've seen many updates that just didn't pass muster.
But what Miller and Wilson have done at The Dundee Dell absolutely works for me. It's updated for a modern audience in a way that honors what it's been in the past, smartly narrowing the focus and executing it well, while pushing it forward for a new century of diners.