If you want to understand how restaurants have changed, and perhaps how our city's dining scene has changed, consider Sofra Kitchen, the new breakfast, lunch and soon-to-be dinner space in Midtown Crossing.
It's taken over the former Grey Plume bay — certainly, any food lover in Omaha would agree that the Grey Plume, at its height, was one of the most ambitious, forward thinking restaurants Omaha has ever seen. Its decline and eventual closing, during the early days of the pandemic, marked a moment in our city.
So the opening of Sofra in that spot, which inside still looks and feels unmistakably similar to what it was before, marks another.
Sofra is a casual, affordable concept, the second from the owner Nils Gjoca, who also runs Sofra Creperie inside the Aksarben Inner Rail food hall. Some of what we tried during three recent visits was good: a memorable burger and stand out French fries and a breakfast burrito with plenty of flavor and interesting textures.
But other items, including an inexplicably cold eggs Benedict and a hot shrimp roll, left me less impressed. Right now, Sofra is still evolving.
Gjoca is working with chef Mikel Fane, who landed in Omaha after cooking across Europe, including in Italy and Greece. Together, Fane and Gjoca developed a new menu for Sofra Kitchen, based on Fane's experience and local tastes, Gjoca said.
Over the next few months, Fane plans to start putting his own touches on the menu, including adding homemade pasta and more local, seasonal dishes.
"There's a learning curve at the beginning," Gjoca said, "getting used to new customers and tastes in the States, but he has done a great job and the menu will only expand."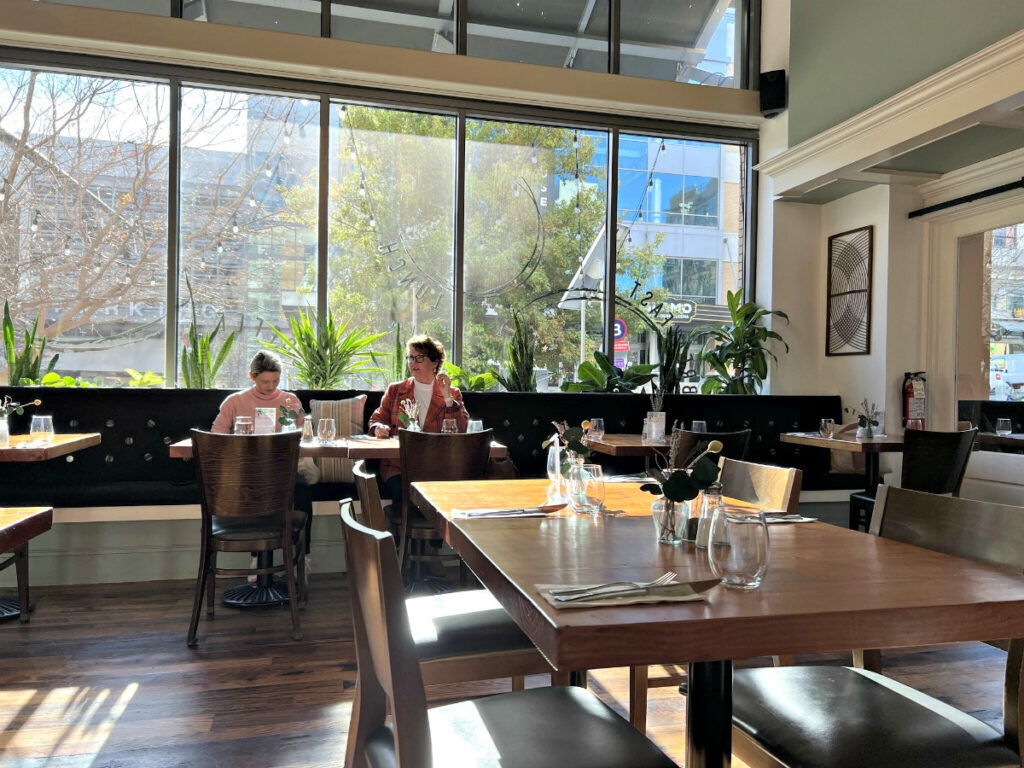 Sofra is bright, airy and welcoming inside. A few things have changed: the art on the walls, lots of large and small plants throughout the space, more casual service and a more affordable price point.
Much is the same, too: the layout, the long front bar, the open window into the kitchen, the warm, reclaimed wood and soft color scheme.
The dining room looks slightly rougher in areas. For example, a frame that used to hold a map of the state of Nebraska now shows what looks like its bare metal backing, and a spot behind the bar where a wine rack used to hang is dotted with unpatched holes and topped with a television set that played what looked like an underwater screensaver.
I hope those spots will be cleaned up in time. And I can almost always do without a television set.
Gjoca said when the team first went into the space it felt like "time was stuck," and most everything was left in the space. But they saw potential, too.
"It was too good to pass up," he said.
The lunch menu is simple, a mix of burgers and sandwiches. I liked the Sofra burger, with a special sauce, brioche bun and a nicely executed, crisp-tender side of skin-on French fries. The burger arrived nicely cooked and juicy, with a pleasantly seared exterior, and the Fries are clearly house made, with the signature crisp exterior and tender interior that can only be achieved with a lot of work.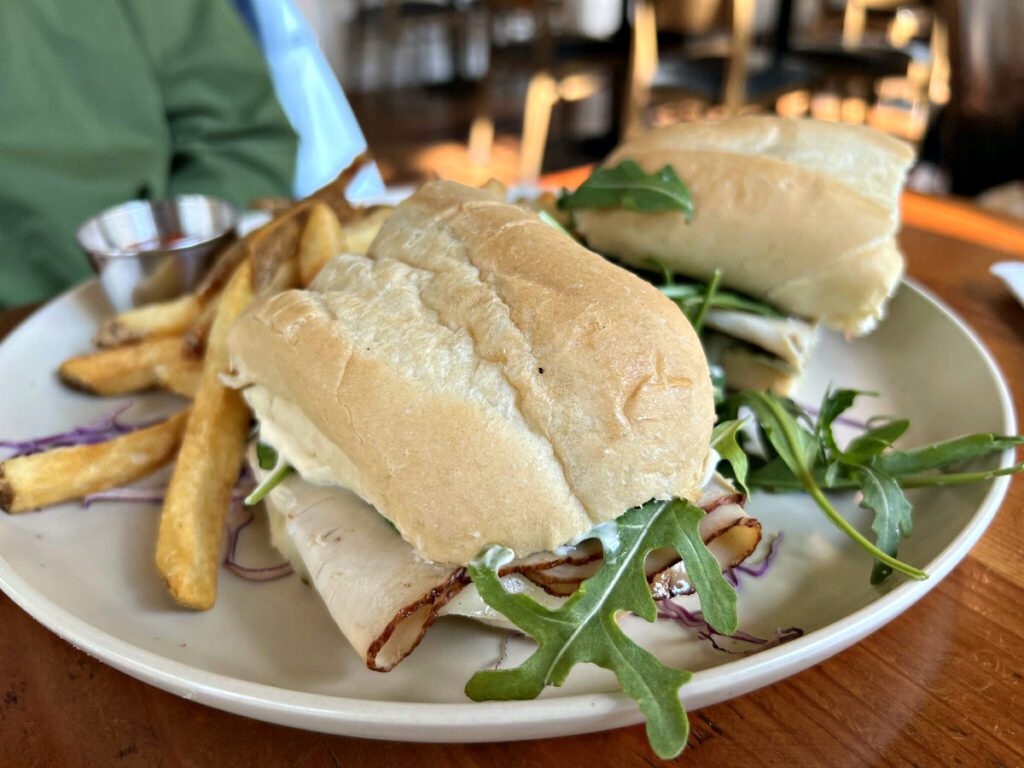 My friend enjoyed their turkey sandwich, elevated by a thick spread of mayo and a thinner layer of herbaceous basil pesto, the whole thing topped with a generous portion of sliced turkey, a handful of spicy arugula and sliced tomatoes on a soft hoagie bun.
Prices at Sofra are affordable for a sit down lunch: Sandwiches are between $11 and 18. At the weekend brunch, everything is between $12 and $15. Specialty coffee drinks run around $3 each.
Another day at lunch, I ordered the shrimp roll, a favorite of mine. The kitchen was out of the brioche bun it is meant to come on, and suggested I substitute a croissant, which I did.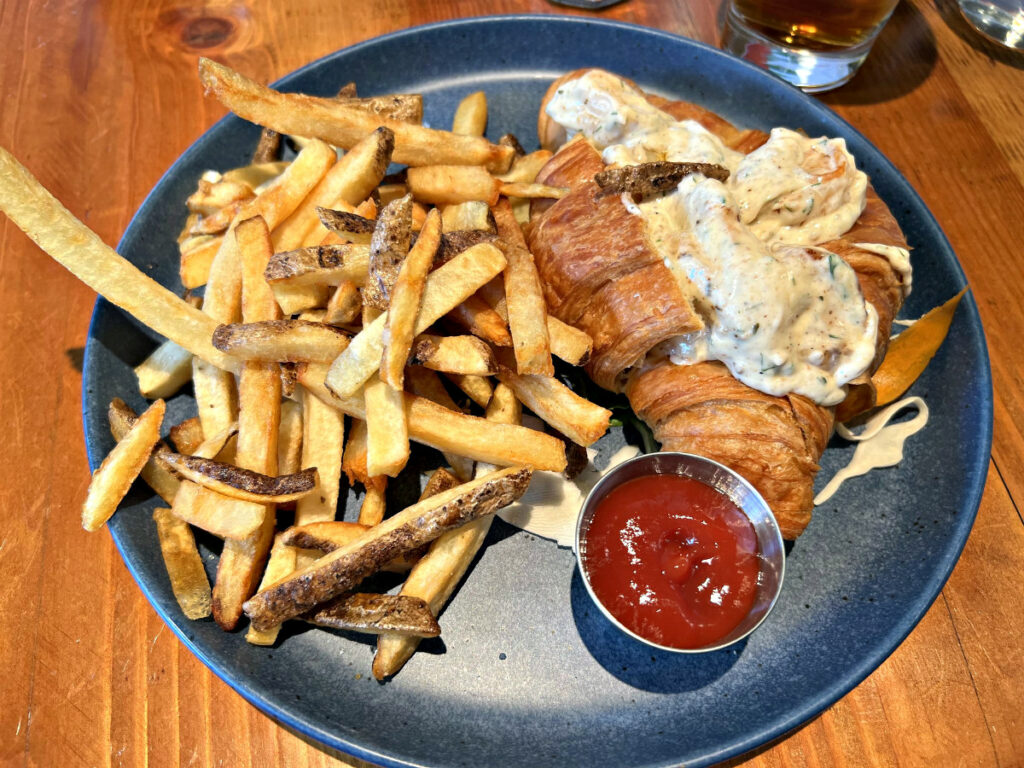 Most shrimp rolls I've tried are cold; Sofra's is warm, and the croissant was room temperature. The temperature changed the experience, and I'd probably have preferred it more were it cold. Nonetheless, it included plenty of shrimp and a creamy, dill-forward sauce.
The piadini, a take on an Italian flatbread sandwich, reminds me of what Sofra does at Inner Rail, and makes sense knowing that Fane has lived and cooked in Italy. A riff on an Italian-style crepe, it comes with two of my favorite meats — mortadella and ham — along with melted swiss cheese, tomatoes, arugula and kalamata olives. Warmed and crisped on the grill, it's a fun sandwich to eat with a variety of flavors. My second dining partner, a different one this visit, also commented on the French fries, which are truly standout.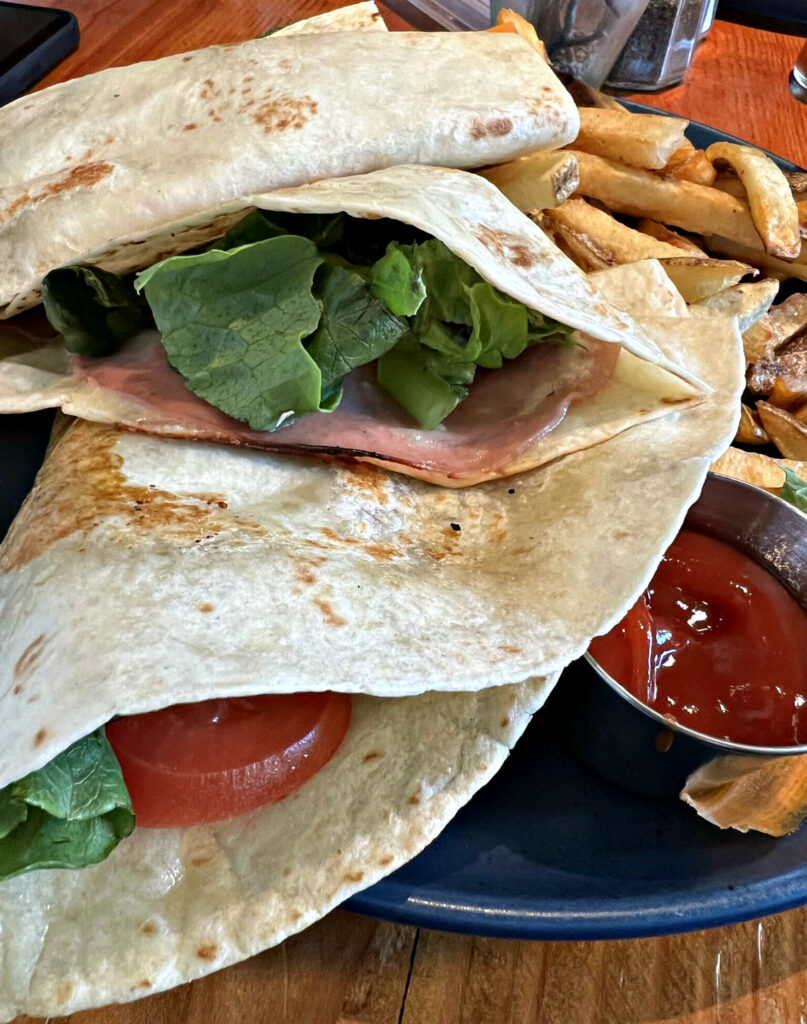 Its clear staffing is a challenge — Gjoca confirmed it when we talked. At lunch, just one staff member worked in the dining room. During a Sunday brunch service, the dining room had just a few servers, and after a phone call, the owner arrived to help out. Several times, the staff thanked diners for patience while they caught up. I'd advise patience if you go, too.
That Sunday brunch found the dining room overflowing, with a line extending out the door and onto the street. We snagged a seat at the bar that day, and watched the busy kitchen hustle to keep up.
Sofra's coffee and coffee drinks are good, as is the iced tea, and diners can choose to add from a lineup of house made syrups to their latte if they prefer. For now, Sofra doesn't have a liquor license, though one is on the way, as is a dinner menu.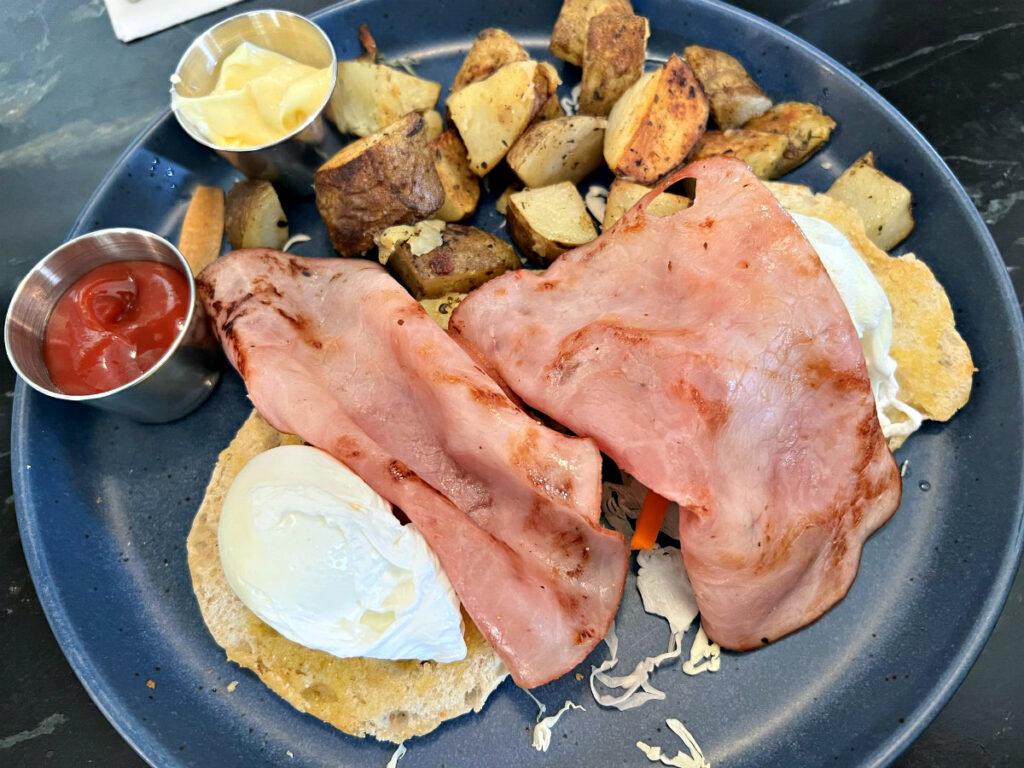 Gjoca said the liquor license has been delayed, and expects the evening hours and dinner menu will launch sometime in January.
The eggs Benedict might have been one of the biggest missteps we had. While the ingredients were all high-quality, and the eggs perfectly poached, the ham was cold, as though it just came out of the refrigerator. Draped over the top of the eggs, it quickly cooled them down and didn't have the warmth to soften the side of Hollandaise sauce beyond the texture of mayonnaise. I'd not order it again until it is improved.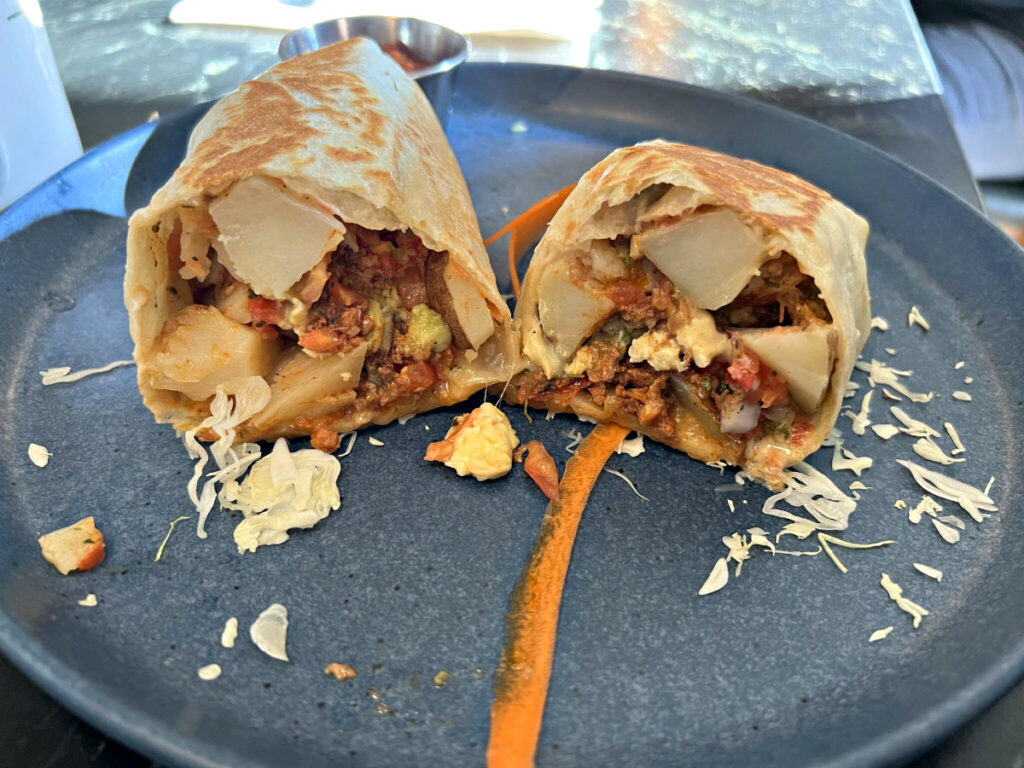 Better was a breakfast burrito with varied texture and plenty of flavor: big hunks of crisp potato, bursts of chorizo heat and a pleasantly chunky, mild red salsa tucked inside a crisped warm tortilla.
My visits to Sofra left me pensive about Omaha's dining scene. In some way — particularly in the moments when it faltered — I wished for that old, overly ambitious sense of surprise that its dining room became known for. But in another way, I know this is where our restaurant scene is right now: casual, affordable, simple, approachable. Diners have evolved, and so have restaurants. I think Sofra — with much on the horizon, including that dinner service — is still evolving, too.