Today is all about bold pronouncements. I am now prepared to make several, starting here: two-time James Beard semifinalist David Utterback, who has just opened a new, upgraded omakase experience in Benson called Ota, is making the best sushi in the Midwest. Period.
I've been writing about Utterback's restaurant and his omakase since 2018, when I first reviewed Yoshitomo for the Omaha World-Herald.
From day one, Utterback created a dining experience that didn't previously exist in our city. He served fascinating bites of fish most diners in Omaha had never tasted before. He presented them gorgeously. He made dishes of his own creation that have now become the restaurant's signature bites. And he shared his massive knowledge, in his super-approachable and friendly way, with each small group he encountered during each omakase dinner.
For the uninitiated, "omakase" translates to "I'll leave it up to you," and that's just what diners do: put their fate, and their dinner, in the hands of the sushi chef. The experience lasts for several hours, includes more than a dozen courses and usually only includes a small handful of diners.
It doesn't hurt that Dave is a wonderful host and conversationalist, and his team are hospitality experts.
Now, with Ota, which is his mother's family name and translates to "big rice patty," Utterback has expanded his footprint in Benson. He has taken his omakase to that proverbial next level – a level that would have been unimaginable in Omaha or Nebraska if he hadn't made it our reality.
Yoshitomo's door has moved a few steps west from its original spot. Diners now enter into an expanded dining room area that Utterback said he's still refining.
Behind a small curtain is the new, serene omakase room. There's no sign for Ota outside. During an interview, Utterback said he intends to keep it that way, as people can't simply walk in off the street and sit down at this counter.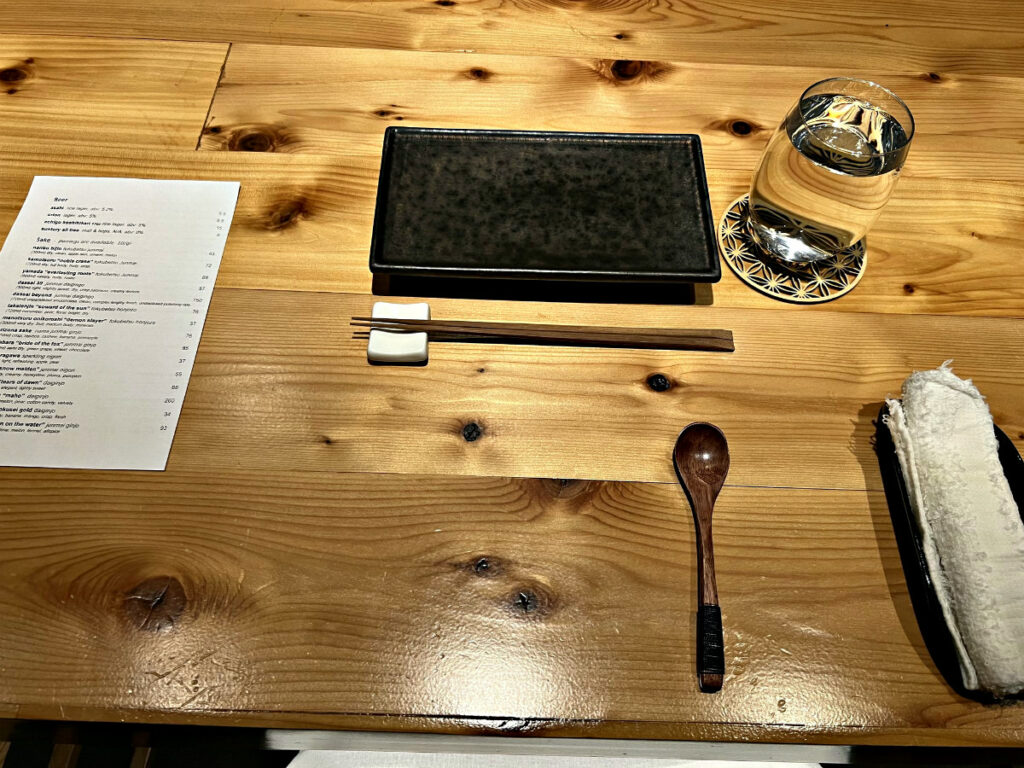 This new room, minimal and sleek, in hues of chocolate brown and ivory with a counter made of warm, glossy wood, moves his omakase service into a space that matches the kind of food he's been serving for several years now. It no longer has the charming but rough-around-the-edges, do-it-yourself feel it did before. Now, it's elegant. Refined.
Utterback said he designed the new space while remembering experiences he's had at omakase dinners in New York and Japan. He said many diners, both local and tourists, were surprised by the food coming out of the old Yoshitomo omakase room.
He explains it this way: "Imagine you saw the original cast of Hamilton, but you saw it at a local community playhouse, or your kids' school," he said, chuckling.
Transfer that experience to Broadway, and it becomes the most incredible experience you have ever had.
"It's the same content, but the different space completely changes the experience," he said.
I realize it can sound like hyperbole when I write reviews like this one, but trust me when I say I am not exaggerating. Every bite at the Ota dinner we experienced two weeks ago was divine.
The experience was also thought provoking, unusual in the best possible way, so much so that, several times, the six diners at the omakase bar exclaimed with surprise. We asked questions. We groaned with delight. I mean, just look at those bites of tuna. The seared A5 wagyu! The uni!
Ota takes Yoshitomo and pushes it up a few notches with bites like monkfish liver, which Utterback said isn't something he'd serve in the restaurant because of its rich finish and unusual taste. It reminded me of foie gras, with a soft, pate-like texture and a depth Utterback cuts through with daikon radish, balancing the heft of liver with a kick of acid.
Yoshitomo's aging program shines during Omakase, and several of the bites in the first half of the meal are aged between six and 29 days.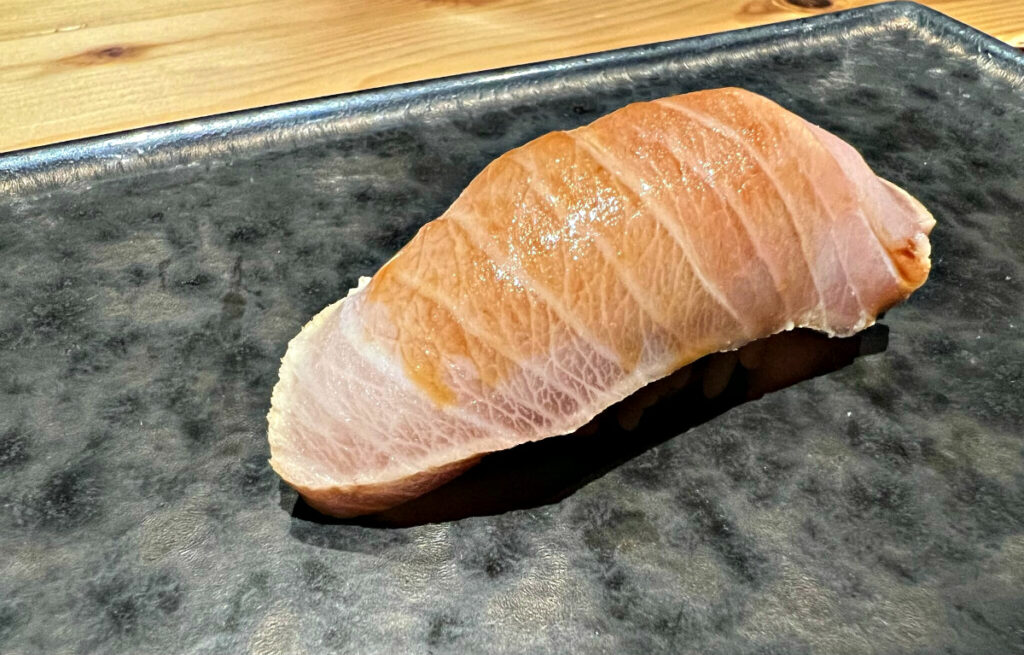 A bite of winter yellowtail aged 29 days arrived half-transparent, with delicate, white veins of fat zig zagging across the fish.
Sakura masu is another interesting moment. Here, cherry trout, a fish that spawns during cherry blossom season in Japan, is aged for nine days and then cured in pickled cherry blossom leaves, served with a sliver of green leaf on top.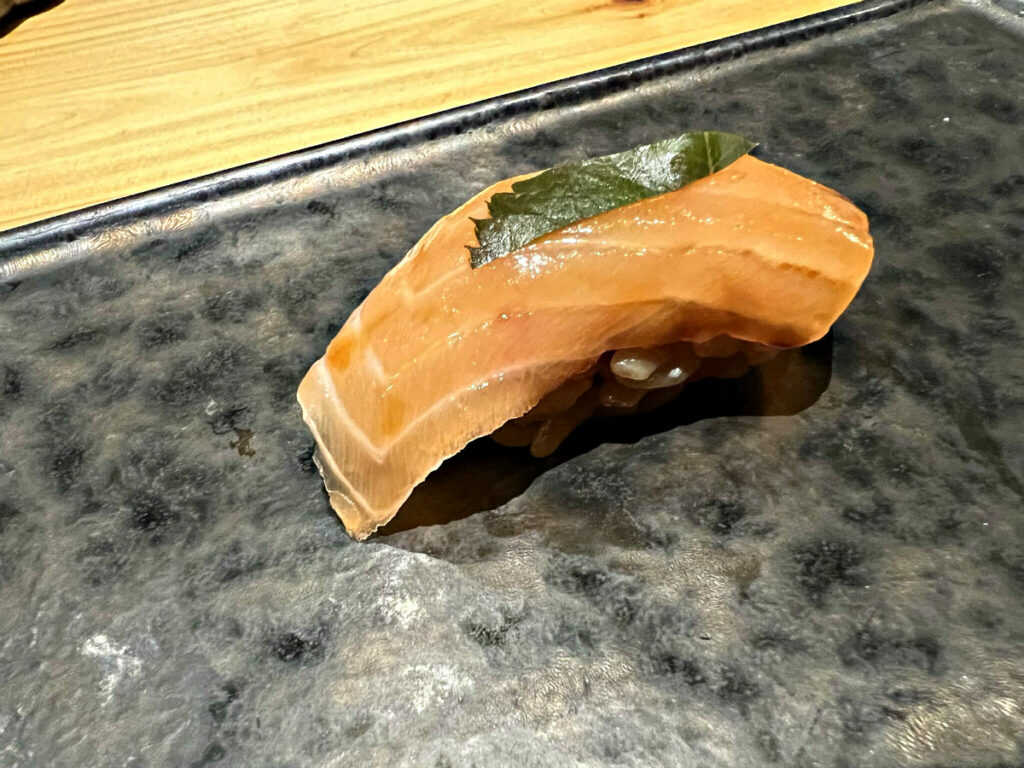 Two cuts of tuna — one lean, from the fish's spine, gets soaked in soy and served right before Utterback drops a bit of otoro, tuna belly, which has a melt-in-your-mouth quality and exceptional tenderness. It's a treat to try the different bites that come from the same fish back to back.
Utterback has upgraded how he receives that fish, and where it comes from. Ota is now among one of a half-dozen restaurants in the United States that using a famed Japanese distributor that hand-picks each fish specifically for the restaurant.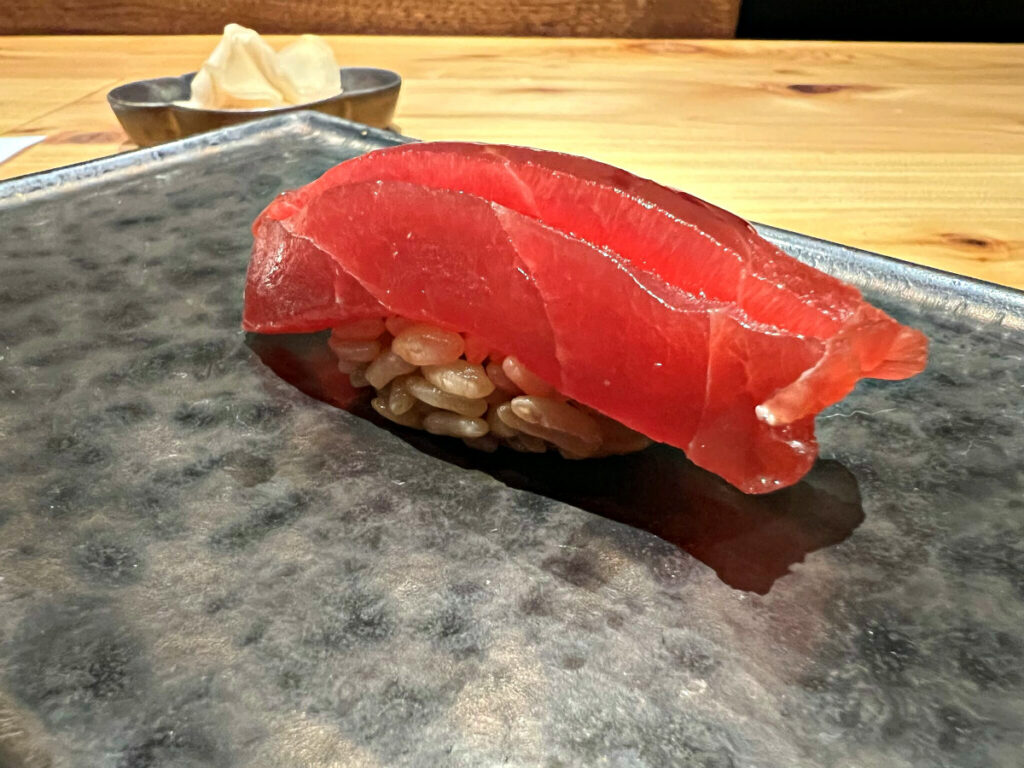 The last few courses of the omakase are a study in decadence. It began with a bite of Osaka-style stick sushi stuffed with barracuda; then a hefty bite of creamy uni, the sweet roe that comes from a sea urchin, served with a scoop of red fish eggs and a crunchy seaweed wrap.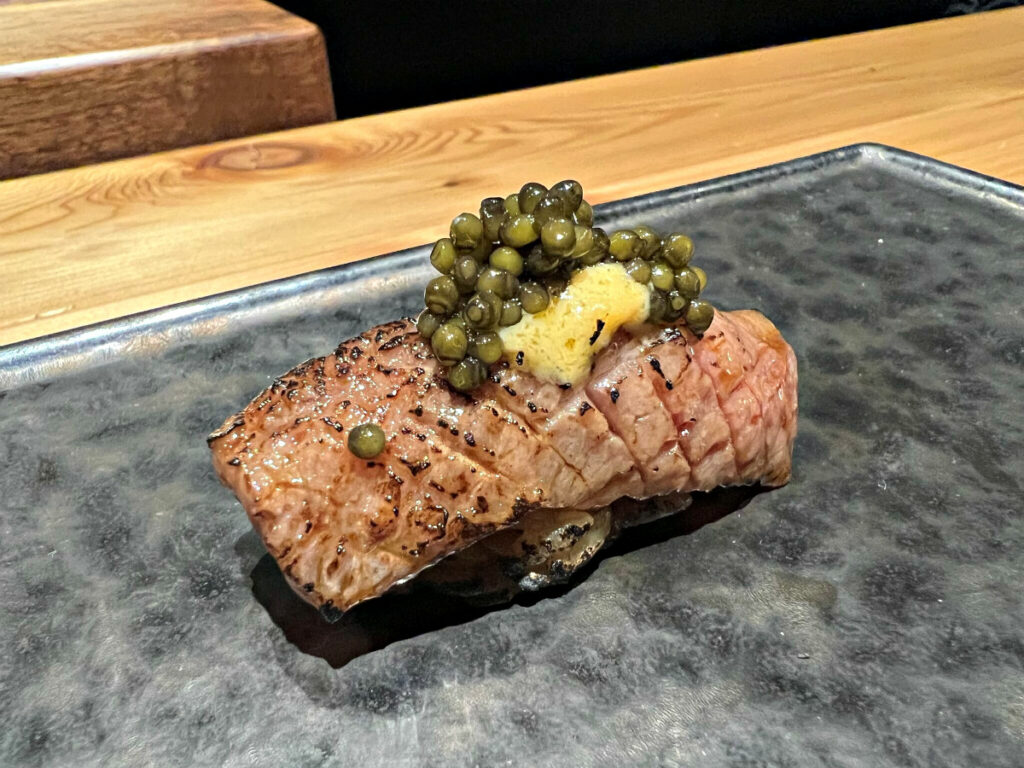 Then arrived that hunk of buttery, fatty A5 wagyu, the Nebraska version of the otoro served earlier in the meal, and the final bite: a sharp-edged rectangle of house made egg tamago, which Utterback lightly flavored with pumpkin spice, a playful finish.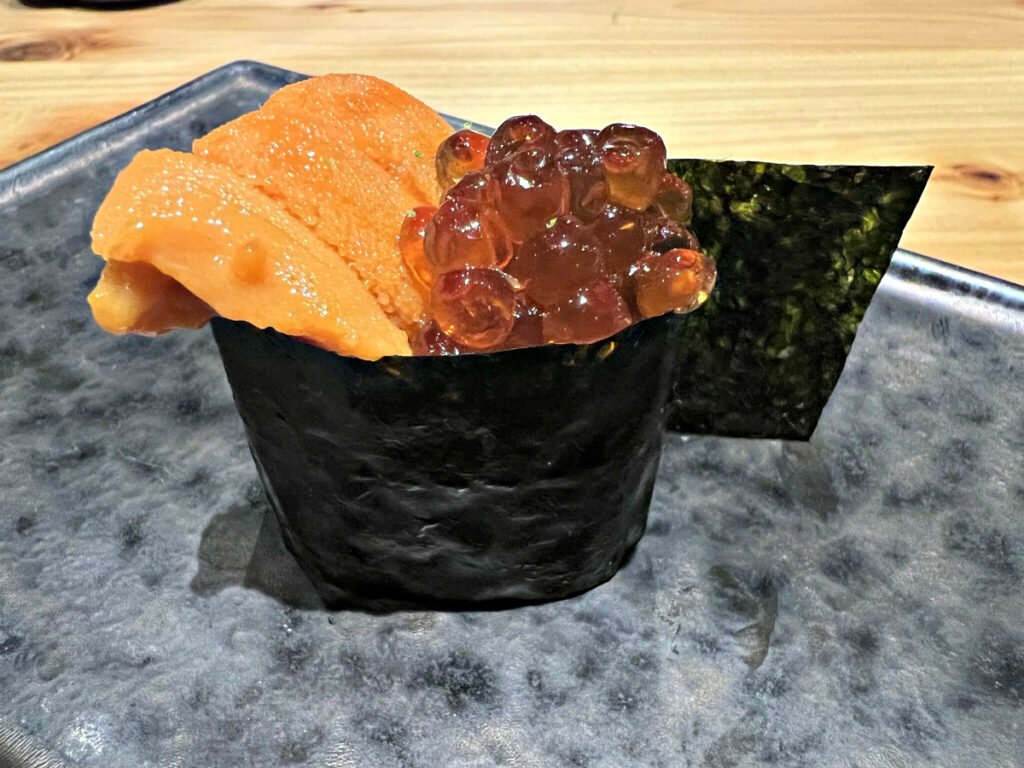 With the upgrade in the space, probably not surprisingly, comes an upgrade in price. The dinner is now $300 a person; Utterback said it's still less than many of the top-of-the-line experiences in cities like New York and Chicago. The new price also includes four more courses per diner.
"If you want the best of the best," he said, "this is what it costs."
The new price means he can source the exact fish he's looking for, and also allows him to find the work-life balance he needs, doing just one seating a night instead of two. Some days, he'd be on his feet for up to 18 hours a day.
"I don't mind it, but my body does," he said.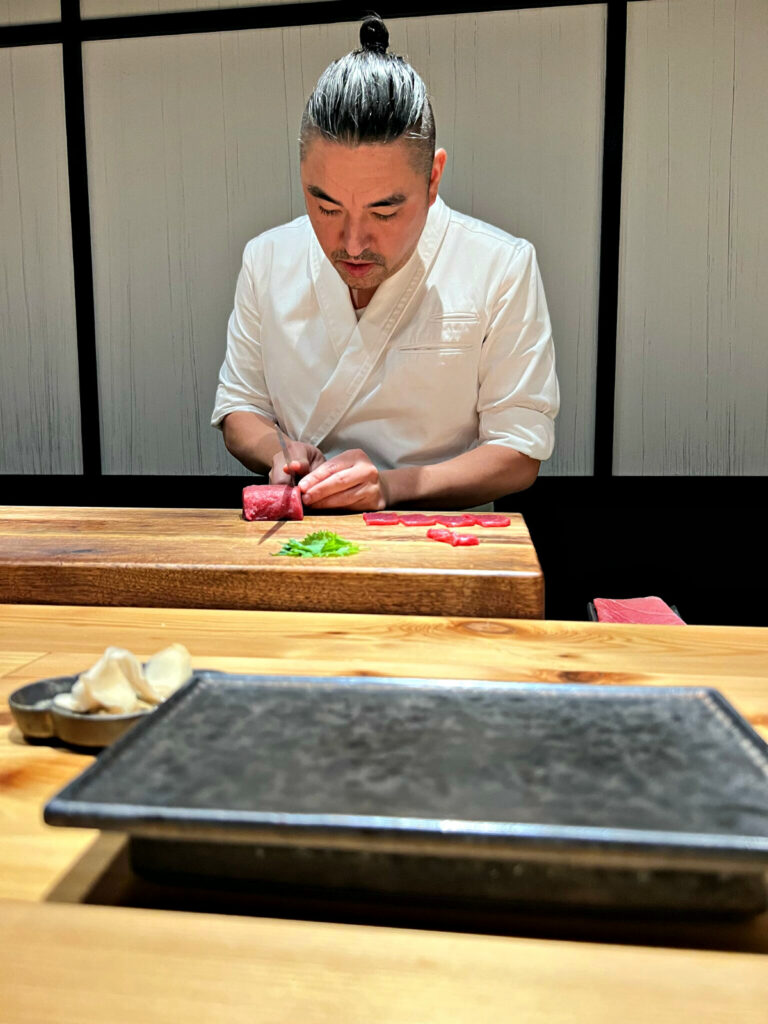 I asked Utterback how it's been going since he received his second James Beard semifinalist nod (his first was in 2020, when the awards, the Oscars of the food world, were canceled.)
"Pretty good," he said. "We know what losing feels like, and we don't have unrealistic hopes and dreams."
But he did say he feels like Omaha has a better chance this year, with four chefs nominated, the most it's ever seen. What would it feel like, I asked, if Omaha has its first finalist this year?
"It would be great. I've never had an excuse to wear a real suit. I would just, maybe once in my life, have a real reason to go buy a suit suit suit," he said.
All that said, he expressed trepidation at the idea of being the city's first Beard winner.
"Everything changes then," he said. "But if they want to give me something, I ain't giving it back," he said, laughing.
It remains to be seen if Omaha's time has come — Beard award finalists are announced at the end of March.
No matter what happens, Utterback will be in his new, stunning room giving diners an experience that, in all my travels to cities like Chicago, Kansas City, Oklahoma City, Minneapolis, Madison and others, you simply can't and won't find.
The truth is this is happening right here in Omaha, in our neighborhood, and I strongly suggest you take a seat at this bar, if you can swing it financially and manage to score an increasingly hard-to-get reservation. (Pro tip: Plan ahead, and book a spot at the omakase more than a month ahead.)
Here's my final bold pronouncement. Utterback and his team are playing on a national level.
And the truth is, that pronouncement isn't really bold at all. It's simply true.