Omaha's food scene, and Omahans, have had a tough two years. We've lost restaurants. We've done our damndest to keep our local chefs and favorite spots in business. We've ordered a hell of a lot of takeout.
Which is one reason it felt like such a gift when Koji, chef David Utterback's adventurous new spot in Countryside Village, opened in May. Here, at long last, a talented chef is trying something different. He's introducing a whole new category of cuisine – in Koji's case, Japanese skewered and barbecued meats and seafood – to a city that's never seen it before.
Utterback has already leveled up our city's game once with his sushi spot in Benson, Yoshitomo. Now, in 2022, he's pushing us forward again. That, I think, deserves some special attention.
Omaha, meet yakitori.
"For me, yakitori is like, one of my absolute favorite foods," Utterback told me after my two recent visits to Koji, 8718 Pacific St. "Whenever I travel, the first thing I do is look and see if the city has a yakitori joint I can go to. Nine times out of ten, it does not."
Partially for selfish reasons, Utterback wanted to change that in Omaha.
Koji's yakitori program — yakitori translates from Japanese as "grilled bird" — focuses mostly on the traditional meat, chicken. Featured are chicken thigh, wing and breast done several different ways, including as meatballs and with curry. There are also more obscure cuts, like chicken heart, skin, oysters and belly.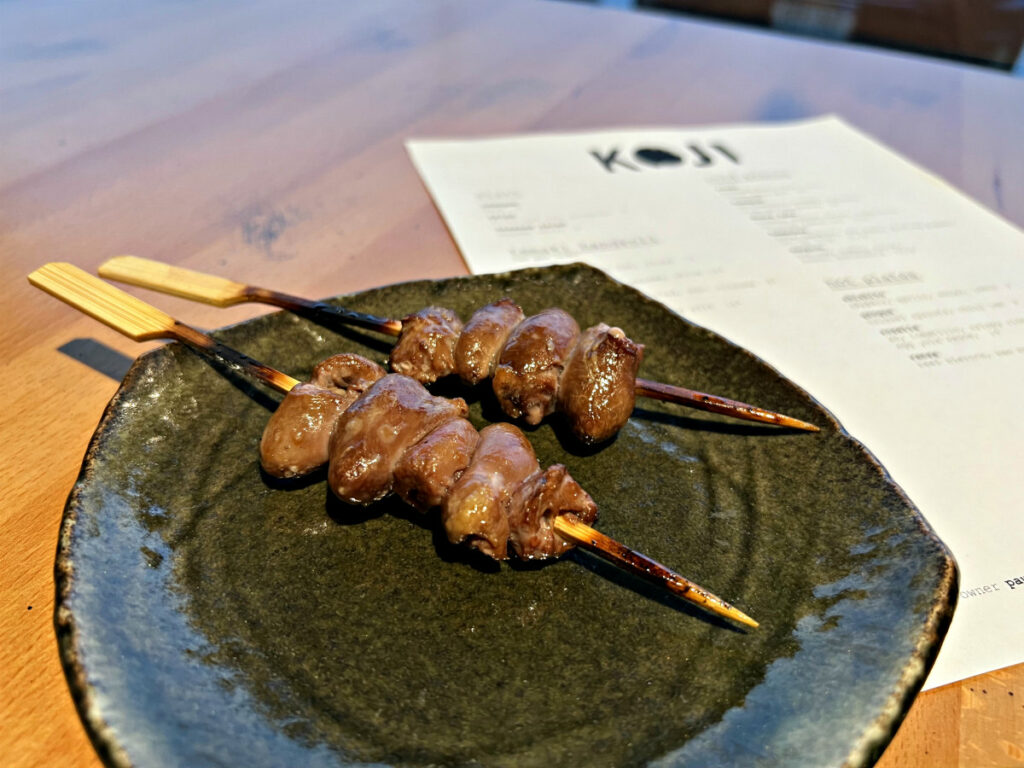 There's also skewered seafood, including tiny, dark red whole octopus, and other rare, unusual items that are all included on a weekly "mazurashi" limited menu. Sometimes there's only one or two skewers of each available during a typical night of service.
For the sushi lovers, Koji offers a sort of "greatest hits" list from Yoshitomo, including most of the rolls, a selection of nigiri sushi and several new items: larger, made-to-order temaki handrolls and new hot and cold plates sized for sharing.
During our visits, my dining partner and husband, Matthew, and I tried the entire regular yakitori menu and several of the rare cuts, depending on what was available.
Our lineup of favorites included a juicy chicken breast coated in a flavorful green curry; a smoky, crisp chicken meatball with a tender center and crispy exterior served with an unusual cold egg yolk-based sauce; and the chicken belly, off the limited menu.
I'd never heard of chicken belly, and Utterback told me later it takes six of the chickens butchered in-house to make just one order. The belly has the juiciness and flavor of a chicken thigh, but with a touch more chew and a whole lot of char, thanks to the kitchen's Japanese barbecue setup (more on that shortly.)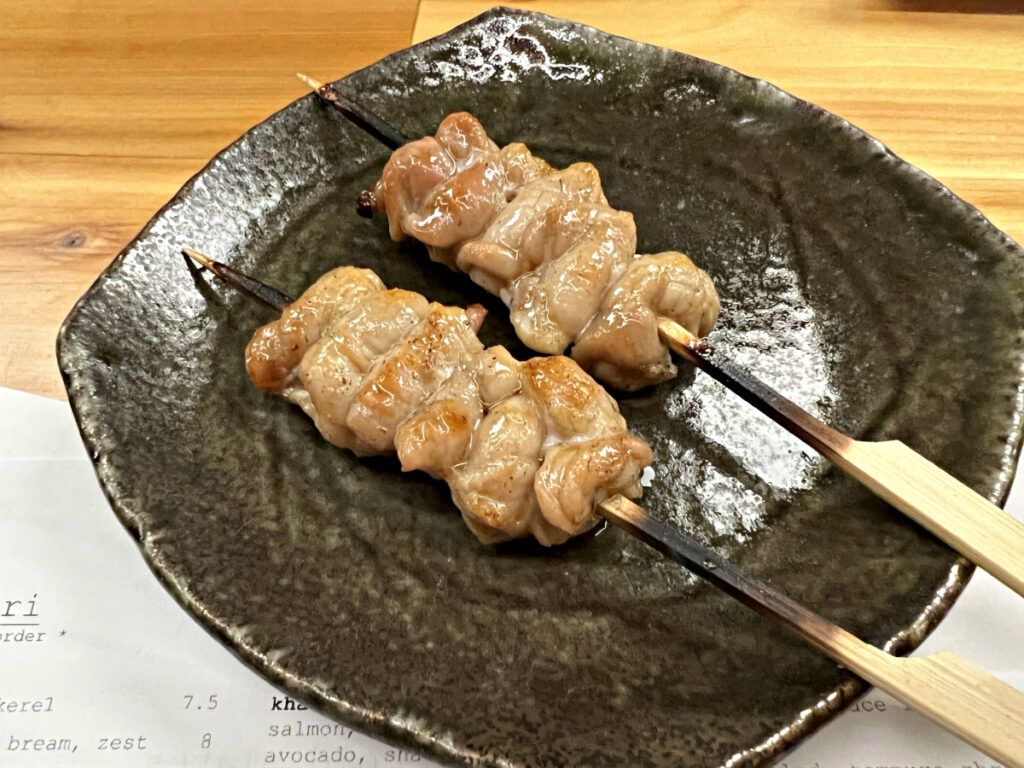 I also fell for some of the more unusual cuts: a skewer of chicken hearts is an intense, savory experience. The organ meat is dense and rich. (Matthew wouldn't know, as he chickened out on chicken heart.)
The tiny, dark red whole octopus on the kitchen's only seafood skewer bursts with flavor (and juice) when you bite into one. And though I never did get my hand on the chicken oysters, which Utterback said sell out almost instantly every night, I know I want an order at some point. They're one of the juiciest, tenderest cuts on the whole bird.
Chef Dylan Espinoza runs the yakitori grill at Koji, which is called a konro, and runs off specific, low-smoke Japanese charcoal called binchotan. Every night you'll see Espinoza carefully fanning those coals with a hand-held fan, flipping them gently and moving them around the grill. It's a fun process to watch from a seat at the bar.
Utterback said the barbecue runs exceptionally hot, but creates smoke only when chicken fat drips on the binchotan.
"The chicken is bathed in its own chicken fat smoke," he said. "It creates a really intense chicken flavor."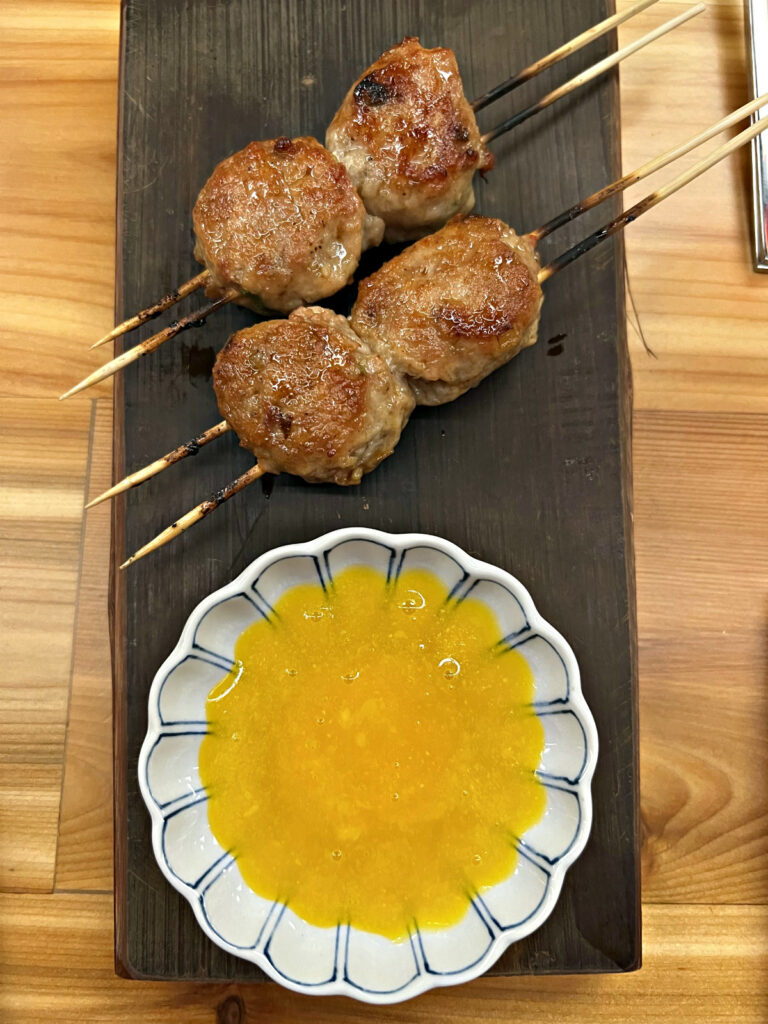 It sure does. Each skewer, though created from the same bird, has its own texture and its own distinct flavor profile. Utterback said as the kitchen gets better at butchering chickens, it will have access to even more obscure cuts of meat, which equate to even more yakitori options. That is something to look forward to.
The only hiccup we ran into was near the end of the second visit, when we ordered two sushi rolls we hadn't had before, both torched. While the flavors of both the Maru roll and the Osaka roll are good, and the ingredients are clearly quality, the execution was the issue.
Both rolls were sloppily plated (this surprised me, if I'm honest), and almost immediately fell apart when we tried to eat them. Utterback told me later that the majority of his sushi staff at Koji is new to the job, and that some have only a few weeks of experience at most.
Utterback is a playful, creative chef, and the menu at Koji proves this yet again. Three dishes in particular, I think, get there: the first is the salad, where he bathes regular old mixed greens in a Caesar-inspired egg yolk dressing, then absolutely assaults the bowl with finely shredded Parmesan cheese and a scattering of super crispy fried garlic.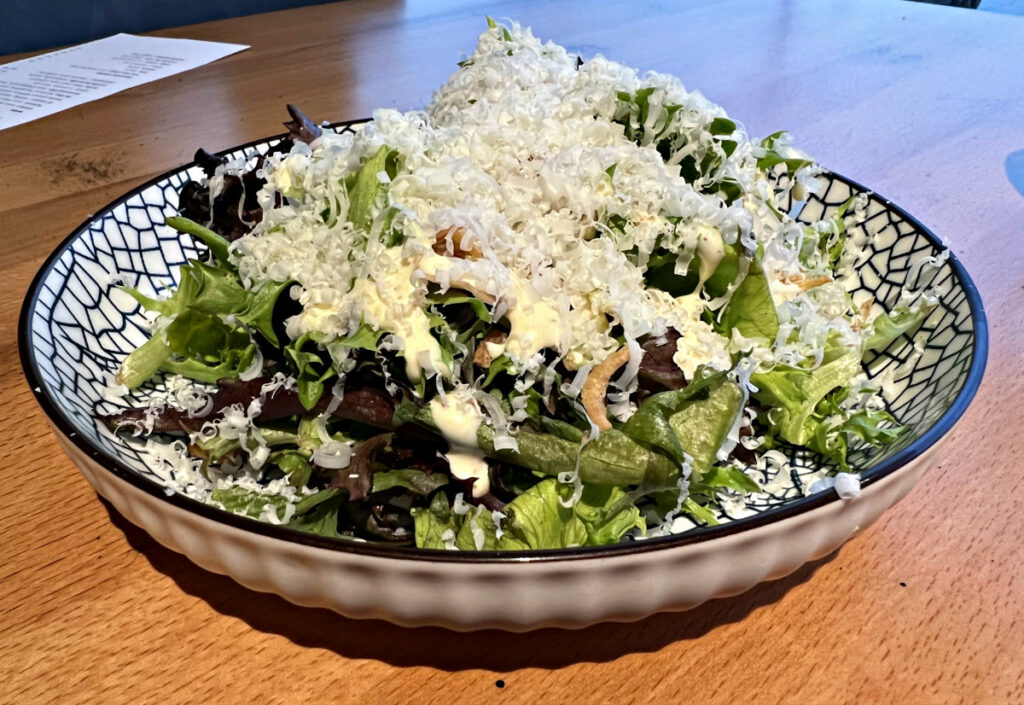 The Rosella, on the hot plate list, is an interesting study in texture: hot, crispy rice meets cool chunks of tomatillo, all of it bathed in an egg yolk sauce. The spices here are bordering on Mexican fusion, but in the best possible way. It's got the right contrast.
Another fun work-in-progress is the kon-cheese, a take on a Korean cheese and corn bar snack that arrived bubbling hot in a cast iron skillet. Ever impatient, I burned my mouth on the first few bites and didn't stop from there.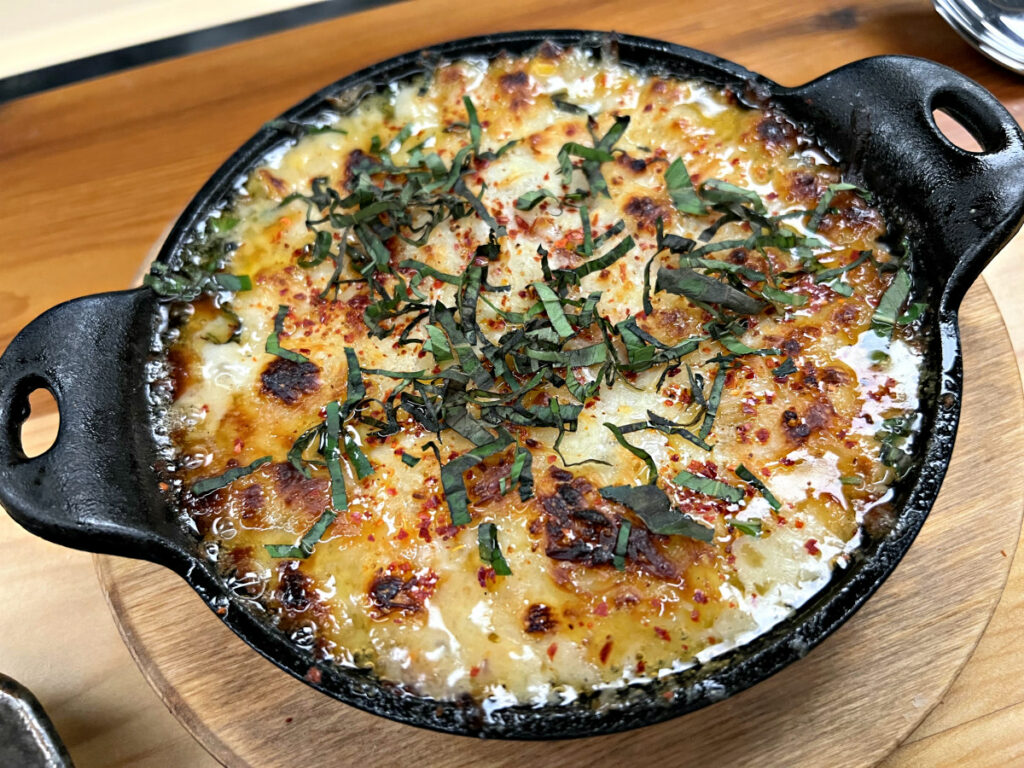 Utterback confirmed my suspicion that this dish was still evolving; it needed some type of carbohydrate or otherwise bready dipping tool, and he's working on that, with plans to morph the dish into a flatbread in the coming weeks. He's also changed the name, from Kon-Cheese to "Korn."
Espinoza, the yakitori chef, has a background in pizza — he ran a pizza restaurant in Seattle — which explains the glorious pepperoni pizza vibe both Matthew and I got from the skillet of corn, molten mozzarella, chili and tajin. It's one of the more interesting dishes we've tried in Omaha in a minute. It was good, and I suspect it will soon be great.
Another new menu item are the large-sized, made to order hand rolls, a dish Utterback said many Omahans haven't properly experienced. One, the kani miso, a crab fat, crab meat and roe concoction that Utterback has been working on for years, appears here in all its juicy, warm glory inside a crisp piece of seaweed. You will make an absolute crab fat mess of your napkin, but it is worth it.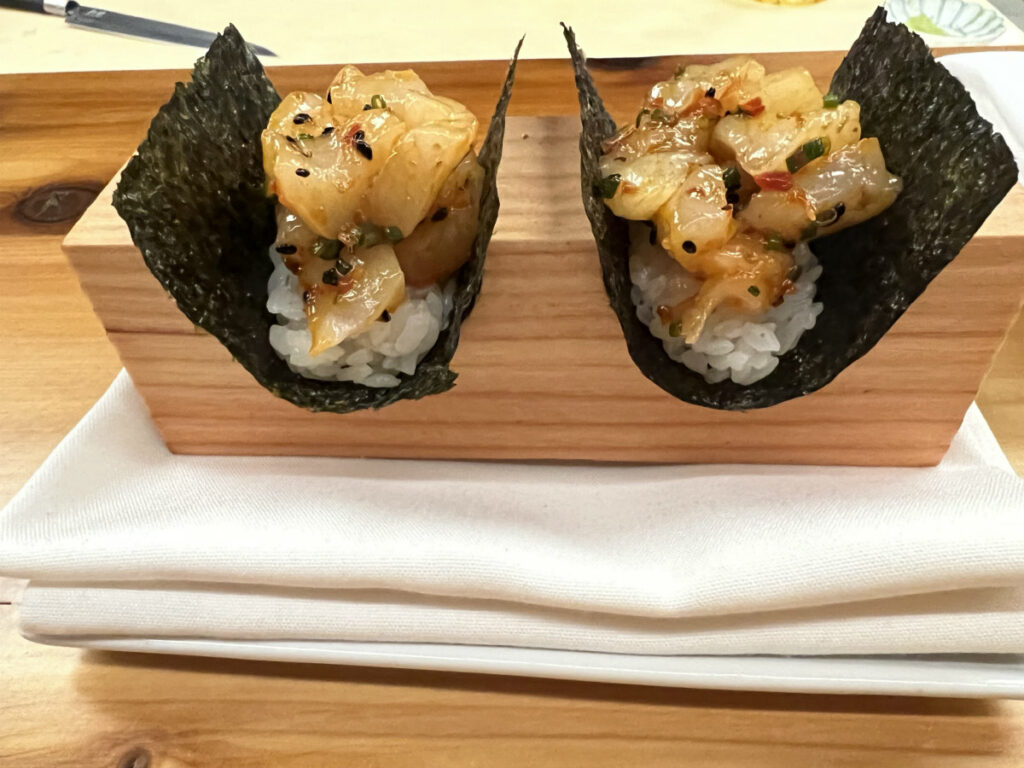 Also worth trying is the scallop hand roll, spiked with black sesame and XO sauce, cool and delicious but with a lip-tingling kick of spice. Yoshitomo helped me fall in love with scallop sushi, called hotate, and I highly suggest you try either (or both) during your next visit.
Utterback said hand rolls are named as such because the chef is meant to hand them to the customer, and that happens at Koji. I haven't experienced that kind of service anywhere but Yoshitomo. If you sit at the sushi bar, it's likely that chef Paul Rimell will be the one handing you each dish.
Inside, Koji is dark and moody, with a warm wood and mostly black interior design, and a long wood sushi bar with an open kitchen. The dining room can get noisy when it's full. Sit at the sushi bar for a more all around intimate, and quieter, experience.
Utterback said Koji is settling in nicely in Countryside Village, and finding a whole new audience of diners, including many who haven't yet tried Yoshitomo.
"A lot of people think (Koji) is a sushi restaurant, and that's completely ok," he said. "That's maybe part of what makes the whole thing work. And that may be how I get new foods into the city."
Utterback is savvy enough to understand that the way one introduces diners to new foods is by wrapping those more unfamiliar experiences inside what's already comfortable. He's doing that heavy lifting with the menu at Koji.
I, for one, am grateful. More than ever, this is what our city's food scene needs.
Koji
8718 Pacific St., In Countryside Village
Izakayakoji.com
Hours: Tuesday Through Saturday, 4 P.M. To 9 P.M. Closed Sunday And Monday.
(531) 721-2626
This review is part of a paid partnership with Grow Omaha Eats.