The Dungeness crab pot, one of the new dishes on the menu at the newly reopened Twisted Cork Bistro, is a contact sport, in the best possible way.
I barely took any notes while I was eating it, and for good reason: I was eating crab, mussels, tiny roast potatoes, crisp-tender green beans and bread dipped in savory, hot broth, almost all of it with my hands. I absolutely love crab, and hardly ever see anywhere else in Omaha, period.
Even without a single word written down, I can tell you all you need to know: it's downright delicious, and I ate every last morsel.
"You aren't going to get that crab pot on a first date," co-owner Darrell Auld said to me when we chatted after my two recent visits.
He's right: Good thing I was with my husband of 14 years. (I think he still liked me even elbow deep in crustacean.)
I for one am excited to see the return of a little neighborhood gem like Twisted Cork, which reopened off 108th and Pacific Streets in July after being closed for a 27-month renovation.
The restaurant always had an unusual, narrow focus on the food and wine of the Pacific Northwest, as well as seafood that Auld ships in regularly from Hawaii. Diners familiar with the spot will find a lineup of some old favorites — salmon tacos, a spicy steak, an unforgettable burger — alongside newer items like the crab pot, several new appetizers and at least one bison dish.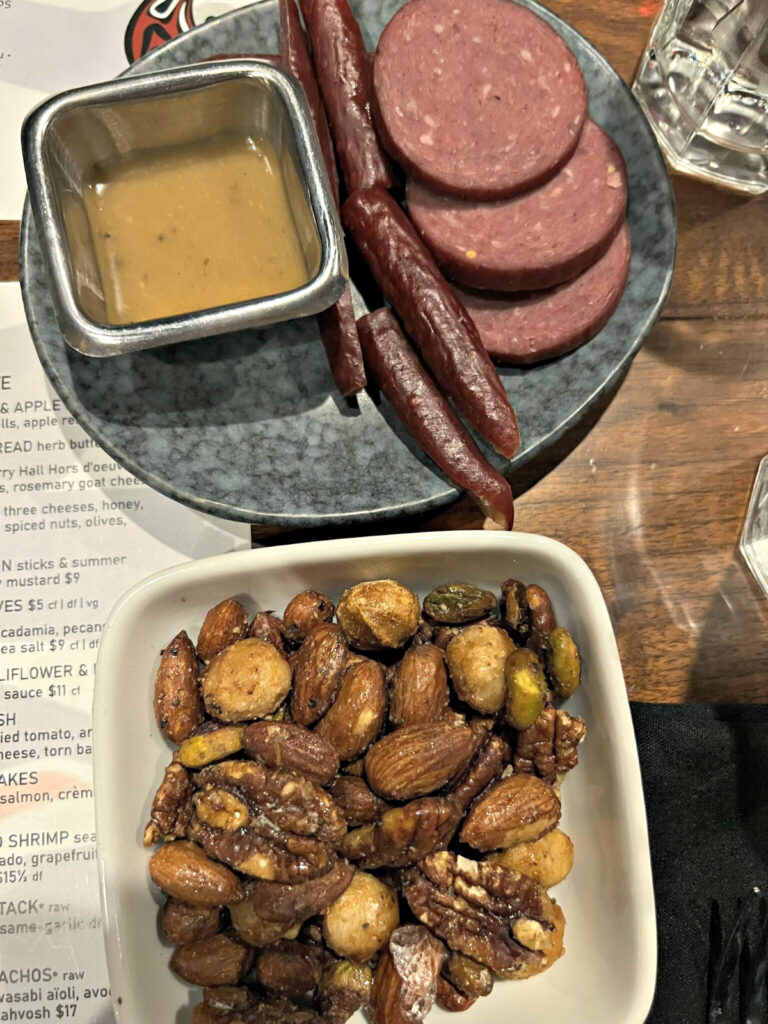 It's the kind of refresh, both in menu and dining room, that makes an old favorite feel new again.
Inside, the space is much larger, and its layout has been flipped: The bar used to be on the south side, and now it's adjacent to the door, which is on the north side. The main dining room is to the south, with a window into a newly renovated, larger kitchen, now on the building's west side.
It's still cozy and warm, and Auld said that's because, in part, they reused the same booths, which they had refinished, and stuck with the same warm-hued paint colors the restaurant had before. They also introduced a larger, covered patio with heaters.
Auld, who owns the restaurant with his wife, Laura, said the building's previous owner got an offer he couldn't refuse, and they figured it would be torn down. Instead, the new owners asked Auld to stay, and offered him more space. By that time, he'd opened his second restaurant, Pacific Eating House, a few miles west, also on Pacific street, and decided to take them up on the opportunity.
Then the pandemic happened. Auld said it slowed everything down, and supply chain issues plagued the ongoing construction project, which ended up stretching past the two-year mark.
"Restaurants do not survive being closed 27 months," Auld said. "It took a long, long time."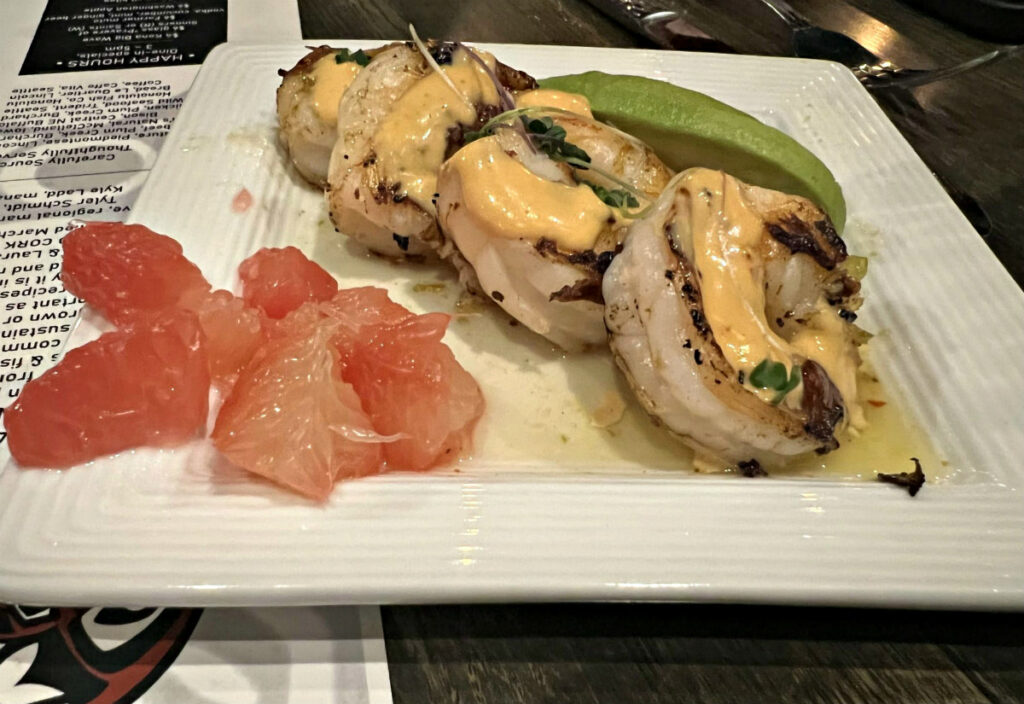 When Twisted Cork reopened, it found a changed dining public. Auld said diners don't want to sit as close to each other as they used to. They don't go out quite as much. And sometimes, they experience sticker shock at seafood and beef that's much more expensive than it used to be.
It's true that Twisted Cork is more expensive than it used to be. But what's also true: it's always had a seafood-focused menu, and let's face it, this is Nebraska. We pay a premium. If you're going to pay more to begin with, you might as well get the quality that Auld serves.
Take the simple Whidby island shrimp, on the appetizer menu: beautifully, simply grilled, and paired with a mild aioli and bites of grapefruit, it's bright and texturally pleasing, but lets the seafood shine.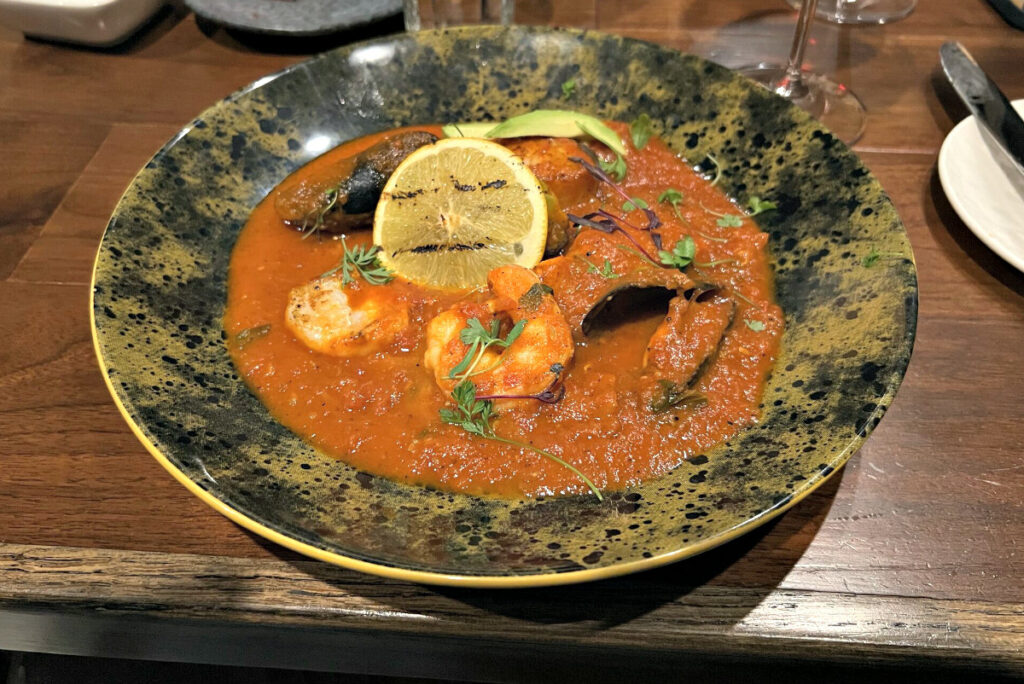 Or the Seattle Cioppino, another old favorite, which is still as flavorful and spicy as ever, with a bright red tomato and fennel broth served in a low bowl packed with Sockeye salmon, wild shrimp, scallops, mussels and avocado, served with a long slice of grilled baguette. It's not just great seafood, it's balanced and bright.
The Northwest duet is the kind of fish dish I wish I saw more often in Omaha. It's a simple pairing of high-quality flaky white Halibut next to an equally sized piece of Sockeye salmon, the two pieces separated by nicely cooked citrus rice and asparagus. Each fish comes topped with its own herb-forward sauce. It's another moment where the seafood steals the show.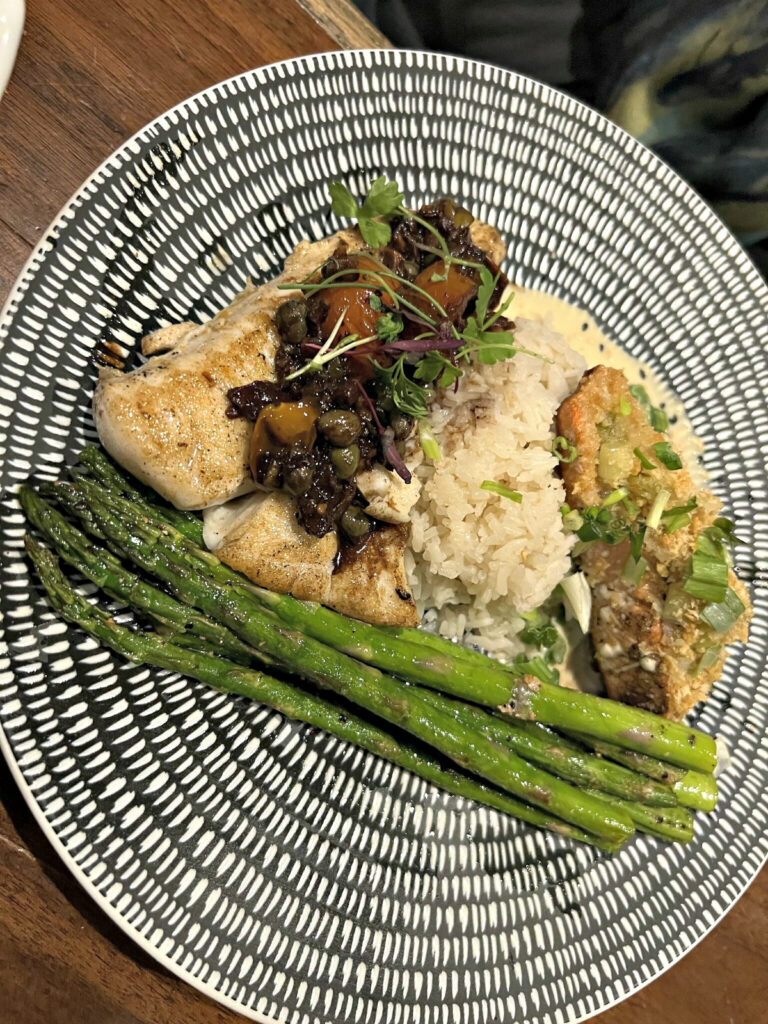 The only time seafood stumbled in the two visits was when we tried the JDF tacos, which come in crunchy blue corn shells filled with miso-glazed salmon, pico de gallo and an avocado aioli. Instead of being firm, our bits of salmon were mushy, in stark contrast to the hard shells.
Auld told me that supply chain issues have also affected the seafood market, and sometimes, the restaurant simply can't get ingredients that are as high quality as it would hope for. It's especially frustrating when this happens with salmon; the restaurant serves 100 pounds a week.
"Sometimes it's a whole fish with skin on. Sometimes it's frozen, sometimes it's not. Sometimes it's a Coho salmon, which has a different texture. It's really difficult," he said.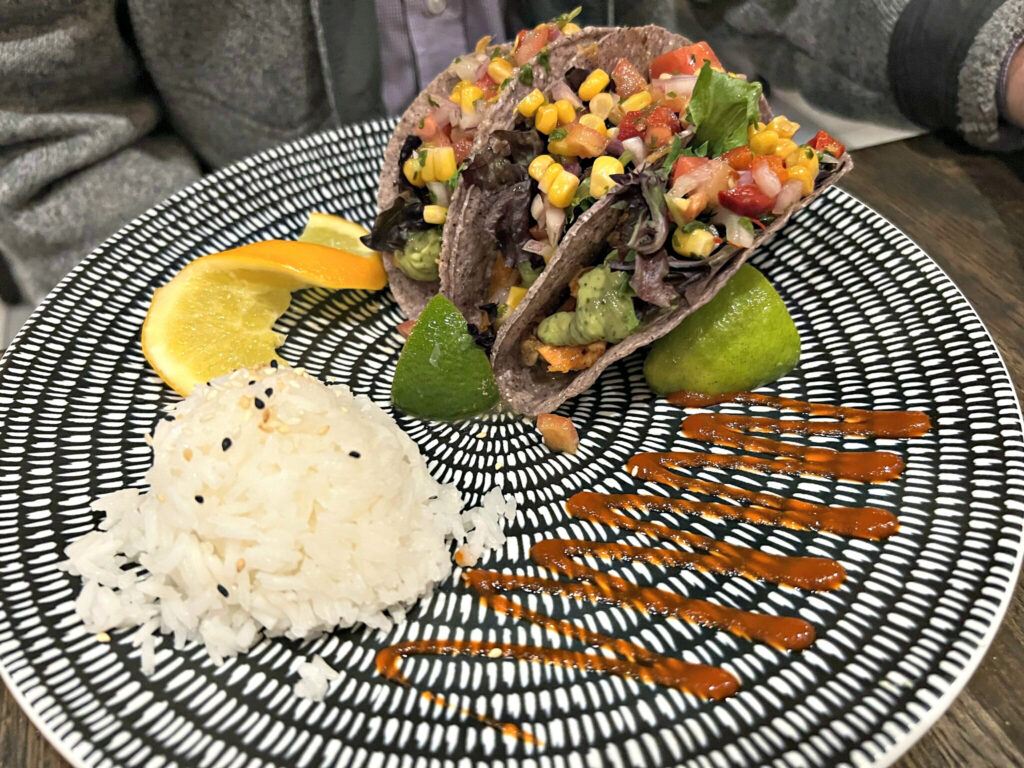 A quick note on drinks: The cocktails at Twisted Cork are fun, and I particularly liked the "Auld Fashioned," named after Auld. I also enjoy quite a bit its focus on Pinot Noir and wines from the Pacific Northwest, and the list is well-priced and interesting.
There's still plenty of meat on the menu at Twisted Cork, and Auld now works with Lincoln-based Certified Piedmontese for his beef.
Piedmontese beef is the heart of his Prairie Fire dish, a flank steak rubbed with a spicy espresso pepper rub, then seared in cast iron to medium rare. I've always liked this dish. The rub has a real kick, and the meat is always cooked nicely. It comes served with fingerling potatoes and an apple-based slaw.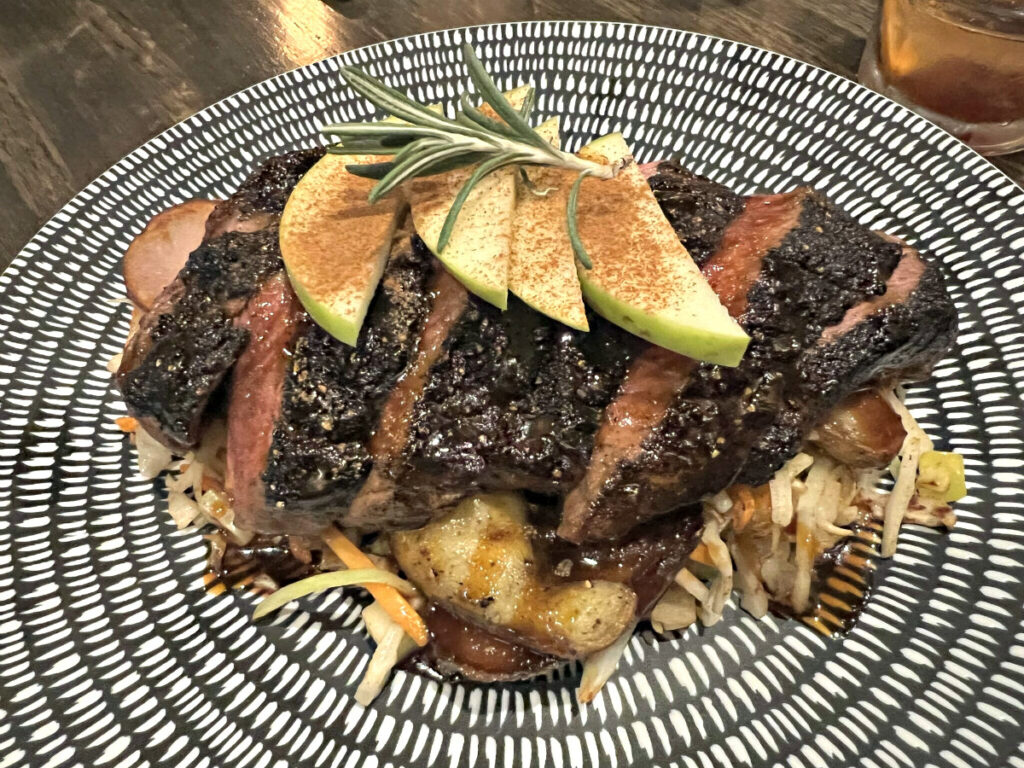 He also uses Piedmontese beef blended with pork shoulder in the Twisted Cork Burger, a local favorite that has been written about many times before. It's still great, served medium on a brioche bun with Tilamook white cheddar, spicy mustard and pickled red onions with a side of salt and pepper potato chips and an apple and blue cheese slaw. I have no complaints. It's a burger you should try if you haven't, and if you have, it's worth revisiting.
"The number one seller every night is that burger," Auld said. "Maybe it's safe, maybe it's cheap, maybe they liked it or they missed it. But it is a good burger."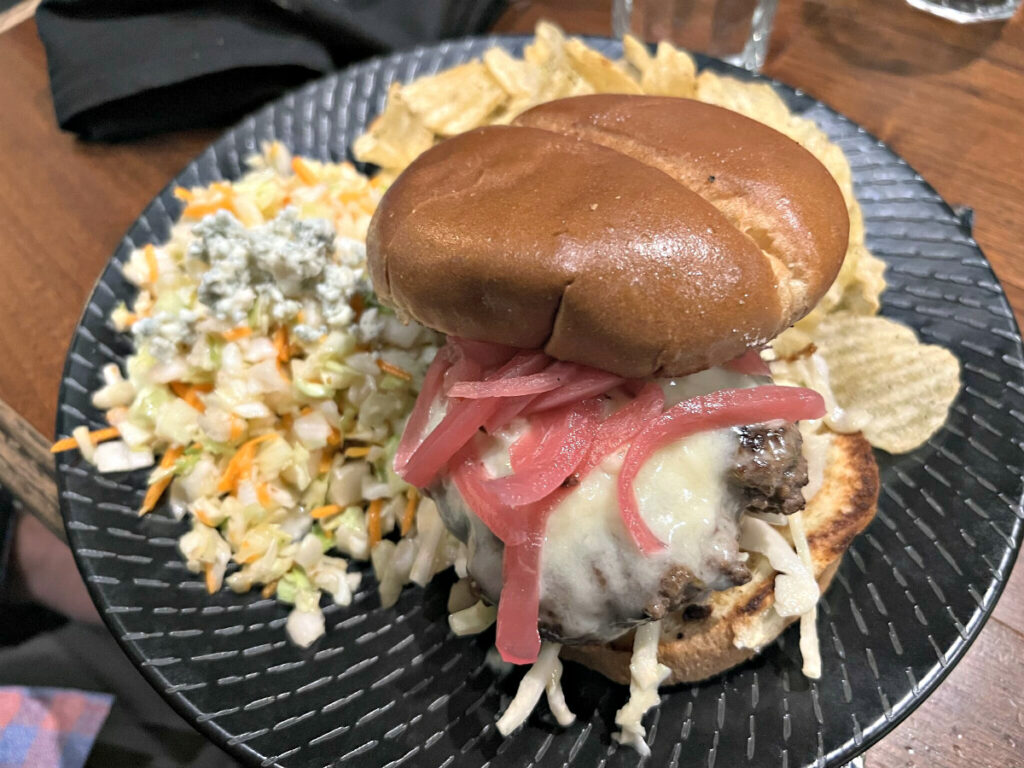 Indeed.
Much is the same at Twisted Cork, and I like that even after a more than two year hiatus and the challenges that most restaurants are facing these days, it is still very good.
It's comfortable, but new. Unusual, but familiar. The kind of place that even after a long break, feels like all that time hasn't passed at all.