The food at the new location of Kinaara, which moved from a Millard hole-in-the-wall to a chic spot in Regency in August, is filling a hole in Omaha's dining scene for creative, high-end Indian food served in an atmosphere to match.
I couldn't be more thrilled for us diners, or for owners Ashish Sathyan and Kimberly Harris, who I first met when I reviewed Kinaara way back in 2021, and then again later that year when I put them on my Eater essentials list.
I stand by what I said then: the restaurant is serving some of the most singular Indian food in the city, and since the move, which also included a lot of menu upgrades and the addition of a wine and cocktail menu, I daresay it's gotten even better.
The new Kinaara is tucked in a bay on the west side of Regency, where Mode de Vie, a French-inspired Champagne bar, once was; it closed in 2019. Harris told me after my visits that the bay was move-in ready when they saw it, and they'd long outgrown their old space in Millard, near 138th and P Streets. 
"We definitely needed a bigger space," she said. "Almost immediately when we reopened the dining room, we realized we had outgrown our place." 
Kinaara pivoted to takeout only in 2020, and the dining room reopened in May of 2021. The pandemic-era takeout service became so popular that their customer base, when the dining room did reopen, had grown exponentially.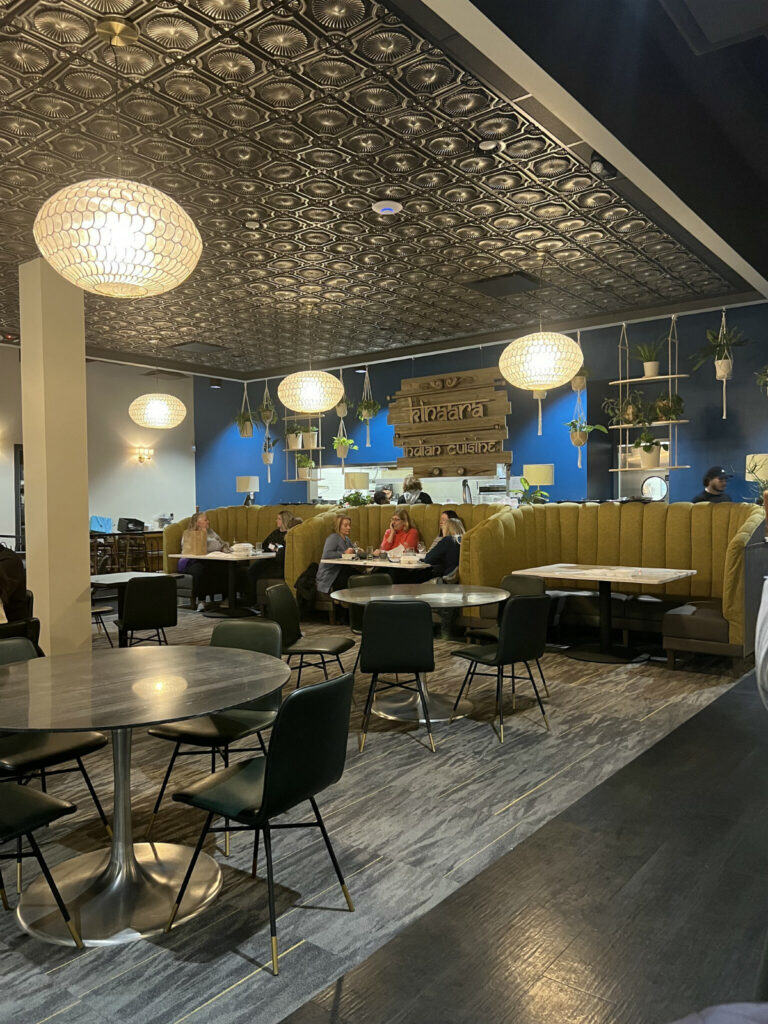 Now, many of those customers, plus new ones, have sought them out in Regency, where they, like me, found some of the staples, including butter chicken, korma and tikka masala.
But Sathyan has also given the menu some higher-end upgrades. For example, the excellent tandoori chicken is made with half of a bird from Plum Creek Farms, a well-known local producer, and that quality makes it shine. Each bite is tender and juicy, with plenty of spice and a generous side of smoky tikka sauce for dipping. Though the meat didn't really need the sauce, it's good.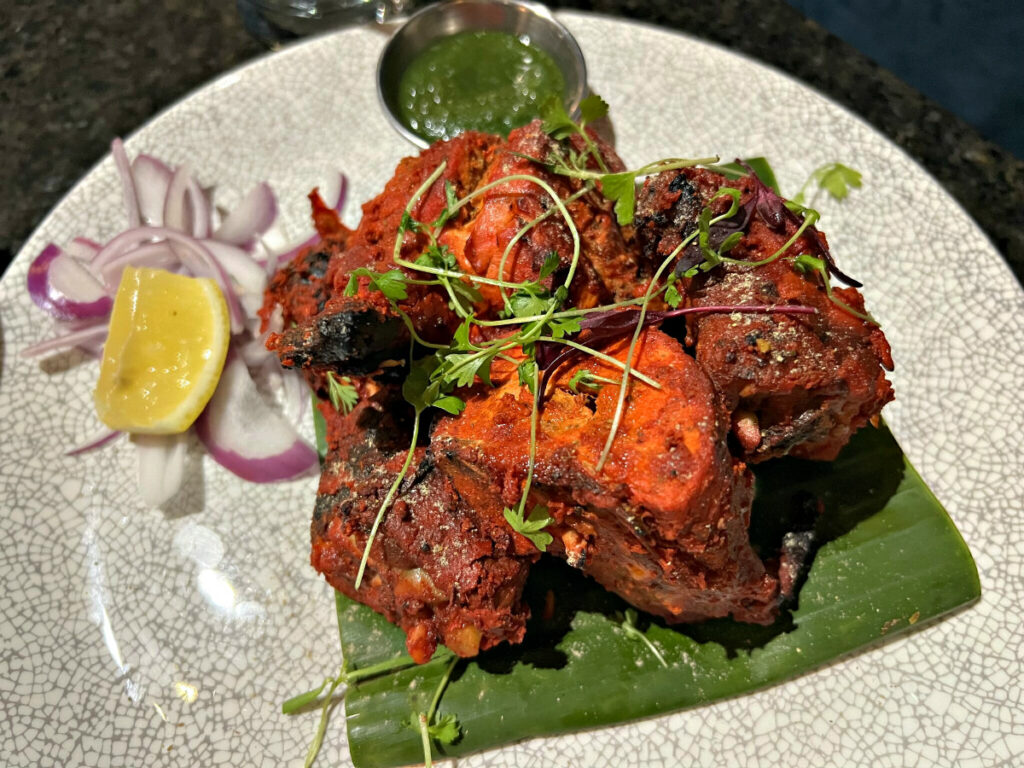 Chicken has a second moment in the spotlight on the appetizer menu. For the kebab trio, Sathyan marinates three chicken thighs in three separate sauces: red chicken tikka; hariyali, which is a green sauce made with mint and coriander; and pale malai, made with a combination of ginger, garlic, green chile, cream-cheese, coriander-stem and cardamom.
Together, these flavors are lip-smackingly bright, with plenty of zing. The hariyali was our favorite, though all three are enjoyable.
Harris said the kitchen has always focused on working with local producers, but most of the time at the Millard location, those higher-priced dishes were only served as weekend specials. Now, they've moved several of those onto the permanent menu. The more basic items, she said, remain at a more affordable price point.
Sathyan is originally from Kerala, India, and his city makes lots of appearances on the menu. He's expanded the lineup of family recipes, including grandma's fish and mango curry, where the tender, nicely executed Atlantic salmon shines through an complex, spicy sauce made with coconut milk, ginger, green mango and cambodge, a tropical fruit known as Malabar Tamarind that has a sweet and sour flavor.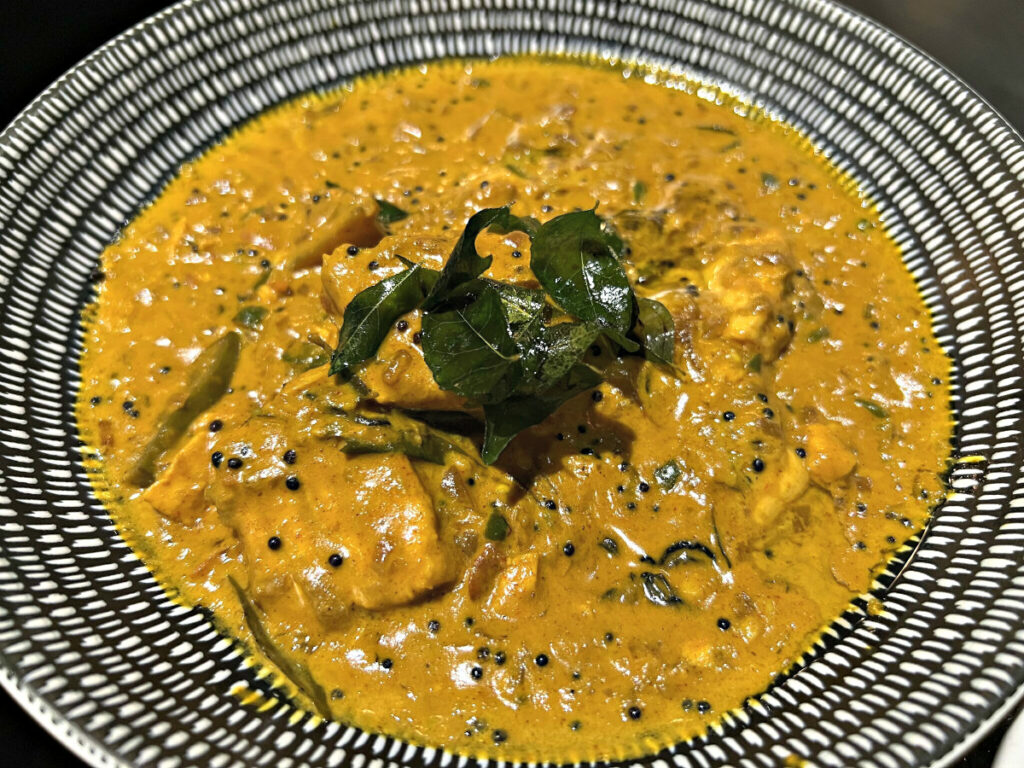 I look forward to trying his mother's chicken varutharacha curry, made with toasted coconut paste, and his goat stew, a favorite of Harris' late grandfather.
On our second visit, I tried the Wagyu beef coconut fry, which Sathyan told me is the restaurant's most popular entree. I can see why.
High-quality hunks of wagyu chuck from Morgan Ranch, in Burwell, are swathed in a complex, herbaceous sauce made with ginger, garlic, red onion, coconut slices and garam masala, a classic Indian spice blend. The beef is crisp-tender and the sauce is wonderful, and even once I was full, I kept sneaking bites.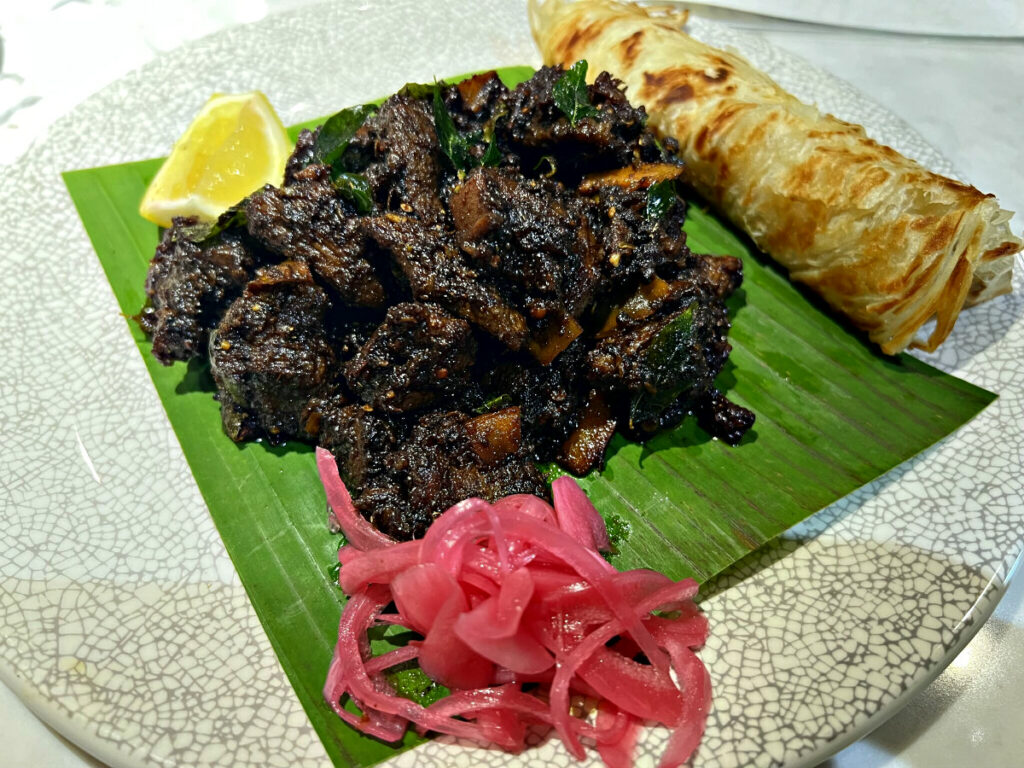 Heat in the pork cheek vindaloo snuck up on my dining partner — after all, it's what this dish is known for. The meat, here from Iowa-based Jon's Naturals, is super tender and super spicy. It's vinegary, gingery and plenty garlicky.
I noted in my first review that Kinaara is not big on substitutions in meals, and that remains the case. Harris said now, the kitchen doesn't do substitutions.
"We put a lot of thought into our menu, and we are not going to change it," she said. "If a dish is supposed to be spicy, it's going to be spicy."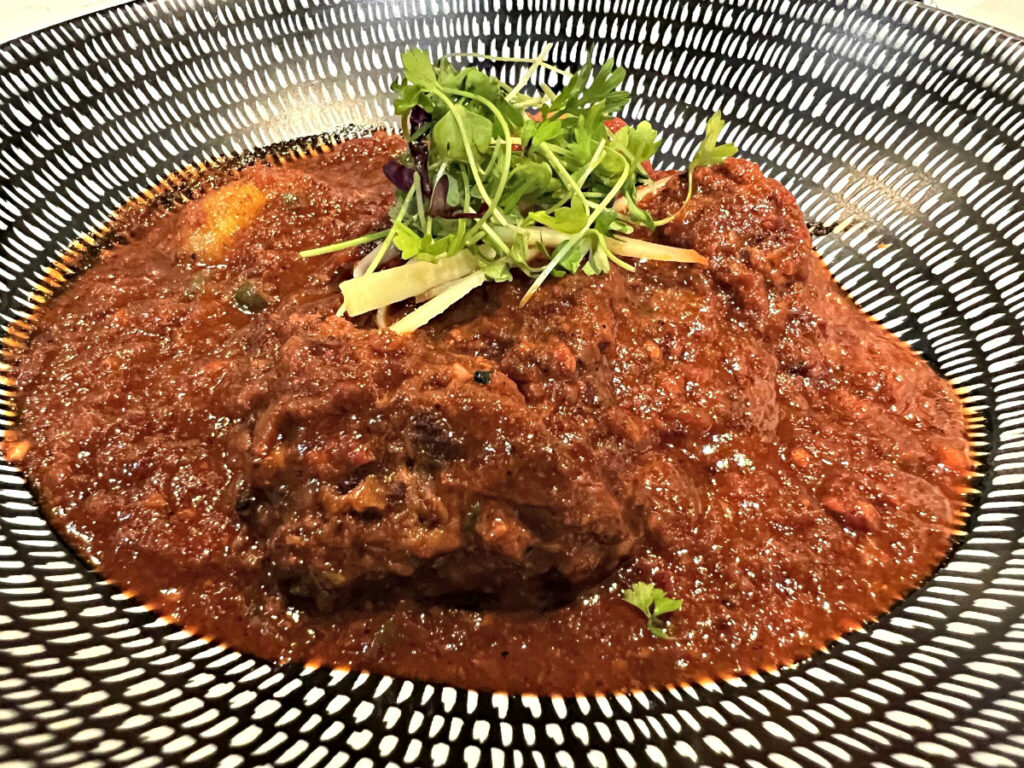 So take note, fans of mild: If you want mild, order something mild. I enjoy spicy food — you probably know that by now — and I went with the medium level of spice for all my dishes. Even at medium, Vindaloo is hot; on my first visit, a man at a nearby table ordered his vindaloo extra hot. Godspeed, sir.
There's plenty of sides and sauces to cool things down. All the bread at Kinaara is great, and I really like the chili garlic naan, though the cheese stuffed paneer kulcha is also delicious. Pappadum arrives warm and with a hint of smoky flavor, and has the kind of addictive crisp crunch that makes it so you'll eat the whole basket. 
Green chutney comes with several of the breads and its cooling finish cuts through heat. There's also some nice, bright wines on the list, including an unoaked chardonnay and refreshing Sauvignon Blanc, both of which pair well with spicy food. I also liked my Tamarind whiskey sour, where the sweet-sour balance comes from the fruit and pairs well with Four Roses bourbon.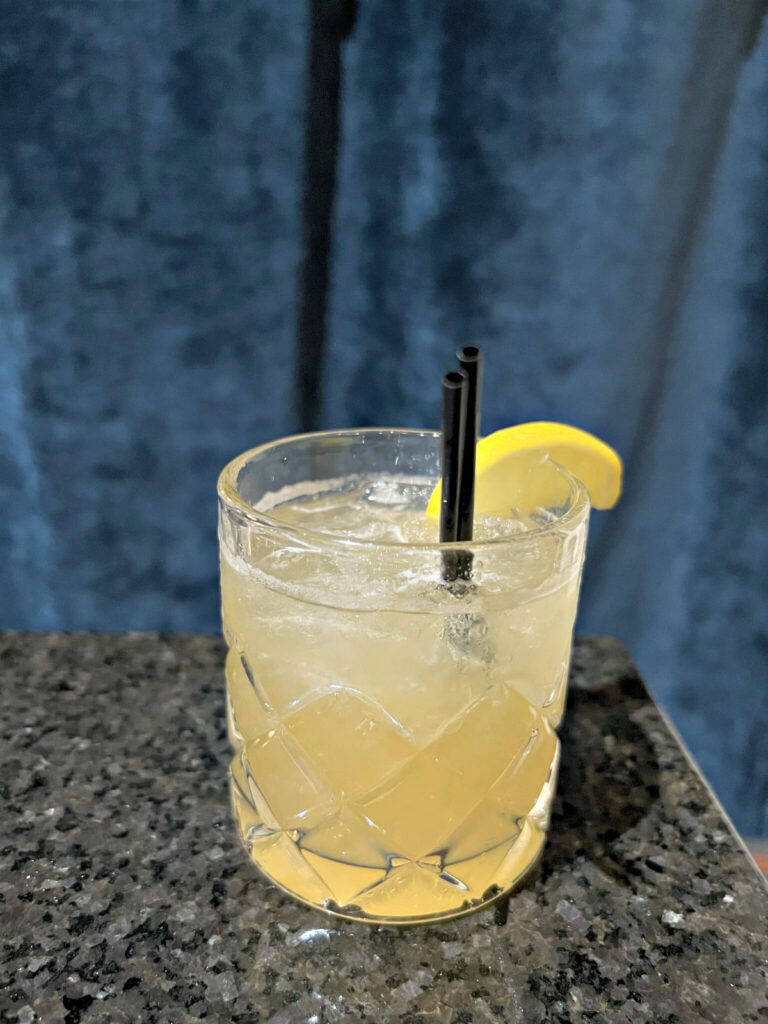 In the coming months, Sathyan plans to introduce a tasting menu that he will serve at a long table in one corner of the restaurant for limited parties. I expect these dinners will be popular, and I can't wait to experience one myself.
Kinaara is different in more ways than one, and its menu has some dishes that are truly unique to Omaha. Sathyan's devotion to sharing his family's recipes and his Southern Indian heritage are delightful; now, he's doing that work in a space that matches such an adventurous attitude.
Kinaara
1008 120 Regency Pkwy #124
kinaaraomaha.com
402-895-3463
Hours: Monday through Thursday 11 a.m. to 9 p.m., Friday and Saturday 11 a.m. to 9:30 p.m., closed Sunday.