Sarah and I haven't wined and dined inside a restaurant or bar since COVID rudely interrupted life's regularly scheduled programming in March.
Five months feels like five decades. We miss cozying up to our favorite back table at Dante and splitting the Cortona pizza and the Bolognese. We miss sidling up to the sushi bar at Yoshitomo, our eyes slightly widening as the first perfect piece of nigiri appears before us.
We miss the Friday noon pandemonium at Block 16 and a proper Thursday happy hour vino at the Le Bouillon bar and special Saturday nights that stretch golden toward closing time at V. Mertz and The Boiler Room.
I could keep going, hopscotching thru Dundee and Benson and South 24th and the suburbs, filing us past memories of Indian, Mexican and Thai, Corkscrew small plates, Au Courant share plates, those cold salad plates at The Drover, those greasy blue-collar burgers at Dinker's, the buzz at Pitch, the breakfast sizzle smells at Saddle Creek Breakfast Club, the look and feel and joy of three dozen other spots where we walk in smiling, and say without speaking, we are here, and you are here, and isn't it nice that we are all here, together?
But I need to stop. Because it's gonna be awhile for us. And because the point of this story is to tell you that, for the time being, we have found an alternative that, for us, feels like the safest and nicest way to eat at some of our favorite Omaha restaurants.
Outside.
I'm not here to preach. If you want to learn more about why we are only eating outside or doing takeout, read this and this or maybe this.
I am here to tell you we have recently had several fine outdoor dining experiences that we felt were safe, and also simply fun.
Fun is the scarcest of commodities in 2020. When we find it, we're trying to hold onto it tight, like one does with rare jewels.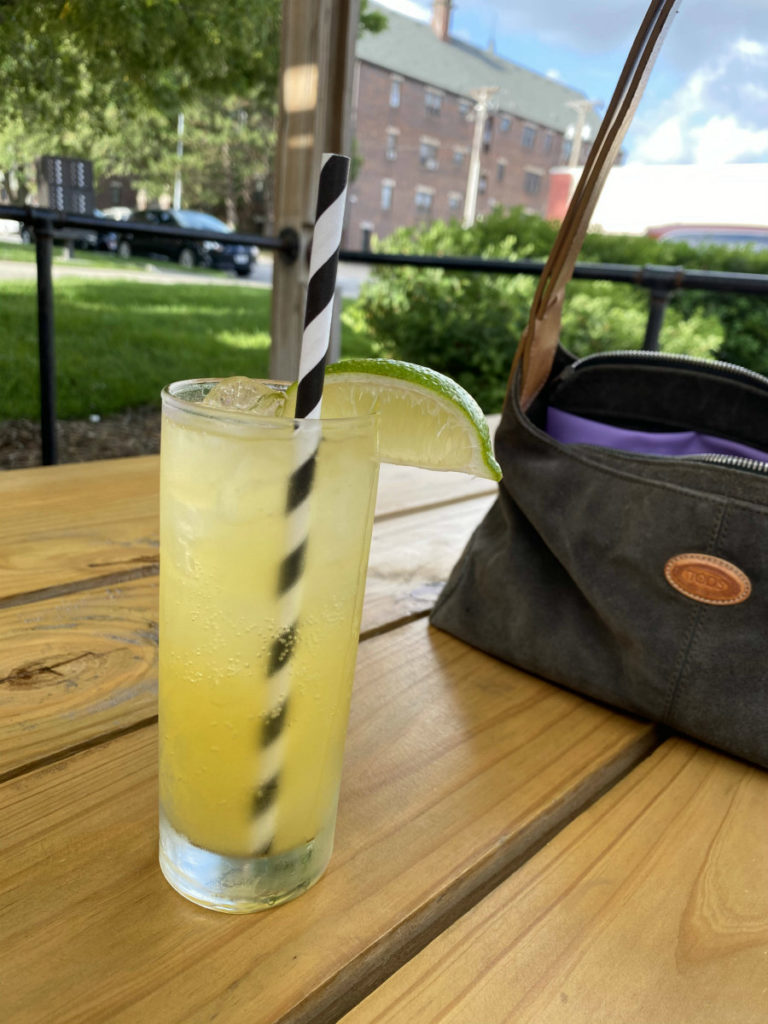 We already loved the Nite Owl patio, so when we saw that they were opening it up and taking limited reservations…giddyup.
And I gotta say, it was glorious. The summer evening was perfect. The seating was comfortably spaced, so that we could wave and speak to people next to us, but from the seemingly safe distance of perhaps eight or ten feet.
And have I told you yet about the Oaxaca Cooler? It's a slushie Nite Owl has been featuring all summer, one that stars mezcal (tequila's smoky cousin) and pineapple. It's a frozen bit of pandemic brilliance. Get it.
Sarah also ordered the drink with the perfect name for our moment: The Karen's Tears.
For food, we stuck with our longtime faves, splitting the Nite Owl Burger and the Korean cauliflower wings. Unpopular opinion: Cauliflower wings, when done right, are actually better than chicken wings.
Mask up and come fight me!
The evening was everything you would want out of a socially distanced outdoor restaurant experience.
Two notes of caution: Call a day or two early to make a reservation on the patio. By necessity, there aren't many tables, and they fill up fast.
We went to Nite Owl when their indoor dining room was still closed, and haven't yet been back now that they have reopened. That reopening will make going inside and ordering a little more fraught, I'm afraid.
A sad ancillary drawback of the global pandemic is that virtually no one has seen what is quite possibly the coolest bar menu of all time.
Mercury's new food and drinks menu is modeled after one of those "Choose Your Own Adventure" books. It is irreverent. It is wildly creative. It is…everything that Mercury itself is.
The 16th street craft cocktail bar, which happens to be my favorite bar in the city, is doing the pandemic right, I believe.
Their patio is open, while their indoor space remains closed. Even before the mask mandate, they were requiring patrons to wear one until they got to their table. You go inside only to use the restroom, and then, obviously, you are masked as well.
The current drink menu is insane in the best possible way. There's a cocktail on there that features Captain Crunch-infused rum. There are cocktails starring hisbiscus-infused gin and cocktails that include fennel pollen. And if you are a basic bud, the classic Mercury Old Fashioned is also on the list.
We tried two of the new sandwiches. The Korean pork roll on a hefty sweet bun, hefty enough to stand up to both the savory meat and a thick cut slab of fresh pineapple, along with a cool slaw.
I can't ever say I'd had a sloppy joe that approached "gourmet;" and by their very nature, sloppy joes are kind of a mess. While this one maintained the messy aspect, every other element of it put that Manwich image in your head to shame. Just try it, trust me.
Necessity is the mother of invention, and also why, if you are Dario Schicke, you transform a garage and a couple of parking spots into a brand-new outdoor area.
Frankly I'm kind of disappointed that individual restaurants and the city of Omaha haven't worked harder to give us more innovative outdoor options. It's frustrating to look at photos of American cities turning downtown areas into pedestrian promenades and outdoor cafes. We had the chance to do that here. We didn't. And that's really too bad.
Which is why I want to hold up Dario's here, and say, thank you, from those of us who don't feel it safe or prudent to eat inside in Omaha right now.
Sarah's going to do a whole story on our lovely experience at Dario's. Suffice it to say – this Dundee spot has figured out new, safe outdoor seating at a time when we need it most. Go check it out.
I want to make a point here before I take my leave. These dining experiences aren't risk free. COVID-19 is a gnarly beast, it has killed more than 160,000 Americans, and it has severely sickened millions. It isn't the flu. It isn't a hoax. It is a no good, very bad virus, and you should respect its power to hurt your and the ones you love.
You have to decide for yourself, hopefully guided by science, on what is too risky, and what isn't.
That calculation is why we won't be eating indoors for the foreseeable future. It's also why we are hugging our outdoor dining experiences tight, and dreaming of that point when we can again breeze into the dining rooms of favorite spots, concerned only about filling our stomachs.