There's a certain kind of pizza this town loves.
I've described it before, but here it is again: medium-thick, pillowy crust with a crisp-chewy edge. A heavy hand of red sauce. Plenty of meat, usually including beef (this is the Beef State, after all.) A thick spread of melted cheese. Vegetables? Nah.
I've called it many things – Omaha style pizza, softball game pizza – but I think we've nailed the new name for the kind of pizza that is likely to take home the crown next week when we name the winner of the first ever Omaha Pizza Bracket.
Flyover pizza.
Flyover pizza is what Mangia Italiana does. Mangia – one of the Italian spots in the championship lineup – is, if Facebook is any indication, a lot of people's absolute ride-or-die in Omaha. (To keep things even, and perhaps coincidentally, I just reviewed Mangia's rival in the finals, Copp's Pizza.)
Mangia (and Copp's, for that matter) are not divisive like La Casa. Not fancy like Dante, Noli's or Mootz. Not fermented crust, 00 flour, coal fired, seasonally driven or anything else that could be called even remotely hoity toity.
Mangia is instead solid, thick, reliable flyover pizza. And, when I tried it for the first time last week, I had little to complain about. I can see why it has a fifty percent chance at taking this whole thing home. And I can see why it's beloved by so many.
I'd heard of Mangia's Vincent Special before we ordered it, and I knew I wanted to try it. Vincent might be one of the city's meatiest specials: beef, pepperoni, bacon, sliced house made meatballs, a heavy hand of garlic and the only vegetable in sight, sliced red onion.
Vincent is a great pizza. We got it on Mangia's "regular" crust (the menu also has thin and thick varieties.)
Vincent packs a flavor punch: meat. But there's enough garlic that bright flavor balances out the heaviness, and the light sprinkle of charred red onions felt like the perfect foil. There's also plenty of spice to the 'za, which I think might be in the marinara sauce, thickly layered over that pillowy crust. It goes without saying that Mangia's regular crust can easily stand up to its heavy toppings. If you like a saucy, meaty, cheesy pizza, you'll like this one a lot.
I asked Mangia's manager, Bridget McBride, what spices might be in that red sauce.
"Oh," she said. "I can't tell you that."
The most I could get out of her? "Regular Italian spices."
She did tell me that the Vincent is named after owners' Tony and Dana Constantino's son, Vincent. It's in the restaurant's top five most popular pizzas.
And here's one more fun fact: the restaurant's single most popular topping? Pepperoni. Last year, Mangia sold 6,600 pepperoni pizzas.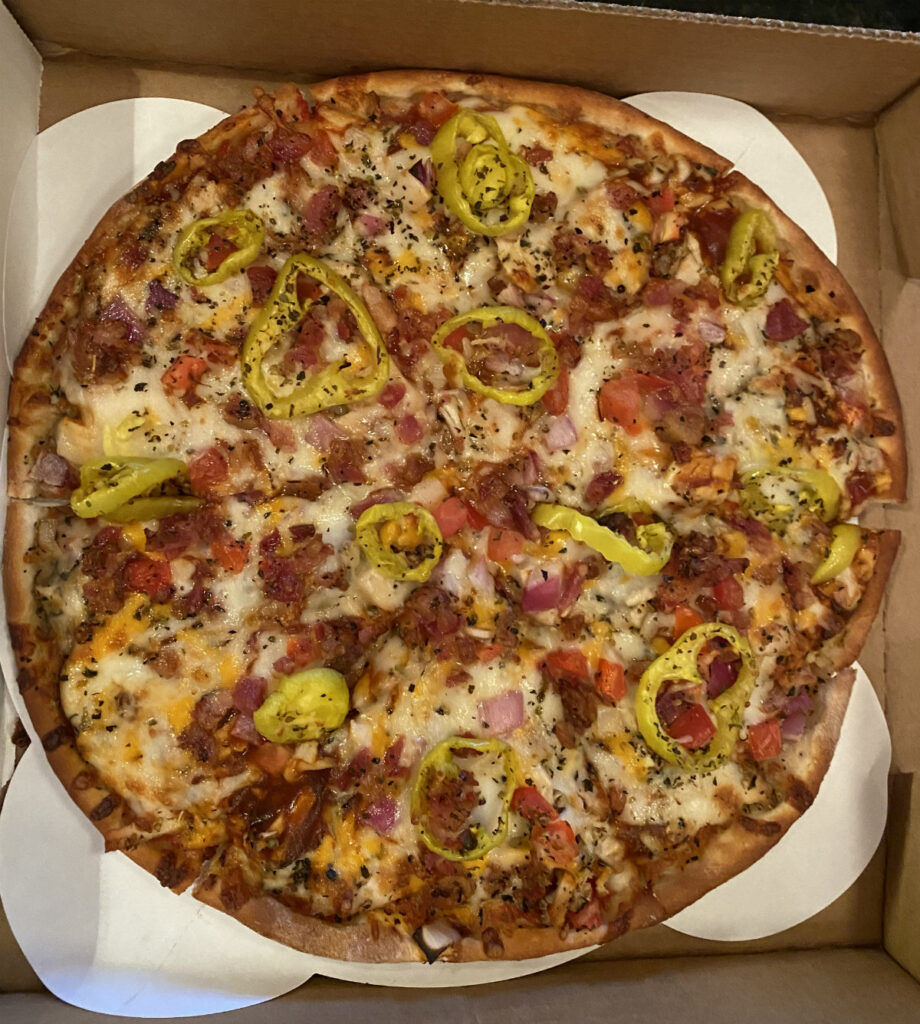 I really enjoyed the toppings on the sweet heat pizza, a chicken pie where the chunks of meat are doused in a house Alfredo wing sauce and paired with cheddar, onions, jalapeño and cream cheese. (Again, cream cheese!)
The cream cheese here took a total background position. I would not have noticed it had I not seen it on the ingredient list. Sweet heat is an accurate description: the hot-spicy-creamy sauce on the chicken kept things from drying out, and the cheese and toppings, more American than Italian, kept things zingy.
Here's my complaint: Do not get this pizza on a thin crust, like we did. The toppings are entirely too mighty for this crackery thin crust; all that weight left it disappointingly limp. I asked McBride what separates the restaurant's "regular" and "thick" crusts, since we hadn't tried the latter. She said it's just an even thicker version of the regular, made with more of the same dough.
I didn't try anything else on Mangia's massive menu, but there's no shortage of Italian American favorites on there, if you're not in the mood for pizza: Spinach and artichoke dip, a meatball sub, Italian sausage, lasagna and a wide variety of pastas that you can top with the sauce of your choice. (There's also cannoli, as if you could possibly reserve room for dessert.)
I found Mangia's pizza the right balance of crowd pleasing mixed with the right balance of satisfying for someone who has different favorites in Omaha (that's me.)
It's a little greasy, but balanced. Old-school, but nuanced. Saucy and meaty, but still made with care.
If Mangia takes the crown next week, I can't say I'll be crushed. In some way, it best illustrates what makes it, perhaps, the most popular pizza in the city. The most popular, it turns out, often earned that title for a reason.