It took me a few hours to shuffle through my iPhone's camera roll to prepare for this year's recap, which includes a wide variety of individual dishes, meals, destinations in and outside of Omaha and memorable experiences that together make up the best dining during the last year.
I didn't include any of my own food — you all know by now I enjoy dabbling in cooking, though I'm no chef. But my camera roll reminded me that I did a lot of cooking at home in 2021. I baked, I braised, I pickled, I fermented and I tried cuisines of all different sorts. (We also made a hell of a lot of blood orange margaritas last year.) I can say at the start of 2022 that all that experimentation certainly made me a better cook and a more adventurous one, willing to try (and often fail) at new things. Not a bad way to look back, or to move forward.
I was so glad to welcome travel back into my life this year, and the list includes three experiences outside of Omaha singular enough to deserve their own entry. The rest of the good stuff I grouped into one section, but everything in there should be added to your list if you find yourself outside of Omaha.
The rest of my picks are probably not a huge surprise to anyone who has been reading this blog and my previous writing. But nonetheless, I think this year's list goes to show that Omaha's food scene continues to thrive in spite of tough times for the food industry. There are still wonderful experiences — memorable experiences — to be had in this town. And I'm hopeful that 2022 will bring us even more.
Without further ado, my tops of 2021.
The Boiler Room
As soon as we could, Matthew and I returned to The Boiler Room. And we've been back more times recently than we have in many years, simply because the atmosphere is second to none, the cocktails are amazing and chef Tim Nicholson continues to cook some of the best — THE best? — food in Omaha.
I never tire of their list of thoughtful, original cocktails. The simple things the restaurant serves — like a creative list of cheese; a bowl of simple olives; wonderfully warm, crusty bread — are enough to bring me back over and over.
And that doesn't even include the absolutely wonderful way Nicholson handles protein, which can include the usual chicken and beef but more often what I order are his takes on fish or seafood, or more unexpected proteins, like duck or lamb. No matter what you try, expect it to be beautifully plated and prepared to perfection.
Committee Chophouse
The Committee Chophouse was the first restaurant review I'd written in months, and it felt so, so good to be back at it, flexing muscles that had gone fairly dormant during 2020, when being critical of restaurants struggling to keep their doors open just didn't feel quite right.
The Committee checked all the boxes in that review, and has continued to on my many subsequent visits throughout 2021. Great drinks: check. Delicious side dishes: check. Steak that's seared, salted and served just as the customer orders it: check, check and check.
I've been back several times since that review — I won't lie, it was mostly for the burger and the Reuben, but I have had a few more steaks, too.
Briefly, that Reuben: It has really grown on me. I began hesitant because of that swath of mustard; now? I'm a true believer. One note for anyone wanting to try it: it's no longer available on the menu in the bar. You'll have to enjoy one in the lobby's Orleans Room instead.
Lola's, kale salad (and everything else)
I really love Lola's.
I got to check it out once in 2020, before Covid, and then I wrote about it again as part of The Takeout Chronicles, the series that carried me through the pandemic and gave me something to look forward to (ordering in) when we all had so little to be excited about otherwise.
It wasn't until this summer that my true love affair really started in earnest with Lola's, and it's all centered on their kale salad. It is the best salad in the city. Everyone I have told about it agrees. Everyone who has tried it and written me an email agrees. If you try it, I think you will agree.
So get the salad, yes. But also get their roasted chicken, which rivals La Buvette's roasted chicken. Get the cheese plate, one of their house cocktails or anything featuring sausage. And don't sleep on the homemade bread. It's outstanding.
One White Street, NYC
Omaha native and chef Austin Johnson checked an item off my nonexistant bucket list when we visited his New York spot, One White Street, earlier this year.
For the first time in my life, he made our table one of every single thing on the menu, plus several more off that evening's tasting menu.
Anyone who attended one of Austin's pop-ups at Block 16 knows how talented he is. But his menu, execution and presentation at One White Street are second-to-none. Some of the simplest dishes he served, like the plate of homegrown vegetables, the straightforward crudo and the retro-delicious chicken saltimboca cut through the more complicated menu items I so often encounter while traveling. Austin's food is downright memorable because it's so clearly his food. It's made perfectly, but also, often, simply, without fanfare or fluff. It's good enough in both quality and taste to stand on its own.
His dessert lineup is beautiful both to look at and to eat, and, in particular, the fruit-filled, teardrop shaped pavlova were both a visual and flavorful highlight.
One White is a wonderful restaurant. I encourage you to visit.
All the pizza
We debuted the Omaha Pizza Bracket in March, and during the tournament it racked up more than 100,000 individual votes. I knew people in Omaha cared about pizza. I did not realize just how much they cared about it.
Mangia Italiana ended up taking home the prize. Is it my favorite? No. But it's a worthy pizza, if you haven't tried it, and I found myself pleasantly surprised when I sampled it for the first time last year.
The tournament did not go the way I predicted it would — most of my true favorites got eliminated way before the final four and even the sweet 16. But we had fun. I ate a lot of pizza. Other people tried new pizzas, too. And even more people argued about seeding, voting and pepperoni on Twitter. What more can you ask for?
(You can ask for another tournament in 2022. Stay tuned. It's coming.)
Via Farina
After that aforementioned pizza bracket concluded, I listened to the folks (and there were many of them) who cried foul that Via Farina was eliminated as soon as it was. I realized two things: I had not been to Via in some time, and I wanted to try it again.
What followed was "the summer of Via Farina." I really think their pasta is delicious, and their pizza, particularly the special pies they run, are great, too. I enjoy their petite patio, under the red glow of a sign designed by local neon artist Karen Chaka, so much. I like their wine list, their cocktails (particularly their paper plane) and their chewy, crispy pizza crust.
I like it enough to call the handful of experiences I had at Via this year some of my favorites. I will be back in '22.
V. Mertz at home (and then in person)
We celebrated Valentine's Day in 2021 with V. Mertz "at home," one of the more elevated home dining experiences we had during the entire pandemic, down to the presentation, albeit in plastic containers.
I remember a particular fondness for that crab remoulade starter, for the stunning wine pairing, the classic pepper steak and just take one look at that peanut butter mousse and you'll know which dessert I liked best.
Later in the year, we had a memorable dinner with friends where we decided — rather last minute — to take a journey with the chef's tasting menu. It's a mistake I rarely regret, and this was no exception. I sort of love leaving all the food decisions to everyone else at times, and a tasting menu is the perfect chance to do just that. At V. Mertz, don't expect a misstep. They don't make them.
Foie gras with strawberry preserves, eggplant, blackberry and seeded rye

Kimchee tart with cheddar, bok choy, kale, cucumber and shrimp

Tortellini en brodo with chicken, ricotta and oyster mushroom

Private selection wagyu with flagolet, harissa, tomato and country ham

Chocolate torte with pistachio, raspberry and caco nibs

House made macaron
Carter & Rye, Funza hand pie
I've been into Kate Anderson's hand pies since I first tried one, way back in 2019, when Carter & Rye was doing pop ups and holding down a space at the weekly farmers market.
Now, Anderson has a brick-and-mortar where, every weekend, she serves up a selection of sweet and savory hand pies along with delicious coffee. The Funza, her take on a Nebraska Bierock, is hands down the best one I've tried (and I've tried a lot of her flavors. Not a bad one in the bunch.)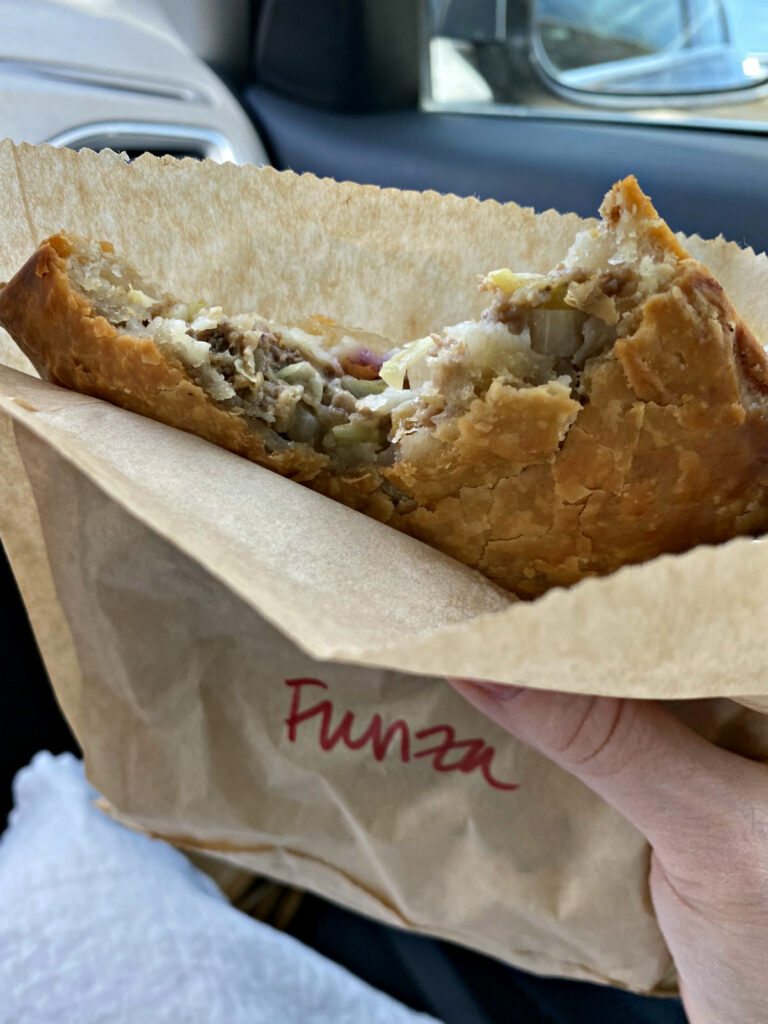 The return of travel
I was lucky enough to get back aboard several airplanes in 2021, that took me to domestic favorites like New York, Palm Springs, Phoenix and Chicago, among other destinations.
The return to my favorite pizza spot in NYC, Rubirosa, got lots of likes on social media, but what was even more fun was seeing several friends make their own pizza dreams come true with a visit after I posted about it. I absolutely love sending friends (and readers) to hidden gems in all my favorite cities.
One highlight of the year in travel also had to be the tiny Counter Reformation, on the grounds of the Parker Palm Springs hotel.
This little dozen-seat wine and small plates spot is worth checking out for the chance to walk around the gorgeous, funky grounds of the hotel alone, but the food (and the wonderfully adventurous selection of natural wine) make it even more worthy of adding to your travel destination must-try list.
Casa Bovina, Lincoln
I am still thinking about the ham volcano at Casa Bovina, in northeast Lincoln.
You did read that right. The restaurant, owned by Certified Piedmontese, the Nebraska-based, Italian cow-focused beef oufit, had a local artist make a little ceramic mountain with slits down the side, sized just right for a tea light candle. Around the outside, the kitchen carefully overlaps thin slices of ham, and the heat from the candle slowly renders the fat, which the diner curls onto a warm piece of grilled baguette. Sublime, I tell you.
I've been meaning to return to the impressive kitchen — it's clear no expense was spared in this space — to give it another go because I think there's much more I'll want to try before writing a full review.
I arrived at Casa Bovina unsure of what I was in for. I left with whatever small expectations I had completely blown. This place is one to watch.
Yoshitomo, omakase
I will be honest: I had absolutely no intention of taking any sort of notes during the first omakase in more than a year, in person with chef David Utterback. I decided to simply enjoy the moment.
So that's why the following gallery of the 20 courses of sushi that evening don't have captions. It's because your food writer was in fact enjoying herself entirely too much to think about writing anything later. But like all omakase experiences I've had at the Benson sushi spot, this one felt better than the last. It's beacuse Utterback keeps upping his own game, getting better product, pushing his own skills further, pushing customers to try something they've never eaten before, let alone heard of. It's this kind of experience that pushes Omaha forward as a culinary city.
That evening reminded me — reminds me now — of the pure joy of the dining experience. How lucky we are to have that back in our lives.