I had no plans to recap the best food I ate in 2020. Then I saw a Facebook post written by chef David Utterback, where he featured my best of 2018 list which I wrote when I was still at the World-Herald. I sent Dave a text, and we chatted. He made a good point: "You should document even a shitty year of food."
So, here we are. And it turns out, my friend Dave was right: I had so many great dining experiences last year, I even surprised myself.
This won't look like any other annual recap, and that's ok. It proves yet again that chefs and restaurants and diners, too, persevere. If you missed any of these experiences last year, you can still have almost every single one again this year, hopefully in person post-vaccination.
Without further ado, and in no particular order, my tops of 2020.
The Boiler Room patio
Dinner this summer on The Boiler Room's patio was one of the more "normal" moments of 2020, in the best possible way. We dined there first in September, and I wrote a review-slash-appreciation of the experience. Looking out my window now at a cold, grey Omaha day, I long for those balmy evenings with finely crafted food and cocktails even more.
The patio

"Red" and "Green" Cocktails

Sweet corn ravioli with nduja, parmigiano reggiano, lemon zest and arugula

16-month culatello prosciutto with heirloom tomatoes, herb focaccia, pickled onion and herbed ricotta

rosted TD Niche pork crepinette with black beans, local peppers, mushrooms, a stuffed apple, cabbage salad and salsa verde

Florida swordfish with roasted pepper wild rice, green beans, grilled eggplant, capers, rock shrimp and spiced tomato broth
The Block 16 SBH burger
It's hard to believe this very website launched in January 2020. Paul and Jessica Urban helped me celebrate it with a burger made from all the things I love released as a one-day only daily special on my first day running sarahbakerhansen.com.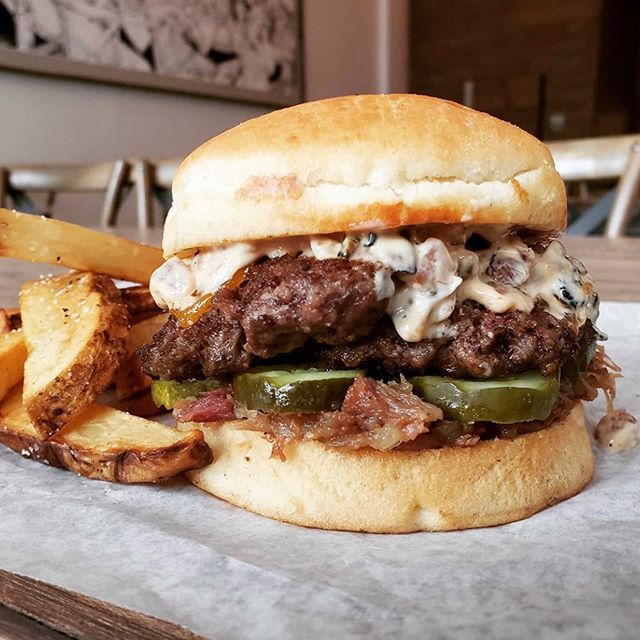 The last meal I ate in a restaurant
Ok, so maybe my prediction in March that Fizzy's was going to become the city's new retro hot spot got delayed a touch. But I'll say I think it will hold true in 2021. We celebrated my birthday again in December with takeout from Fizzy's, and the food was just as solid and just as delightfully retro as it was in the spring. You all already know how much I love Nite Owl, and post-pandemic I predict Fizzy's will be packed.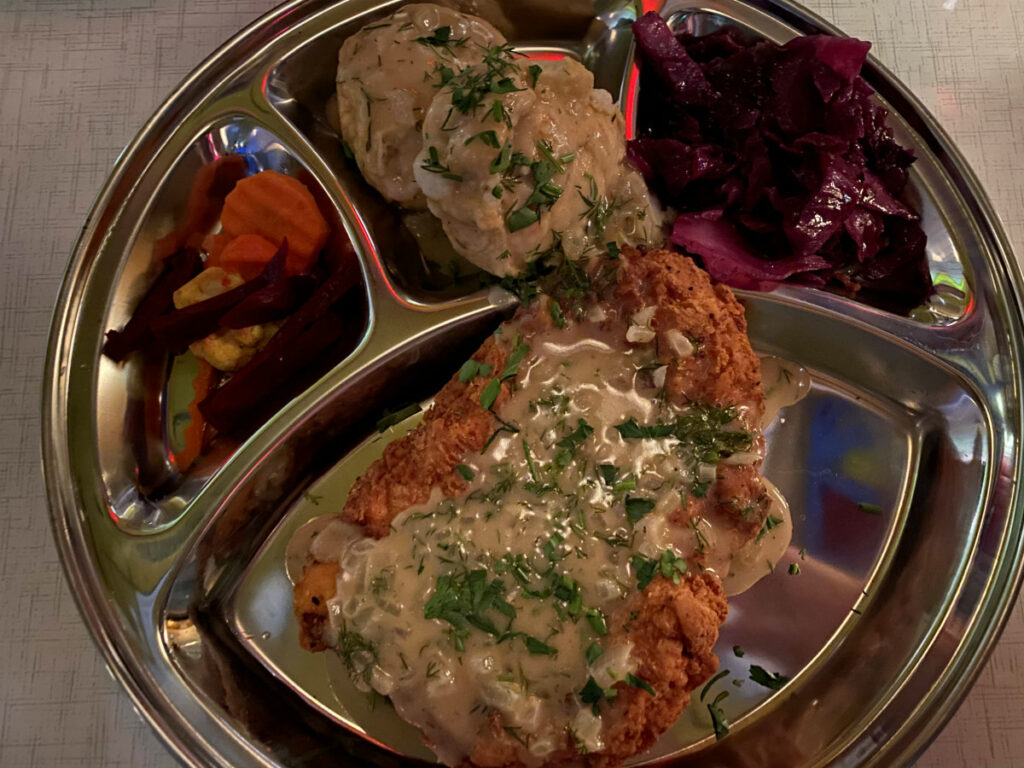 Matthew's 40th Birthday Dinner, catered for two by Dante
In May, Matthew turned 40. We had no intention of dining indoors, and few patios were yet open with full service. So Dante Ristorante catered a three-course meal for two, with wine and cocktail pairings, on our building's rooftop patio. It was not at all what I'd planned (a big party) and the weather was a lot colder than we hoped for, but the seasonal spring meal was fantastic and the evening turned out to be special and memorable in its own way.
Yoshitomo "Homakase"
I promise this at-home omakase experience would have been on the list regardless of the inspiration, because it was just that fun. David Utterback did a limited run of "homakase" at the beginning of covid times, until he ran into supply chain issues and stopped. Nothing can replace an in-person omakase experience at his restaurant (or even a meal seated across from him at the Benson sushi bar.) But this was fun and unusual and certainly delicious. His move to include a YouTube video with the sushi to explain each bite "in person" felt creative and personal. If he offered it again now, I'd certainly be one of the first to sign on. And I can't wait for in person sushi later in 2021.
Most used cookbook: Perfectly Golden
The pandemic did funny things to my kitchen habits. In January, I had no idea by the end of the year I'd be baking sourdough boules, sandwich loaves, sweetbreads, making my own English muffins, homemade pie crust, fruit crumbles and eventually trying my hand at holiday cookies and fancy breads.
The confidence to do almost all of that came from one book, "Perfectly Golden," and one woman, Lincoln business owner and baker Angela Garbacz, of Goldenrod Pastries. I can't tell you how many questions she answered throughout the year about desserts and pastry. How she walked me through going off script in my first bread recipe, or how she told me I could definitely make the savory vegan babka recipe she had in Food & Wine.
I wrote a story about Angela's business during the pandemic for the Nebraska Alumni magazine, and our conversation was one of the best I had with any chef during the year.
If you don't already have Angela's book, please get it. It's wonderful. I'll be taking her out for dinner post-vaccine as I definitely owe her several cocktails for all the unofficial baking classes.
The Nice Rollz experience
The first thing I tried from Nice Rollz — the creative Korean pop-up with a home inside the Little Bohemia Archetype Coffee — was the spicy bulgogi burger, which landed firmly in my top three burgers of the year. I haven't even had a chance to recap their delicious weekend breakfast items, which include a sweet-savory Korean egg bread and fast-food inspired breakfast sandwiches with a fun high-end twist, often including house made ingredients and fun flavor combinations.
Nice Rollz has a pop-up in the coming weeks with charcuterie master Bryce Coulton; don't worry, I signed up to try everything on the menu. It's firmly in place to be one of my favorites of 2021, too.